Why 'A Wrinkle In Time' Will Be Like Nothing You've Ever Seen, According To Ava DuVernay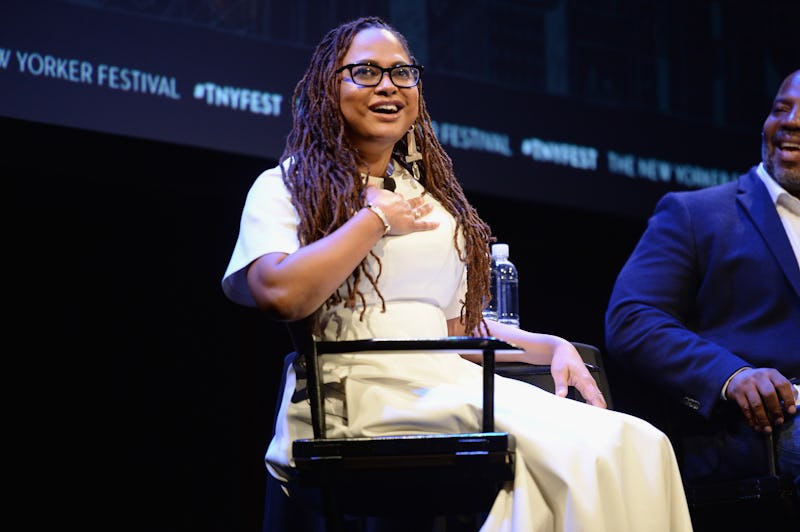 Andrew Toth/Getty Images
After a teaser trailer hit airwaves in early summer, excitement for A Wrinkle In Time grew to epic proportions. Ava DuVernay's A Wrinkle In Time adaptation is set to be released on March 9, 2018, but, although the director is excited about the film, she's not quite sure how the adaption will be received by fans. While speaking with New Yorker staff writer Jelani Cobb at The New Yorker Festival on Oct. 7, DuVernay shared her hesitation about putting the film out into the world, noting how different it is from her previous work.
"With 13th, I was like, 'You know what. I don't care. This is what I want to put out. If people get it, they get it. If they don't, I'm on to the next,'" she said. "With Selma, I was like, 'You know what, I'm nervous, but I know that I believe in this. I know that this is a record, and it needs to be there.' [With] this, I don't know."
Her uncertainty arises from just how different A Wrinkle In Time will be from other films of the same genre for the simple fact that its heroine is a girl of color. "It's not shied away from. It is front and center. She's hopping planets and flying. She's saving the world from darkness," said DuVernay of the main character, Meg Murry, played by Storm Reid. The film follows Murry as she travels through time and space to rescue her scientist father from a planet where he's being held hostage. DuVernay's visionary direction is showcased in the trailer, which offers up a perfect balance of magical and modern. In addition to Reid, the film features an all-star cast featuring Oprah, Reese Witherspoon, Mindy Kaling, Gugu Mbatha-Raw, and Chris Pine.
But regardless of how the film performs at the box office, DuVernay has already made history. In August 2016, The LA Times reported that she is the first woman of color to direct a movie with a budget over $100 million dollars. On top of that, the trailer gives hope that A Wrinkle in Time will be nothing short of enchanting and, following the booming success of the female-helmed Wonder Woman, it's sure to be further proof that women can, and should continue to be allowed to, direct action and science-fiction movies with strong budgets.
Having women behind the camera is especially necessary since female directors are grossly unrepresented in Hollywood. According to a 2016 report by the Center for the Study of Women in Television and Film at San Diego State University, women made up only 9 percent of directors among the top 250 domestic grossing films; they comprised just 12 percent of directors among the top 500, which is only a 2 percent increase over the statistics for 2014. It's for this reason alone that A Wrinkle in Time should be on everyone's must-watch list for 2018.
And although Duvernay's had her fair share of success in the industry over the last few years, including Golden Globe and Oscar nominations, she reiterated during the chat that she didn't get into directing for awards. "I started when I was a 32-year-old black woman who was a publicist for other people's movies," she said. "And I really did it for the pure love. It wasn't an intention of, 'One day I'm going to — I just want that Oscar.'" Then she added, as she recalled producing her first documentary, This is the Life, "I was just trying to make my thing and tell my stories, and just wanted to see if I could craft what I loved."
As she continued to make movies on small budgets — even going so far as to drain her life's savings to do it — DuVernay's passion for film grew. However, she did joke that, if A Wrinkle In Time bombs, she thinks it has serious potential to become a cult classic later on down the line. "Maybe they'll wheel me out [in] my wheelchair and be like, 'this was good after all'."
At the end of the day, though, DuVernay's main goal is to tell stories that matter to her and in her own unique way. "You're seeing worlds being built through the point of view of a black woman from Compton. So when I'm told create a planet, my planet is going to look different from my white male counterpart's planet, who we've seen 97 percent of the time. Is this going to be as palpable, as interesting, as intriguing?" she teased. "These are all questions that we've only barely been able to ask with Patty Jenkins's great work in Wonder Woman. What do worlds through a woman visionary's lens even look like?"
We'll have to wait until next spring to find out this answer, but it sounds like, love it or hate it, A Wrinkle in Time will be like nothing you've seen before.