Awkwafina Is Hosting 'SNL' & Will Be The First Asian Female Host In Nearly 20 Years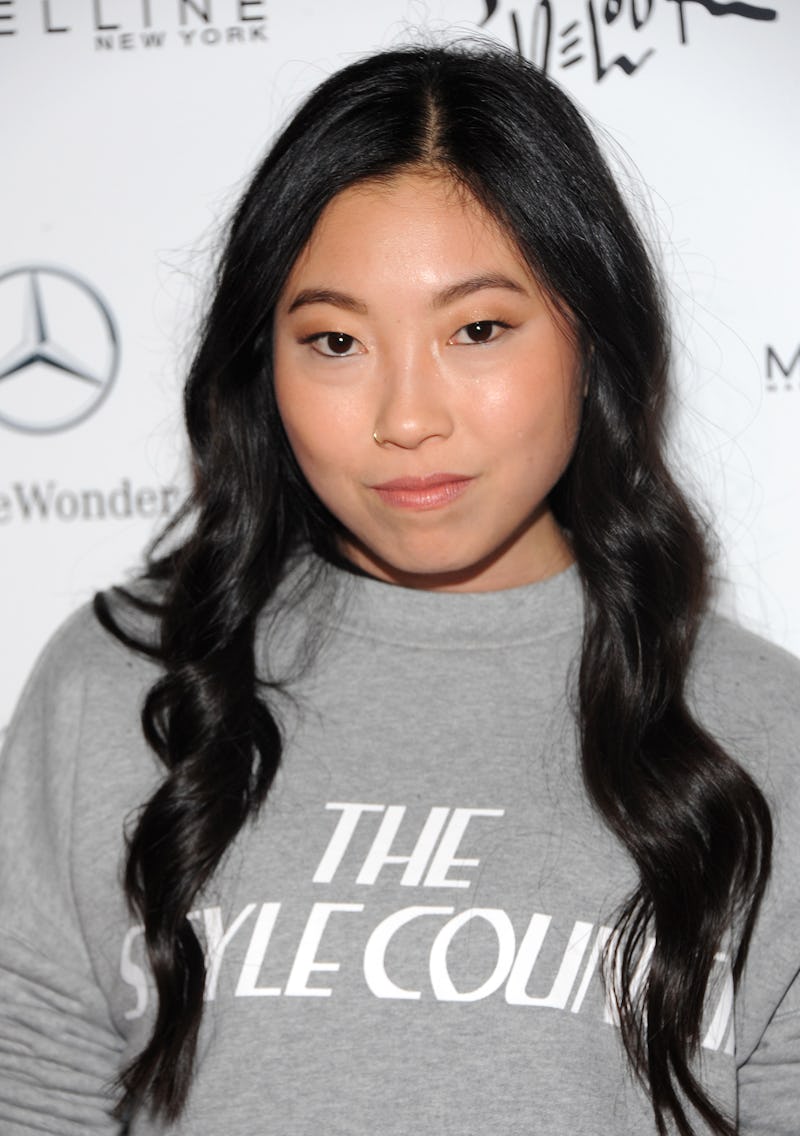 Desiree Navarro/Getty Images Entertainment/Getty Images
After an amazing year staring in Ocean's 8 and Crazy Rich Asians, Awkwafina has become such an It Girl. It's only fitting that Awkwafina is hosting Saturday Night Live on Oct. 6. She will also be the first Asian woman to host the show in nearly 18 years. Yes, you read that right: Eighteen years. Obviously, Awkwafina has more than earned this opportunity, but what about that eighteen year time gap? What has taken so long?
The last Asian woman to host Saturday Night Live was Lucy Liu who took on that role on December 16, 2000 with Jay-Z as the musical guest. That was such a long time ago!
The official announcement broke via the Saturday Night Live Twitter account on Thursday, Sept. 27. A photo of cork board full of post-its listing the first three hosts and musical acts of the upcoming season was posted on Thursday afternoon.
Not only is Awkwafina breaking the mold as the first Asian host in eighteen years, but she is also the only woman in the lineup for the first three weeks of the season. The show has put together a stellar lineup for the first three episodes, but Awkwafina as a host was a stand out choice. She got a lot of positive reactions on social media.
Saturday Night Live alum and upcoming host Seth Meyers reposted the SNL tweet and added, "Awkwafina is gonna kill it!!!!!" Yes, she is. Seth is such a seasoned player on the show and is also a former SNL head writer, so that endorsement is a major deal. Plus it is very much accurate.
Awkwafina herself retweeted the Saturday Night Live tweet and she posted the same photo to her own Instagram account. The actor/rapper, "Supremely stoked for this. @nbcsnl 10/6."
Awkwafina's Crazy Rich Asians co-star Ronny Chieng shared his excitement via tweet: "YES @awkwafina ON @nbcsnl !!!!!!"
Awkwafina's fans could not help sharing their excitement on Twitter as well. One person tweeted, "Every once in a while I get VERRRRRRY enthusiastic about things. This week I became VERRRRRRY enthusiastic about Awkwafina. This just posted and even though I haven't watched SNL in maybe two years, I'm VERRRRRY enthusiastic about October 6." So are a lot of other people. The enthusiasm for SNL is definitely at a high point.
Another Twitter user admitted that her "heart is crying" in response to the news. Aaaww. She's probably not the only one who felt that way. She is actually not the "second ever Asian-American" to host, but the sentiment is very valid. Hearts should be crying. This is great news.
Thanks to modern technology, people are allowed to record television shows and watch them later, but one Twitter user is very adamant about plans to watch the show live, tweeting, "cancelling plans for oct 6. awkwafina has my full attention."
One fan tweeted, "Yo, Awkwafina came a crazy long way from her 'My Vag'song. Insane to see her do amazing things." She really has. Hosting Saturday Night Live is a big deal, especially for someone with multiple talents like Awkwafina who can act and rap. This is such a great opportunity to showcase her abilities.
There's no doubt about it: hosting Saturday Night Live is a true honor. It's definitely a great indication of where an entertainer is at in his/her career and the potential to come. In this case, it's an especially historic moment since Awkwafina is the first Asian woman to host the show in eighteen years. Hopefully this long of gap does not happen again and Awkwafina is able to inspire some other amazing hosting choices.