Aziz Ansari Has Just Been Accused Of Alleged Sexual Misconduct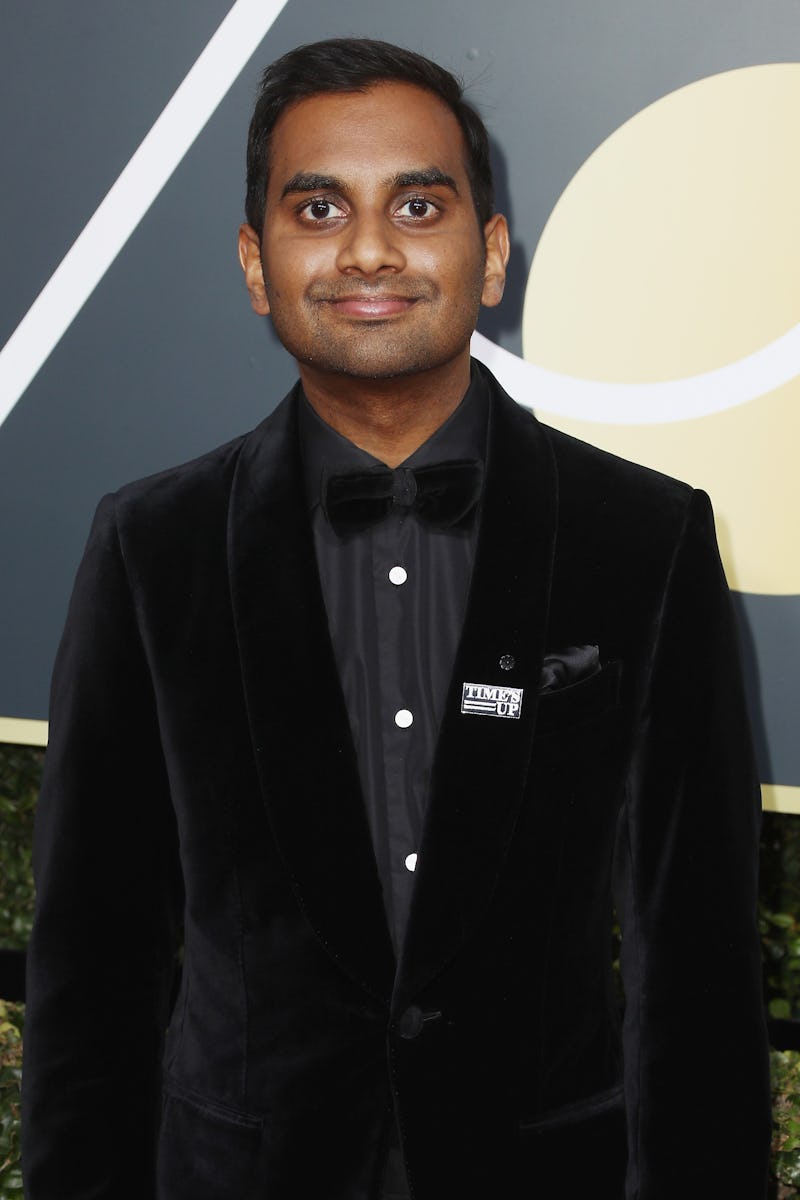 Frederick M. Brown/Getty Images Entertainment/Getty Images
Late on Saturday, Jan. 14, Aziz Ansari was accused of alleged sexual misconduct in a report published by a publication called Babe, a woman photographer (using the alias "Grace" in the report) said that Ansari allegedly made unwanted sexual advances toward her after a date last year. In the detailed account published by Babe, the two reportedly met and exchanged numbers at the Emmy Awards in September 2017, and later reunited in New York. The article details an alleged encounter between Ansari and a 23-year-old photographer from New York where, upon returning Ansari's apartment after a date, the woman alleges the star coerced and pressured her to have sex despite physical and verbal cues she did not want to. (Bustle reached out to Aziz Ansari's representatives for comment on the allegations, but did not hear back before publication.)
UPDATE: Ansari responded to the claims in a statement related to The Hollywood Reporter:
In September of last year, I met a woman at a party. We exchanged numbers. We texted back and forth and eventually went on a date. We went out to dinner, and afterwards we ended up engaging in sexual activity, which by all indications was completely consensual.
The next day, I got a text from her saying that although "it may have seemed okay," upon further reflection, she felt uncomfortable. It was true that everything did seem okay to me, so when I heard that it was not the case for her, I was surprised and concerned. I took her words to heart and responded privately after taking the time to process what she had said.
I continue to support the movement that is happening in our culture. It is necessary and long overdue.
EARLIER: At the 2018 Golden Globes on Sunday, Jan. 7, Ansari wore a Time's Up pin on stage to accept the award for Best Actor in a Comedy Series and the moment reportedly inspired the woman to come forward with her story. In the Babe article, which is titled, "I went on a date with Aziz Ansari. It turned into the worst night of my life," she tells of how difficult it was to watch the award show and why it seemed important to speak up. "It was actually painful to watch him win and accept an award," the woman told Babe. "And absolutely cringeworthy that he was wearing the Time's Up pin. I think that started a new fire, and it kind of made it more real.'"
In the report, the woman shared text messages in a reported exchanged between her and the star after the alleged sexual misconduct, which reportedly occurred on Sept. 25, 2017. The publication reported that it matched the phone number using the public register. "Last night might've been fun for you, but it wasn't for me," she said she wrote to him in a text. "You ignored clear non-verbal cues; you kept going with advances." The star reportedly responded: "I'm so sad to hear this," he wrote. "Clearly, I misread things in the moment and I'm truly sorry."
Many fans who've read the accusations now worry that if true, Ansari's brand of feminism could be performative. In the past, the actor has made a point to educate people on women's issues both on and off screen. The most recent season of his show, Master of None, even included an episode about workplace sexual harassment that has largely been viewed as foreshadowing the current moment. On Sunday morning, some fans were surprised to hear the claims, while others pointed out that positioning oneself as an activist is can be used to distract from one's own behavior.
The systemic culture of harassment and sexism in Hollywood took center stage at the Golden Globes with many women and a few men calling for change across industries. The #TimesUp Movement is a legal defense fund and social advocacy group established by over 300 women in the entertainment industry. It was created in response to allegations of sexual harassment and misconduct throughout Hollywood.
The accusations against Ansari have sparked an important conversation on Twitter about consent. Many users tweeted in support of the woman who spoke out, and shared similar stories. "It took a really long time for me to validate this as sexual assault," the woman told Babe of the incident. "I was debating if this was an awkward sexual experience or sexual assault. And that's why I confronted so many of my friends and listened to what they had to say, because I wanted validation that it was actually bad."
Ansari hasn't yet released a statement about these allegations and we will update this post if he responds.
If you or someone you know has been sexually assaulted, call the National Sexual Assault Telephone Hotline at 800-656-HOPE (4673) or visit online.rainn.org.