These Pics Of Prince George & Princess Charlotte When They Were Born Are So Cute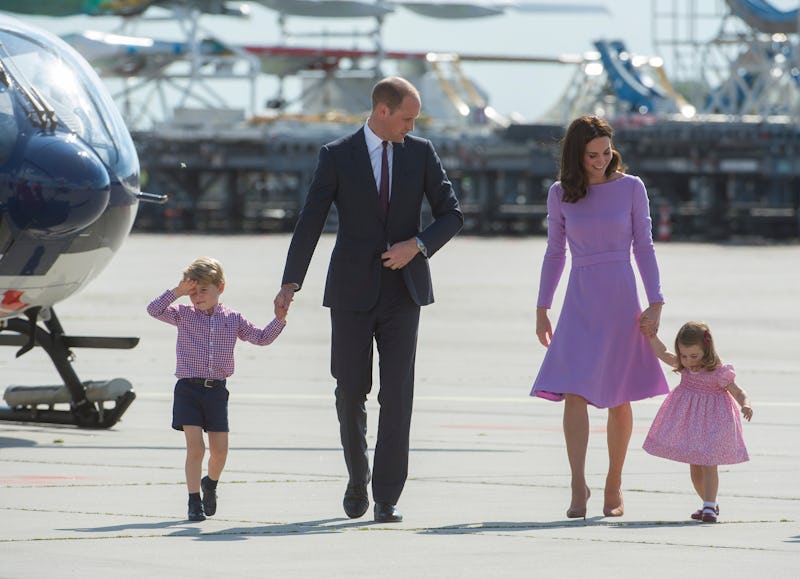 Pool/Getty Images Entertainment/Getty Images
It's a boy! On Monday, April 23, Kate Middleton gave birth to her third child at the Lindo Wing of St. Mary's Hospital in London. It's tradition to debut the royal baby on the hospital steps, and it's where the first photos of Prince George and Prince Charlotte when they were born were taken. Princess Diana first revealed Prince Harry and Prince William on the same stairs, and it has since become custom. It's good news for fans of the Prince William, Duke of Cambridge, and Catherine the Duchess of Cambridge, as it won't be a long wait to catch a glimpse of the latest addition to the Royal Family. In the meantime, there are plenty of photos of Middleton holding Prince George and Princess Charlotte outside the hospital, and they are so adorable.
Kensington Palace announced that the Duke and Duchess of Cambridge would be expecting a third child in September of 2017, and the royals later confirmed the baby would be due in April. The Duchess made her last official public appearance in March before going on maternity leave. She gave birth on Monday around 11 a.m., as announced by the palace, to a baby boy weighing 8 pounds, 7 ounces. If they follow tradition, and they surely will, the family will appear outside the hospital later in the day or the following day.
While waiting to catch a glimpse of the newborn, fans of the family can revisit plenty of baby pictures of Princess Charlotte and Prince George, from their first day to growing into little kids. The Royal Family is pretty generous about sharing their lives, and here are some of the first photos of the royal babies:
Prince George, The Duke and Duchess' first baby, was born on July 22, 2013. This time, Middleton and Prince William appeared in matching light-blue outfits, and the color may have been chosen for their son. Prince George is now four years old.
When Princess Charlotte was born early in the morning on May 2, 2015, the couple debuted their daughter on the Lindo Wing steps later that evening. Middleton wore a bright floral dress, and Prince William donned a vibrant blue sweater, which was fitting for the baby's spring birthday.
Prince George was also in attendance for the debut, wearing this adorable sweater and matching his father. He's two years older than his baby sister.
These were the first baby pics of Prince George and Princess Charlotte, but the family has since shared plenty of moments on social media and made numerous public appearances as a family.
Here are some recent baby picture highlights from the Royal fam.
Princess Charlotte's First Year
On Princess Charlotte's first birthday, Middleton shared this collage of baby pictures through Kensington Palace.
Prince George Meets Barack Obama
Barack Obama's iconic meeting with Prince George was captured in 2016, when the the royal toddler was allowed to stay up past his bedtime to greet the president.
First Day Of School
This first-day-of school picture was snapped by Middleton before seeing Princess Charlotte off to her first day of nursery school.
In another back to school send-off, Prince William took his son to his first day of pre-school.
Family Ski Trip
On a skiing trip in 2016, the whole family got together for this sweet wintery group photo.
A Trip Abroad
The Duke and Duchess are known for their coordinated family style, and the royals are often photographed while deplaning. This pic shows the whole royal family exiting a plane in 2016.
Middleton and Prince William make many public appearances as a family, so it's likely more pictures of the new baby will be published by Kensington Palace soon. Their newborn son arrived just weeks before Prince Harry and Meghan Markle's wedding at Windsor Castle. The two will marry on May 19, and while the new baby will likely not be at the wedding, the Duke and Duchess of Cambridge's other kids will probably be making more cute memories celebrating the special day.