For Your Viewing Party Needs, Wells Shared Recipes For 'BiP's Signature Drinks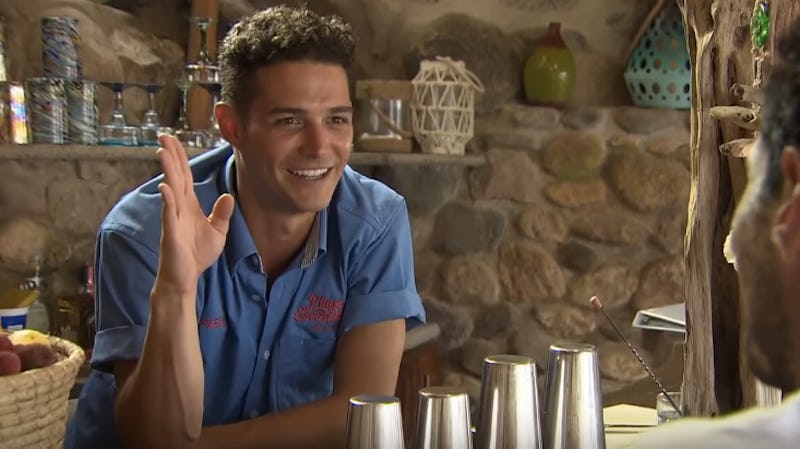 ABC
There's no better way to enjoy Bachelor in Paradise than by hosting a watch party to view the episode with friends. But to take things up a notch, why not have BiP themed drinks and snacks? Obviously, pizza is a given as far as snacks go so that's easy enough, but when it comes to drinks the show's new bartender, Wells Adams, has some recipes for Bachelor in Paradise's signature drinks.
Wells spoke to Bustle's Will You Accept This Podcast? about fans wanting him to be the next Bachelor, whether he will end up dating anyone on the show, and about his thoughts on the production shutdown. He also shared recipes for the most sought after drinks on the show, meaning fans can now make them at home.
Wells said, "Well, there's the Jorge Special." As there should be. Jorge is a Paradise icon. "That's the first drink I had to learn. That's a real drink. When you get to Paradise, Jorge always makes you a Jorge special." Clearly, this is the perfect one to make for your friends as soon as they show up to your BiP watch party or other special event.
The radio-host-turned-bartender explained, "It's cucumber and then vodka, and then Sprite, a splash of soda, and lime. It's really simple, but really refreshing because it's so hot." He also emphasized, "You have to do it in that order." Noted.
Even though the Jorge Special is the welcome drink for BiP cast members, it's not actually the most popular drink at the resort. "The thing that everyone drank there was tequila, soda, splash of pineapple, with a lime garnish because everyone is terrified of carbs, sugars, and being fat," Wells said. "I made that drink way too much. I hated it."
In between doling out advice to the lovelorn cast members, the new bartender came up with his own signature drink. "The Wells Special was kind of a hodgepodge of things," he shared. "It was mint, jalapeño, a little bit of simple syrup, and either vodka or tequila, depending on what you liked. Then that was muddled. Then soda, a splash of cran, and a lime garnish." That seems like a lot of work, but it does sound like it would be worth it in the end.
Of course, there are drinks named after Wells and Jorge, but another person who has epitomized Paradise from the get-go is none other than Alexis Waters. As soon as she came on the scene during Nick Viall's Bachelor season in that shark costume claiming to be a dolphin, it was clear that she was meant for Paradise.
Wells revealed, "The shot that I made was the Dolphin Shark Shot. That was obviously for our favorite dolphin/shark Alexis. It was basically jalapeños, lime juice, and tequila muddled, chilled, shaken, and served in shot form. It's basically a spicy tequila shot."
For years, fans have associated wine with The Bachelor and The Bachelorette. It's about time Bachelor Nation knows exactly what ingredients go into the Bachelor in Paradise signature cocktails, so they can mix things up for summer.