'BiP's Alleged New Consent Rule Might Not Be Good Enough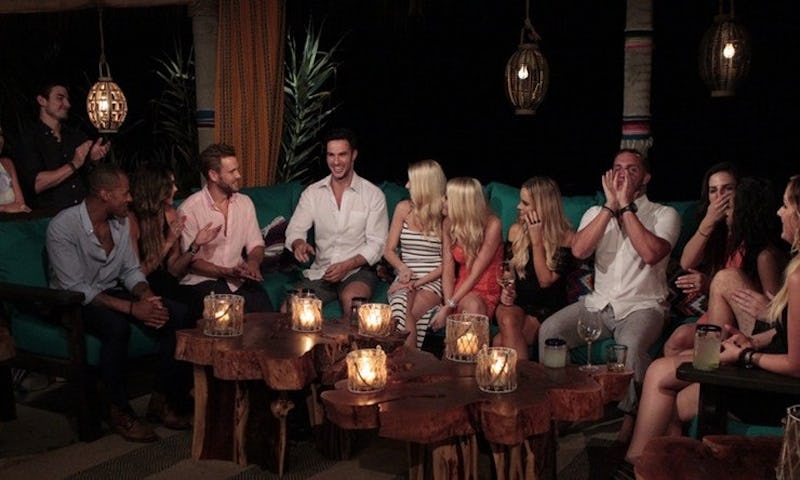 ABC
After ABC's popular spinoff series Bachelor in Paradise suspended filming amid allegations of "misconduct" on June 11, a little over a week later, Warner Bros. announced that the studio concluded investigations with no evidence that supported charges of misconduct from a cast member and the show would resume production. Now, it's being reported that moving forward, Bachelor in Paradise will allegedly implement new guidelines for contestants, including a limit on drinking and a new rule that requires contestants to inform producers before having sex on set. According to TMZ, if a producer feels that either party is unable to give proper consent, they will be able to stop the interaction from occurring. TMZ also reports that the cast was allegedly briefed on these new rules when they arrived back on site over the weekend. Bustle has reached out to Warner Bros. for comment, but did not receive a response at the time of publication.
In light of the allegations that occurred, it's important that the production company take appropriate action. The incident in question involved an alleged sexual encounter between contestants DeMario Jackson and Corinne Olympios that may have been nonconsensual. Olympios has gone on record stating that she has little memory of the night the incident allegedly occurred and has hired a lawyer who is continuing with his own investigation. As for Jackson, he has also hired a lawyer, denied any wrongdoing, and has said his character was assassinated in light of the allegations.
Allegations of sexual misconduct are serious and it makes sense that the show would want to ensure the safety of contestants and avoid any similar situations in the future, but even with these new rumored guidelines in place, it might not be enough considering how serious of an issue consent is.
It's a step in the right direction to institute a policy on consent, but it's not just the cast who need to be held accountable. The producers and crew all should have a deep understanding about what behavior is acceptable, and intensive workshops on consent for all those involved in the show, contestants or not, could be a good approach.
In an article for Vulture, an anonymous reality show producer who is not connected to Bachelor in Paradise wrote about how the culture of such a show might allow for an incident like the alleged one between Jackson and Olympios to occur. "Reality producers very rarely interrupt good scenes. You're much more likely to be dragged across the coals by an executive asking why you called cut than by one asking why you didn't step in," he wrote. He also noted that stars have incentive to hook up on reality shows, because the longer the contestant is able to prolong their reality-television fame, the more momentum they have to pursue their own business ventures post-show.
Therefore, an approach that could work better than keeping tabs on the contestants' hook-ups would be for the franchise to move away from this high-stakes culture for both producers and contestants. A drastic change in environment could be the safest bet. There are several steps the show could take to cultivate a safe time for contestants on set, including tweaking the show's storylines and marketing so they rely less on wild hookups to draw viewers in.
This is also a show about finding a lasting relationship, too, as has been seen with success stories like Carly and Evan and Jade and Tanner. Perhaps there could be more of a focus there, as there is on The Bachelor and Bachelorette. It also might be valuable to openly discuss consent on the actual series. One would hope that the shutdown will be addressed when Bachelor in Paradise does air, and it would best be presented as a way to start a a conversation.
The rumored consent policy is not the only alleged new guideline to face criticism. Others have pointed out that a two-drink per hour limit might not change much in an environment where all there is to do is hang out at a beach bar and drink. Even with this limitation, cast members could still be consuming large quantities of alcohol. TMZ did also report that more food will allegedly be provided on set during shooting, presumably to absorb alcohol.
If Bachelor in Paradise is going to continue, it's important that the show institute new policies for keeping contestants safe. However, it can only do so as long as the cast and the crew are given the proper education on consent, and are committed to creating a safer set environment, even if it means changing the way the show has been run in the past. If the franchise wants to convince fans that contestants are safe during filming, they need to prove their commitment to building a healthy culture on the show.