'Bachelor' Star Bekah M. Is Pregnant & Calls The News "A Dream Come True"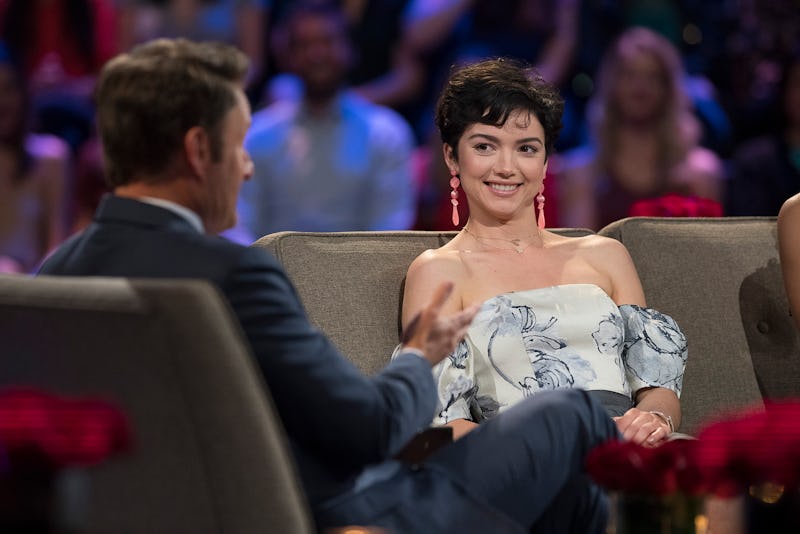 ABC/Paul Hebert
There's some majorly exciting news in Bachelor Nation: A former cast member is expecting their first child. Bachelor star Bekah Martinez announced her pregnancy in an article on PureWow on Wednesday morning. She also shared a video to Instagram, which finally explains why she skipped out on Bachelor In Paradise this season. (Bustle reached out to Bekah for additional comment, but did not receive an immediate response.)
UPDATE: Bustle received the following statement from Bekah via email:
"What started out with so much fear has blossomed into something so exciting and beautiful! I never would have guessed the 'journey' this year would take me on. Life is crazy!"
EARLIER: In the PureWow interview, Bekah called the news "legitimately a dream come true," telling the site, "It's the one thing that I've known with certainty for so long. I've gone back and forth on the idea of marriage and relationships, but I've always felt sure that I want to be a mom."
According to the article, Bekah originally planned to participate in the recent Paradise season. But when she met her boyfriend, Grayston Leonard — who's not a member of Bachelor Nation — she decided not to appear on the show. She and Grayston have now been dating for seven months, PureWow noted on Wednesday. Bekah learned she was pregnant three months into their relationship, and it sounds like she's overjoyed for the two of them to become parents together.
In the video posted to her Instagram page, Bekah said that her having a boyfriend in Grayston wasn't the only "secret" that kept her from Paradise. The Instagram clip is a teaser for a pregnancy announcement Bekah posted on YouTube. The former Bachelor contestant says in the video,
"Everyone, you know, was wondering, am I gonna, was I gonna do Bachelor in Paradise. And I had already said 'no.' But it was still kind of crazy that I had this secret of, like, oh no, not only do I have a boyfriend, I also now have a kid on the way."
The six-minute YouTube video also shows footage of a visibly pregnant Bekah at home, reading and spending time outside. There's a sit-down interview with her and Grayston too, where she talked about her boyfriend's getting used to her Bachelor fame. Bekah said that her widespread recognition became clear to Grayston when the two of them took a trip to Utah after a month of dating. Shortly afterward, there was a flurry of headlines about her new relationship.
"The first thing I felt when I saw the positive was just pure shock. Like, my hands were shaking," Bekah said in the YouTube video. "And I was just like, 'Oh my God.' The first thing I did, I just picked up the phone and called Grayston. I don't think I had even processed it in my head."
Bekah also shared a clip of a baby on her Instagram Story, explaining that the tot, Charlie, is the younger sibling of a child she used to nanny for. Bekah is definitely great with kids — working with them is literally her job — so it's safe to say she'll be a great mom, too.
Back in July, Bekah shared with PureWow that she decided not to join Paradise because she didn't want to "jeopardize" her relationship with Grayston. "It wasn't worth it for me to put myself in that environment where I could possibly jeopardize what I had with Grayston," she told the outlet at the time.
A fan-favorite from Arie's Bachelor season, Bekah made it fairly far on the show. Eventually, though, Arie decided their age difference was too much — he was 36 at the time of filming, while she was 22. Bekah ended up facing a lot of criticism for her age as The Bachelor aired, with some fans thinking the nanny wasn't ready to "settle down" at the end of the show. But she didn't let it get to her, and she and Grayston are starting a happy family of their own.
If everything happens for a reason, Bekah made exactly the right decision by pursuing her relationship with Grayston and not going on Paradise. Her pregnancy announcement video shows how close the two of them are, and it's clear that Bekah is stoked to become a mom.