A New 'Bachelor' Spinoff Is Coming Next Winter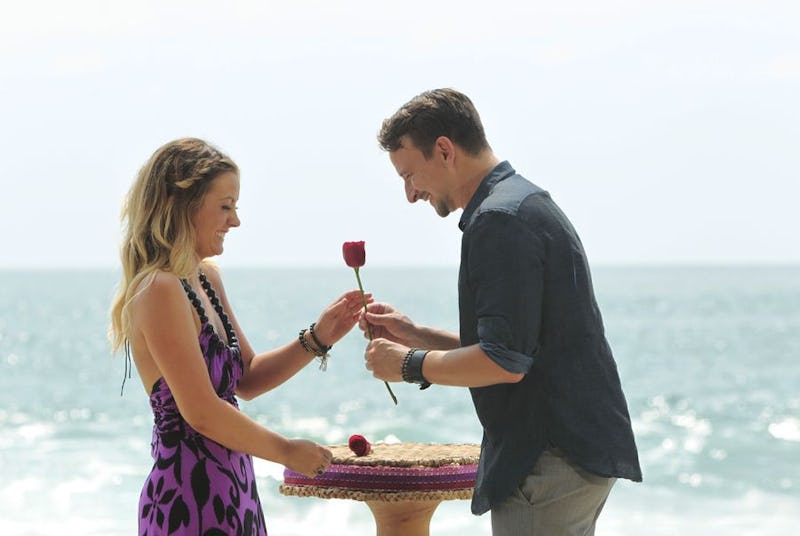 Rick Rowell/ABC
Next TV season, there's about to be a lot more Bachelor in your life — as if there could ever be enough. On Tuesday, ABC announced their plans for The Bachelor Winter Games, a new spinoff that will put former contestants to the test — physically and romantically. According to Deadline, the show will premiere in February 2018, right in time for the Winter Olympics, and if you love Bachelor in Paradise, it sounds like this new addition to the franchise will be right up your alley.
The news broke in time for the network's upfront presentation about the 2017-2018 TV season, promising a new series that will "take competitive dating to a chilling new level," and I'm guessing that's literal, since instead of hitting the sunny beaches of Mexico, they cast will be hanging at a snowy resort instead.
Here's how ABC describes the show, via The Hollywood Reporter:
[It] will reunite the all-stars at a luxurious winter resort, where they will go head-to-head in winter-themed athletic challenges, including the toughest sport of all: love.
Yep, that sounds like the Bachelor franchise we all know and love... minus the athletic competition part, which will definitely be a interesting twist.
No word yet on an exact premiere date or who will be competing, but it seems like any of the usual fan favorites are fair game — well, the single ones, anyway. If there is any good in this world, Ashley I. will be on the list... with or without Jared. Obviously, Corinne is a must. And now that Ben Higgins and Lauren Bushnell have called it quits, maybe one of them (or both?) will even show up to play.
Hopefully, more information is on its way, and since The Bachelor usually premieres in January, just a month before The Bachelor Winter Games, we can all use this time to prepare for what is bound to be a winter full of "amazing journeys"... and maybe even a rose-themed obstacle course or two?