See 'Bachelorette' Rachel Lindsay's Premiere Dress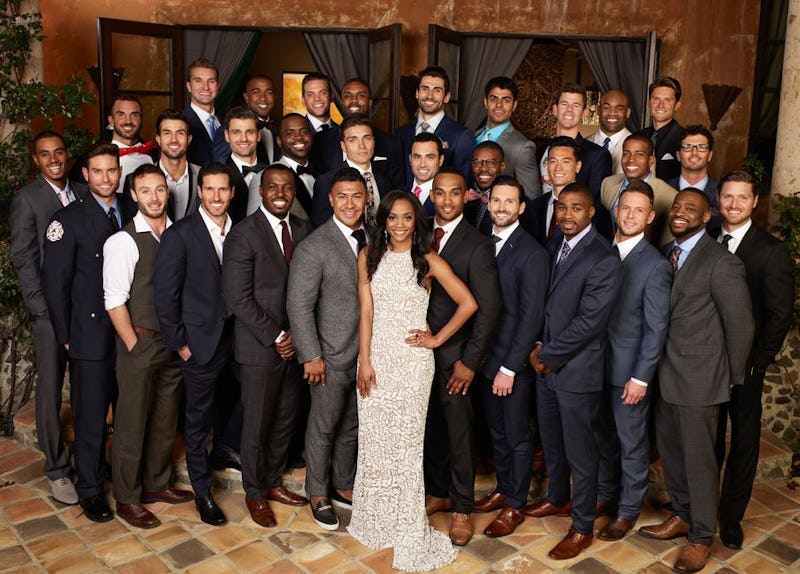 ABC
Get your popcorn ready, because another season of The Bachelorette is almost here. While I can't predict what will happen when the newly crowned Bachelorette meets the men for the first time, I can tell you that that Rachel Lindsay's Bachelorette premiere dress is absolutely gorgeous. Her first look of the season combines trend and sophistication in the best possible way. Here's everything you need to know about the dress, so you won't be distracted by its beauty on premiere night.
Jojo Fletcher might have made a statement with her style last season, but Lindsay is proving that this season's sartorial picks could be better than ever. According to Who What Wear, Lindsay wore a custom-designed Randi Rahm dress for the premiere of The Bachelorette, which airs Monday, May 22 on ABC at 9 p.m. ET. The all-white giraffe-printed halter gown is super trendy while looking classic all at the same time. If this is any indication of how this season will go, at the very least it will be stylish.
According to photos on the ABC website, she accessorizes the dress throughout the night as well. Lindsay is seen wearing a fur shawl in some of the images, although it's unclear where the item is from or if it is real or faux fur. Either way, the jacket-option gives a timeless and classic look to a trendy dress.
Linsday isn't the only one who's chosen to make a sparkly first impression. In the past, Bachelorettes like Jojo Fletcher and Kaitlyn Bristowe also opted for shimmery dresses. Bustle reported that Fletcher's custom-made dress was made by the same designer as Lindsay's, so it looks like it's going to be another stylish season.
If you though all of that was great, just wait until you see the back of the gown. The Randi Rahm dress is almost completely backless. The strap details on the dress make it feel a bit more elegant and explains why she may have needed a jacket when meeting the men. Unfortunately, because the dress is custom-made, you won't be able to wear it on your next date. I'm willing to bet that white halter dresses will be making a serious comeback, though.
You just never know what will happen on Bachelorette, but one thing is for sure — there is some great style moments to come. Let's just hope that the rest of Lindsay's clothing options are able to be bought in-stores!