Don't Listen To This Terrible Advice About Hurricane Irma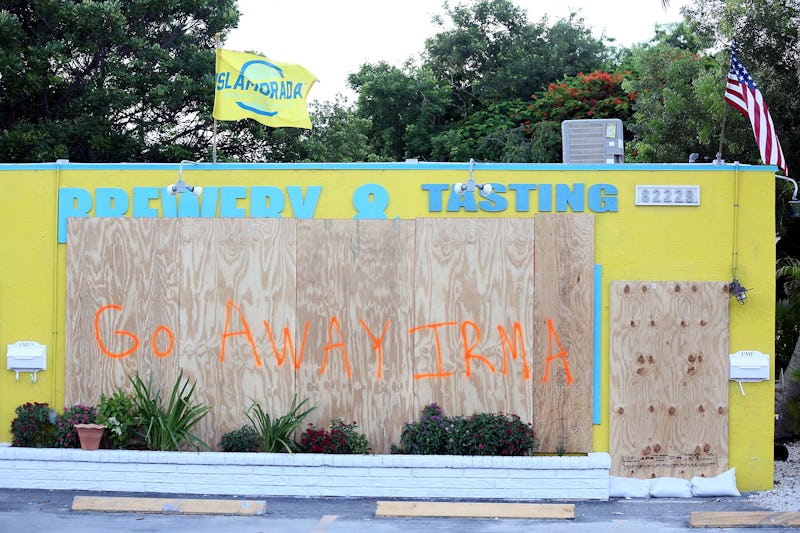 Marc Serota/Getty Images News/Getty Images
Social media can be literally life-saving during hurricanes, but it can also be a breeding ground for fake news that puts people in as much danger as the actual disaster. With another hurricane barreling toward the United States coastline, it's crucial to make sure that any online advice about Hurricane Irma is thoroughly vetted before it's incorporated into your hurricane plan.
One of the most devastating parts of a hurricane is the loss of personal items, and one Facebook post that's been shared nearly a million times in the last few days is giving people false hope about how to protect their possessions. The post claims that dishwashers are the perfect safe for your valuables because they are waterproof and secured to your kitchen cabinets so they're unlikely to move with floodwaters.
BuzzFeed News reporter Jane Lytvynenko tried to shut down this claim by reaching out to dishwasher manufacturer Maytag, but the company simply said that it can't recommend its products' use for anything except what's outlined in the user manual. SouthernSavers.com says that you can put some valuables in the dishwasher if they are separately sealed, but a reader commented by saying that dishwashers can back up with sewage if the storm is bad enough. So the jury may still be out on this one, but definitely don't use a random viral Facebook post as a guarantee.
Another viral Facebook post that Lytvynenko disproved is especially important because thousands of Floridians are evacuating their families out of the state right now. According to the uncredited (and discredited) post, the 2006 Pets Evacuation and Transportation Standards Act mandates that hotels are required to take in pets, but it's simply not true — only government organizations are required to take pets during evacuations. If you're in need of a pet-friendly hotel, FEMA has a helpful online tool you can use to find one, and remember that service animals are allowed in hotels no matter what.
Many people have been downloading the digital walkie talkie app Zello in advance of the storm, hoping to avoid communication lapses via alternative methods. Telecomm officials are hopeful that service interruptions will be minimal, but Florida could very well be without cell service for a few days or weeks depending on the storm's severity at impact. There was a rumor going around that Zello will work without either an internet connection or Wi-Fi, but this one has been debunked by the company itself. Zello posted on its official Twitter account Thursday that there is "massive misinformation among users in Puerto Rico that Zello will work without internet. It will not."
Finally, unless you hear otherwise from local officials, there is no reason to believe that the hurricane is headed your way. Some outlets are speculating that Irma could follow the same path as a storm from 1960, which formed in the western Atlantic before running north along the entire U.S. East Coast. However, the National Weather Service can only accurately predict hurricane trajectories about five days in advance. There's no hard data suggesting that Irma is headed toward the East Coast for now, so wait to panic until you actually have proof that you should.
Irma is approaching fast, so if you live in the immediate area expected to be affected, you should be already prepared and evacuating soon. Unfortunately, there's not a whole lot of time left to look up storm prep advice online, and saving your life is a lot more important than saving your possessions. However, if you're still trying to hunker down with your home, make sure to fact-check any information you may be relying on to get you through this hurricane.