The Obamas' Official Portraits Were Just Unveiled & They Will FLOOR You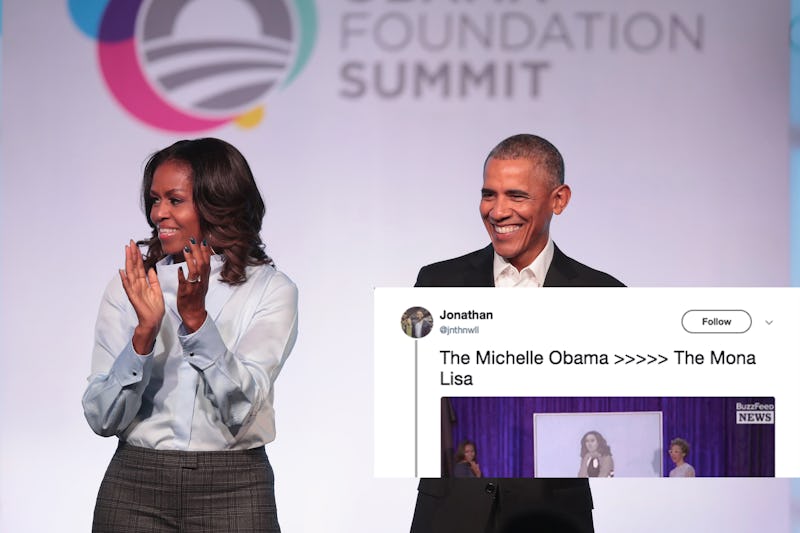 Scott Olson/Getty Images News/Getty Images; jnthnwll/Twitter
Fans of the Obamas are always thrilled to see the couple back in the spotlight, but Monday morning's unveiling of the Obama's official portraits at the National Portrait Gallery in Washington, D.C. probably floored them. The paintings were highly anticipated because of the subjects, but also thanks to the artists chosen to depict the former first couple.
For the first time in history, black artists have created the official portraits for both the president and first lady. Former President Obama chose Kehinde Wiley to paint his, and the presidential portrait unveiled Monday matched the artist's portfolio showing black men and women in the same noble poses white men and women have been portrayed throughout history. Wiley depicted Obama sitting in front of a colorful floral backdrop, his arms crossed and a serious but solemn expression on his face. He's in a classic black suit and white shirt, with the grey hair he accumulated in the White House on full display.
"How about that? That's pretty sharp," Obama said Monday morning after his portrait was revealed. "I tried to negotiate less gray hair and Kehinde's artistic integrity would not allow him to do what I asked. I tried to negotiate smaller ears. Struck out on that as well."
After Wiley was tapped to paint Obama's portrait, he told The Guardian it was a "huge responsibility." Rather than have the former president sit for a painting, Wiley took thousands of pictures of Obama to refer back to. "It's been a really fun process in which he's been involved," Wiley said in November.
Michelle seemed to have fewer requests than her husband for how she looked and was elated to see herself depicted by artist Amy Sherald. Sherald is known for painting dark skin grey as a way to "subversively comment about race without feeling as though I'm excluding the viewer," as she's previously explained. Her portrait of Michelle utilizes her trademark grey skin tone, showing the former first lady sitting in a regal position with a geometric ballgown flowing across the floor and out of the frame.
When Michelle addressed the crowd at the National Portrait Gallery, she focused on the fact that her portrait embodies her role as the first black woman to represent the United States as first lady.
I'm also thinking about all the young people, particularly girls, and girls of color, who in years ahead will come to this place and they will look up and they will see an image of someone who looks like them hanging on the wall of this great American institution. ... I know the kind of impact that will have on their lives, because I was one of those girls.
Obama's portrait will hang in the National Portrait Gallery's hall of presidents while Michelle's hangs in a separate gallery. The public can see both adorning the walls of the museum on Tuesday.
And if Obama's reaction to his wife's portrait is any indication, you're going to want to see them in real life. "Amy, I want to thank you for so spectacularly capturing the grace and beauty and intelligence and charm and hotness of the woman I love," Obama said Monday.
People on Twitter were blown away by the portraits, too. Michelle's was compared to the Mona Lisa, Obama's was compared to Beyoncé, and the significance of the first presidential portrait painted by a black artist being unveiled during Black History Month was not lost.
"When the official portrait of our first Black president Barack Obama, painted by a queer, Black artist, is unveiled during #BlackHistoryMonth days prior to the release of #BlackPanther," writer and activist Ashley Nkadi tweeted. "This is a mood for the ages."
Needless to say, prints of the former president's and first lady's portraits would likely sell very well.