Barack Obama Just Shared His Thoughts On The 2018 Midterms Results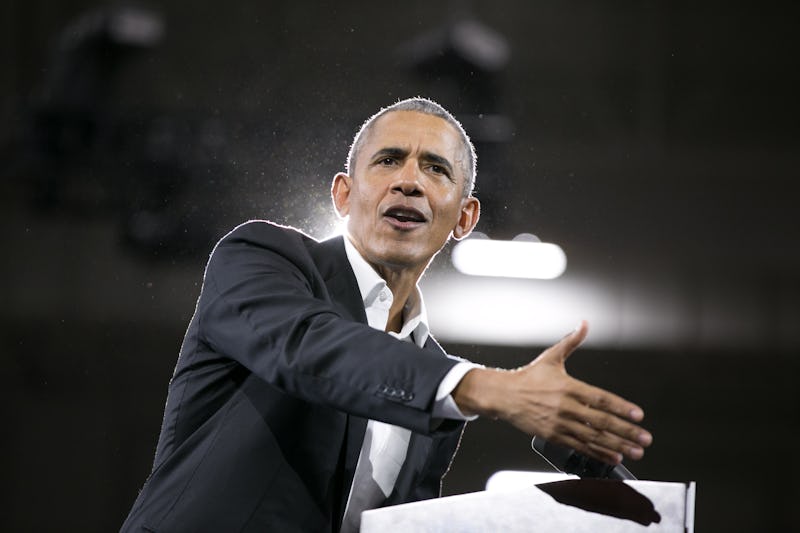 Jessica McGowan/Getty Images News/Getty Images
For many, the leadup to the midterm elections was fraught with nervous energy. When the results came out, voters landed all over the emotional spectrum. A number of world figures have now shared their thoughts on the races, and former President Barack Obama was no exception. Barack Obama's response to the 2018 midterm results was very congratulatory and full of hope.
In a statement the former POTUS tweeted out on Wednesday, he said:
I congratulate everybody who showed up and participated in our democracy yesterday. Obviously, the Democrats' success in flipping the House of Representatives, several governorships, and state legislatures will get the most attention. But even more important than what we won is how we won: by competing in places we haven't been competitive in a long time, and by electing numbers of women and young veterans of Iraq and Afghanistan, a surge of minority candidates, and a host of outstanding young leaders.
In the days leading up to the election, Obama traveled across the country stumping for his fellow Democrats and appearing at rallies for various candidates in gubernatorial, House, and Senate races. One day before Election Day, the former president even came (with donuts) to help Virginia Democrats Sen. Tim Kaine and State Sen. Jennifer Wexton campaign in Fairfax County, CBS News reported. Kaine won his Senate re-election bid, as did Wexton in her House race against incumbent Rep. Barbara Comstock in Virginia's 10th Congressional District, according to The Washington Post.
"The character of this country is on the ballot," Obama said during a Monday appearance, per CBS News. "Who we are, what kind of politics we expect is on the ballot. How we conduct ourselves in public life is on the ballot. How we treat other people is on the ballot."
He echoed that sentiment in his post-midterms statement, adding that the work must go on. Obama wrote:
The change we need won't come from one election alone — but it is a start. Last night, voters across the country started it. And I'm hopeful that going forward, we'll begin a return to the values we expect in our public life — honesty, decency, compromise, and standing up for one another as Americans, not separated by our differences, but bound together by one common creed.
His comments touched on the record-breaking voter turnout on Tuesday, as an estimated 114 million voters cast ballots in House races this year, compared to 83 million in 2014, according to The New York Times. "The more Americans who vote," he wrote, "the more our elected leaders look like America."
Despite the GOP clenching a few key races — including ousting Sen. Heidi Heitkamp and Rep. Beto O'Rourke's unsuccessful bid to unseat Sen. Ted Cruz — Obama praised young candidates who "fell short" this time around. According to him, their campaigns "infused new energy and new blood into out democratic process" simply by challenging the status quo.
"America will be better off for a long time to come," he wrote.
Angela Chen contributed to this report.