Barack Obama Thanks Michelle For Being His Forever First Lady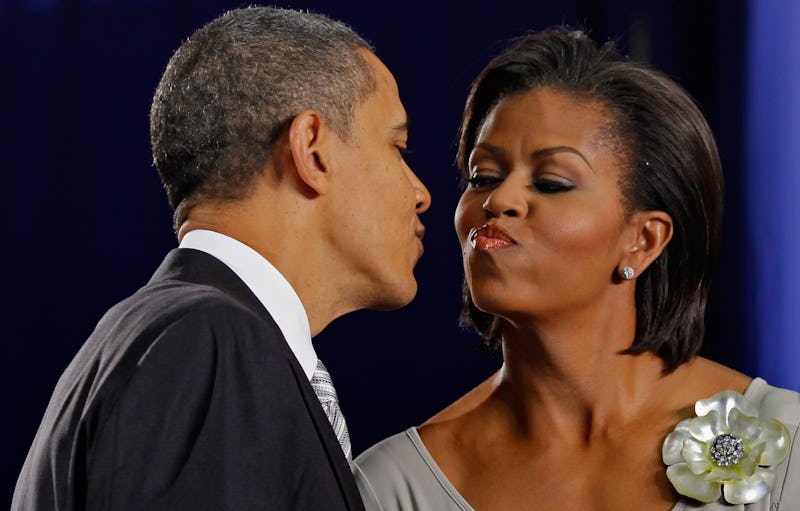 Chip Somodevilla/Getty Images News/Getty Images
On Sunday, Barack Obama was honored with the 2017 Profile in Courage award, and what he said about his wife, Michelle, in his acceptance speech will make you miss the times when they were still this country's first couple (even more than you probably already do). "I also want to thank Michelle Obama for after the presidency sticking with me, because I think she felt an obligation to the country to stay on," he said. "But once her official duties were over, it wasn't clear. I love my wife. And I'm grateful for her. And I do believe that it was America's great good fortune to have her as first lady."
Although he likely had nothing to worry about, it's easy to see where the former president's slight unease might come from — Michelle Obama's distaste for politics is well-known, and she made no secret of her struggles with taking on the role of first lady. It was a job she never asked for, but she still worked hard to successfully do it. Still, Barack Obama's political ambitions were the source of concern for his wife dating back at least 20 years.
"There is a strong possibility that Barack will pursue a political career, although it's unclear," she told the New Yorker's Mariana Cook in a 1996 interview. "There is a little tension with that. I'm very wary of politics. I think he's too much of a good guy for the kind of brutality, the skepticism."
The expectations and criticisms she faced during her husband's eight years as president were only intensified by her being the country's first black first lady. "As potentially the first African American First Lady, I was also the focus of another set of questions and speculations," she said as she delivered the commencement speech for the 2015 graduating class of Tuskegee University. "Conversations sometimes rooted in the fears and misperceptions of others. Was I too loud, or too angry, or too emasculating? Or was I too soft, too much of a mom, not enough of a career woman?"
"Over the years, folks have used plenty of interesting words to describe me." she added. "One said I exhibited 'a little bit of uppity-ism.' Another noted that I was one of my husband's 'cronies of color.' Cable news once charmingly referred to me as 'Obama's Baby Mama.'"
Ultimately, she told the Tuskegee graduates, she realized that in order to maintain her sanity, she would have to ignore "all of the noise" and be true to herself. And she did. She dedicated her time in the White House primarily to pushing initiatives to improve the lives of children, especially in terms of physical and mental health. Also important to Michelle Obama was advocating for girls' right to pursue their educations around the world, eventually launching the Let Girls Learn initiative in 2015.
Despite the endless challenges the Obamas faced through their eight years as America's first couple, the love between the two remained strong, and, in fact, even seemed to get stronger. "I didn't think it was possible, but today I love my husband even more than I did four years ago, even more than I did 23 years ago," Michelle said in her speech at the 2012 Democratic National Convention.
Judging by how much they seem to be enjoying spending time together since leaving the White House, the former president shouldn't have any worries of being left by his wife any time soon.