Obama's Birthday Message To Michelle Is So, So Sweet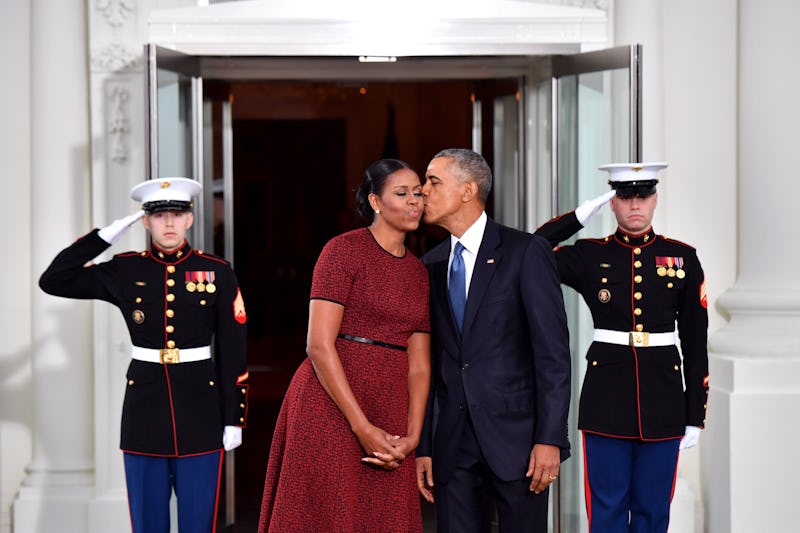 Pool/Getty Images News/Getty Images
It's been nearly one year since former president Barack Obama and former first lady Michelle Obama departed from public life, giving way to the current president and first lady, Donald and Melania Trump. But even though they're no longer living in the White House, or representing the country abroad, they're still immensely popular figures with a majority of the American public, and their presences on social media still draw a ton of attention. Which is why Barack Obama's birthday message to Michelle went viral on Wednesday, charming so many of the denizens of social media.
The birthday message was attached to a photo of the pair posted to the former president's Instagram on Wednesday. Michelle, 54, was born on this day, Jan. 17, all the way back in 1964. The photo, of the couple sitting amid a host of trees and greenery, has already received more than two million likes. It also included the following passage from Barack, who wished his wife of 26 years a very happy birthday.
You're not only my wife and the mother of my children, you're my best friend. I love your strength, your grace, and your determination. And I love you more each day. Happy Birthday, @MichelleObama.
It wasn't just a pleasant Instagram that Barack gave Michelle for her birthday, either. In a post to her own account, Michelle showed off a bouquet of flowers that was left in her office when she arrived Wednesday morning, and thanked him for the gesture. She also captioned the image, calling Barack her "best friend," and her "biggest fan."
Thank you @BarackObama for the beautiful flowers waiting for me in the office this morning. You're my best friend, biggest fan, and getting notes and flowers from you will never get old. And to the many people from around the country who sent cards and posted on social media, you have no idea how much we love hearing from you. I know birthdays can sometimes be bittersweet (54!), but your messages of hope, generosity, and warmth have always reminded me how lucky and blessed we are.
Barack is two years Michelle's senior, at 56. The pair met in 1989, when Michelle was assigned as his mentor at Sidley Austin LLP, a Chicago-based law firm. They began dating within the year, and were engaged to be married in 1991. They had their first child, Malia, in 1998, and their second, Sasha, in 2001. Barack was ultimately elected to the U.S. Senate in 2004, and after less than one term in office, launched his presidential campaign in 2007.
The rest, so to speak, was history. Barack defeated New York senator Hillary Clinton in the 2008 Democratic primaries, upsetting a prohibitive favorite. Then, he cruised to an overwhelming victory against John McCain in the general election, beating the Arizona senator by an electoral college margin of 365 to 173, the most lopsided victory since 1996. He was sworn into office on Jan. 20, 2009, and in the process, Michelle became the first lady.
It's not surprising that so many people are still so glued into the day-to-day lives and social media postings of the Obamas. Both of them remain highly popular among Democrats, and among a majority of the American public. Michelle, in fact, has a higher approval rating than her husband does ― she clocked in at a whopping 68 percent as she left the White House.
By comparison, the current first family is not nearly so popular or well-received. President Trump has the lowest approval ratings in the history of polling for a president still so early in their first term. First Lady Melania Trump's numbers are a lot better, at 54 percent, although still a far cry from where Michelle is at.