Barefoot Wines Is Letting You Personalize Your Own Label In Support Of The LGBTQ Community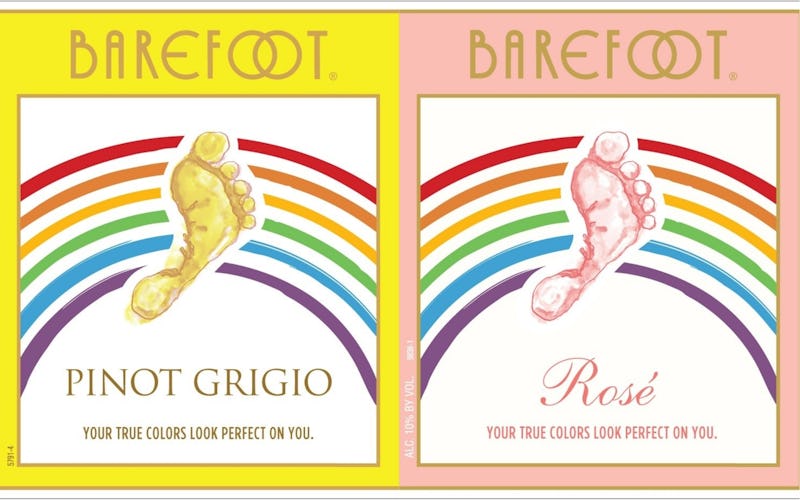 Courtesy of Barefoot Wines/Remixed by Bustle
I can't think of many things better than wine. Unicorns, maybe, but it's a close call. I didn't think vino could get any better until I learned Barefoot Wine has wine labels you can personalize, online, FOR FREE, and get them mailed to your house. Second to my birthday, this might be the greatest day ever. The labels are meant to go to a best friend or perhaps a lover, but I might send one to myself, because I'm fabulous.
Here's how it works. When you first land on the website, it will prompt you to select your state and then enter your email address. From there, you can choose from three labels: pinot noir, rosé, or pinot grigio. I went with rosé, obvi. Next, you'll have the opportunity to customize your label. Barefoot offers six pre-written compliments you can choose from, including "You are a human rainbow," and "You're made of 100% best friend material." Or, you can opt to roll up your sleeves and make your own message, if you're feeling particularly creative.
FYI, there's a 31-character limit, including spaces, which is super short, too short for the haiku I was going to write, but I've digressed.
I like to think I'm fairly witty, so I decided to craft a message of my own. My label is for my boyfriend, who is — what are the kids saying these days? — the real MVP. 31 characters isn't enough for me to truly express how much I love him — which would most likely include something about how much I appreciate the late-night froyo runs he takes me on — but I think I got the sentiment across.
I'm, like, the best girlfriend ever.
After you decide on your compliment, you select your quantity. The only options are one or two, which doesn't really reflect the number of bottles some of us go through in the average week, but whatever... Then click "Submit and Order." You'll be prompted to fill out your contact information, and that's it! Your order is off to the printers, and the website says you should get it in three to four weeks. It's that simple. And free. Did I mention it's free? I wanted to be really sure I mentioned that.
Hey guys, it's free.
Also, once you finish your order, Barefoot Bestie Label clarifies you can actually order up to two labels per day, which seems much more logical to me and the 12 bottles of wine currently chilling in my fridge.
Personalizing wine labels is super fun and stuff, but there's a deeper purpose behind it. Barefoot is doing it in celebration of Pride Month, they say in a press release. They've been a proud supporter of the LGBTQ community since 1988, sponsoring over 200 events around the world every year. In fact, for every Barefoot Bestie Label ordered, they'll donate $1 to Outfest, an organization that helps protect LGBTQ stories told on screen.
Anna Bell, Senior Director of Marketing for Barefoot, says in the press release, "At Barefoot, we believe that wine is better when we're together, and we continuously celebrate inclusivity, authenticity and community." I'll cheers to that!
Personalization is all the rage these days. Let us not forget the personalized air fresheners we recently discovered by Fresh Face, which lets you order air fresheners with people's (or pets') faces on them. No better way to spice up a long road trip and keep it smelling fresh as a daisy, amirite?
While Barefoot hasn't graduated to wine labels with people's faces on them (yet), being able to send a special message to people you care about who also enjoy a glass or 10 of vino now and then certainly offers a special something.
Place your orders, people! Barefoot Bestie Labels are only available until September 8, at which point labels will go back to be normal and boring.