DC Bars Are Opening Early For James Comey's Testimony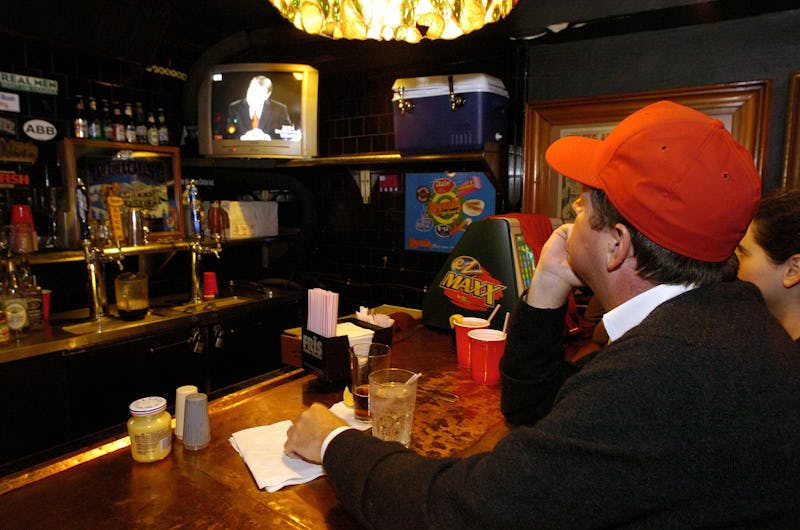 Micah Walter/Getty Images News/Getty Images
Americans are eagerly awaiting former FBI Director James Comey's Thursday testimony before the Senate Intelligence Committee, but none so much as those in the nation's capital. In classic Washington fashion, D.C. bars are opening early for James Comey's testimony so people can watch the hearing in the company of friends and libations.
Comey is scheduled to testify before the Senate at 10 a.m. ET., a widely anticipated event due to the controversy surrounding his abrupt firing in May. Prior to letting Comey go, Trump asked him to halt his investigation of former national security director Michael Flynn's alleged ties with Russia, which, according to his testimony transcript revealed on Wednesday, is true. In his testimony, Comey is expected to testify that Trump pushed him to pledge his loyalty, and that he assured the president he wasn't under investigation.
According to The Washingtonian, at least three bars are reportedly opening on Thursday morning so that D.C. residents can gather to watch Comey's testimony. Shaw's Tavern is hosting a "Comey Hearing Covfefe," a cheekily-titled event beginning 9:30 a.m. EST. The Tavern will feature speciality Russian vodka shots and an "FBI sandwich," along with a larger breakfast menu.
Duffy's Irish Pub will open at 10 a.m. and offer a "Covfefe Cocktail" in homage to Trump's twitter typo blunder last week. The Partisan bar will also open at 10 a.m. and feature sales of cocktails called "The Last Word" and "Drop The Bomb." All three bars have indicated that they plan to show the hearing on multiple televisions with the volume "at full blast."
Rob Heim, the general manager of D.C.'s Shaw's Tavern, came up with the idea for his bar's party after seeing an ad for the Comey hearing on television and realizing that many people in D.C. would likely be interested in watching it in a public venue. Nonetheless, Heim still expressed his surprise and excitement that so many people were seemingly interested in watching the hearing at his bar, saying in an interview with Talking Points Memo:
For the debates and election night, we've always had a full crowd... .I was a little bit surprised just because of the time it is of day, and I feel like a lot of people have to work, but it seems like a lot of people have been calling and asking if we have WiFi. They're planning on bringing their laptops and working from the bar.
While Comey's testimony is certainly not a lighthearted matter, it is refreshing to see that the wonky, fun-loving spirit of D.C. is still alive and well, even amidst significant controversy in the capital. If you are in the capital this week, consider checking out one of the watch parties where you take in Comey's testimony — alongside a fully stocked bar.