Baskin-Robbins Just Dropped A Red Velvet Roll Cake With Cream Cheese Ice Cream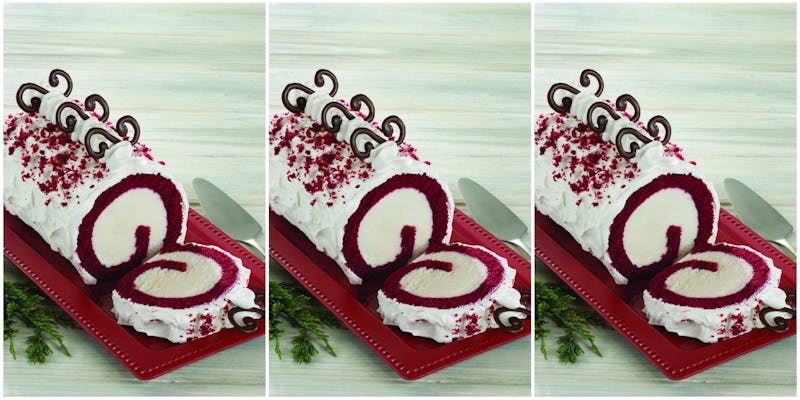 Courtesy of Baskin-Robbins
Starting to plan your holiday menus already? Good news: Baskin-Robbins has your dessert needs covered. The Red Velvet Roll Cake at Baskin-Robbins on offer this holiday season looks like the perfect celebratory sweet for a wide variety of holiday tables — and even better, you can give it a taste for free on Nov. 26. Heck, and yes.
Baskin tends to be fond of breaking out the red velvet during the winter holiday season; in 2010, for example, the flavor of the month for December was Red Velvet. 2018's Red Velvet Roll Cake, however, takes the flavor profile to the next level — and it sounds well and truly decadent.
According to a press release, the roll cake "consists of Creole Cream Cheese ice cream wrapped in red velvet cake that has rich cocoa flavors and distinctive red velvet hues." It's then finished off with white icing, red velvet cake crumbs, and chocolate swirls, making it "a delicious wintertime treat."
There's a lot going on there, so let's unpack it, shall we?
I've never had Baskin's Creole Cream Cheese ice cream before, so that's where I started. Described as "creamy, rich cream cheese flavored ice cream" full of "velvety goodness with a Cajun flair," the flavor takes an incredibly specific regional food as its inspiration: Creole cream cheese.
Not to be confused with the cream cheese you probably keep in your fridge to go with your bagels, Creole cream cheese dates back around 150 years and originates in New Orleans, according to Ark of Taste. A farmhouse-style cheese "with a taste somewhere between ricotta and crème fraiche, with an underlying hint of buttermilk," per Ark of Taste, it can be served savory or sweet; as a dessert, it might arrive topped with a dash of sugar or syrup and mixed with fresh fruit. And there's a frozen version of it, too: Frozen Creole cream cheese is "simply Creole cream cheese, cream, sugar, and vanilla mixed together and frozen," according to the book New Orleans Cuisine: Fourteen Signature Dishes and Their Histories.
Creole cream cheese ice cream, however, isn't just frozen Creole cream cheese; notes New Orleans Cuisine: Fourteen Signature Dishes and Their Histories, "Frozen Creole cream cheese should not be confused with today's commercial Creole cream cheese ice creams, products that, although delicious, are based on cooked custard." All of which is to say, Baskin's Creole Cream Cheese ice cream might not be traditional frozen Creole cream cheese — but it's an ice cream flavor reminiscent of the original treat, which sounds pretty memorable all the same.
Anyway, that's the ice cream at the center of the roll cake. The cake itself is that chocolate-flavored, Great Depression-era staple known as red velvet — which, traditionally, is topped with cream cheese frosting, making the use of Creole Cream Cheese ice cream all the more appropriate here. Frosted winter white and gently dusted with red velvet crumbles, the roll gets a little extra oomph from some artful chocolate swirls.
And you know what? It really does look perfect for winter. While I'd usually associate a red and white color palette with peppermint, I dig that this one is something different; chocolate and cream cheese seems warmer and richer, somehow — exactly the kind of treat you'd want to share with your favorite people around the holidays.
What's more, you can taste test the Red Velvet Roll Cake for free in just a few weeks. On Nov. 26 between 3 p.m. and 7 p.m. local time, all you have to do is stop by a participating Baskin-Robbins location in the United States and you'll be treated to a free sample. Nov. 26, by the way, also happens to be Cyber Monday — so if you happen to make a cake purchase of $20 or more while you're getting your Red Velvet Roll Cake on, you'll get $5 off, whether you shop in-store or online.
Baskin-Robbins has plenty of other holiday treats up its sleeve, too; the Turkey Cake is back for 2018, for example, and the flavor of the month for November was just announced to be Bourbon Street Pecan Pie. How's that for a sweet deal?
The holidays are certainly looking rosy!