The Reason Why BeBe Returned To 'RuPaul's Drag Race' Is Totally Inspiring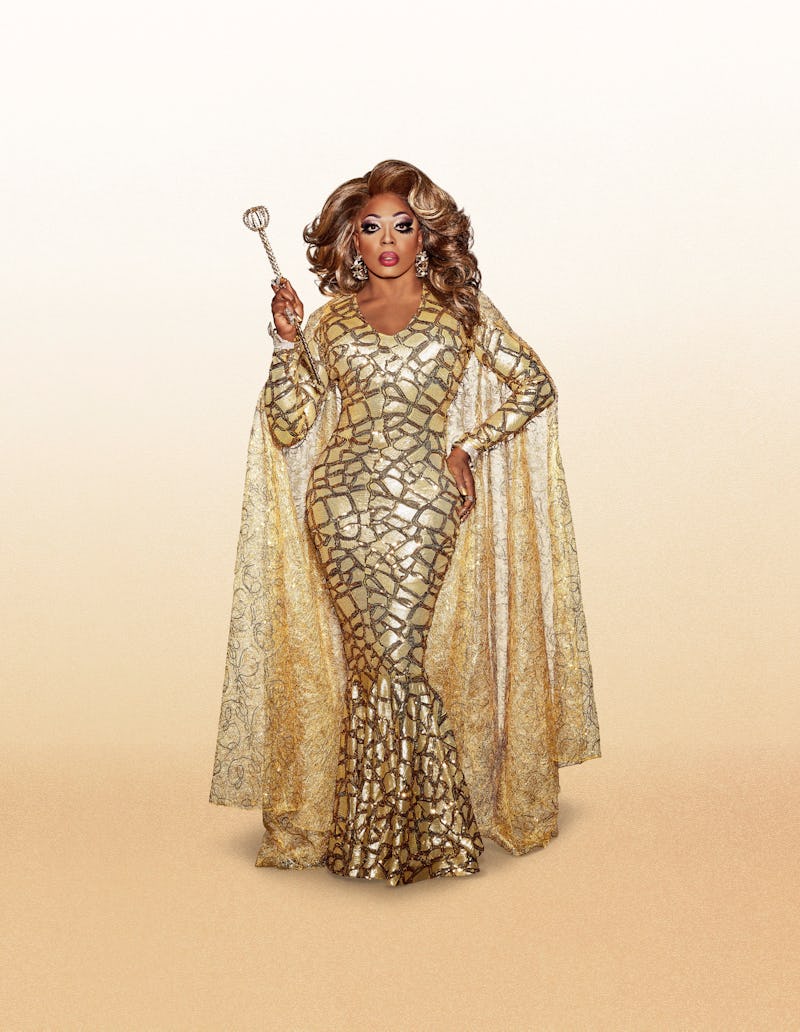 VH1
RuPaul's Drag Race All Stars has always been known to be full of twists and surprises. Through the first three weeks of the competition though, there has arguably been none bigger than the news that former winner, BeBe Zahara Benet would be competing, again. BeBe has thoughts about being the 10th queen on Drag Race and she was happy to share them in an interview with Bustle. One of the most revealing of those tidbits was how she received the actual invitation to appear on the show.
The Drag Race Season 1 winner shares that she hadn't dreamed of returning until she got the call from RuPaul. When she was asked, she was was not entirely sure if she'd want to return. "I was a little bit hesitant," she says via phone. "You know, I won the show already, I'm already crowned queen, and I knew that it'd be very polarizing to be part of a cast with non-winners." Despite the fact that her return may be controversial, she elected to come back with one goal in mind. "After giving it so much thought, I said: I'm a seasoned queen," she says. "I wanted to use the platform and the opportunity to let people know that older season's queens can learn new tricks, and winners also evolve."
Of course, the reason why BeBe's inclusion was such a twist was because it is a bit controversial. Prior to the first episode airing, there was no official announcement of BeBe being a contestant this year. When she was introduced mid-episode, several of the girls voiced complaints. Milk, for one, noted that she'd already won a crown and thought it was time someone else got a chance at the ultimate honor. BeBe, of course, disagrees and has a few things to say to any queen or viewer who may think it unfair for a former winner to compete again. "RuPaul's Drag Race doesn't have a rule book," she says. "There's no rule saying if you've won you can't be an All Star. There are not all these guidelines." Also, she adds that it wasn't even her idea to come back — she was contacted and asked to appear.
And, her ultimate decision to return to the show came from the fact that it had been so long since Season 1. "I felt like I could go back and represent my Season 1 sisters — who are all, to me, still legendary — even though, unfortunately, people don't know them as they should know them," she says. Plus, her artistry and drag has grown and evolved over time and she wanted to share her progress with the world.
While it is much too early to determine how much her progress will propel BeBe through this year's competition, it certainly doesn't stop the speculation about her inclusion on future seasons. After all, Shangela has come back multiple times, throughout Drag Race history. It leads some to wonder whether this will be BeBe's last Drag Race appearance.
Although, this season is far from over, BeBe said she would not be opposed to returning. "They say never say never, right?" she says. "I never knew that this summer I'd be shooting RuPaul's Drag Race All Stars. I didn't know that. If someone said, 'Hey you're going back to All Stars,' I'd say, 'No I'm not. No I'm not, no I will not.' But, you just never know." She continues, "Hopefully, my work, and my body of work, really encourages other winners who also want to go through the whole experience again."
Whether she ends up with two crowns or just her original one, though, BeBe has been busy and will likely stay that way. Recently, she started her own band. "What we do is take popular music and put them in tribal dance versions," she says. "You know, I'm a foreign girl, baby. And we've got foreign love, so we've been touring. I've been keeping myself very busy; I've been lucky."
But that is not all that she's been up to, or planning, for that matter. BeBe also reveals what fans of hers can expect from her in the next few months. "I'm doing a lot of new music, which of course, I'm very big into music," she says. "I'm touring, acting and theatre opportunities — I'm also trying to develop my own TV series, and then I will be working with some cosmetic brands and fashion companies which is very exciting. So there's a lot to come."
Clearly, BeBe has grand ambitions for this season of RuPaul's Drag Race All Stars and beyond. Whether it's her attempt to be the first queen to win two Drag Race crowns, or her endeavors outside the show, she certainly seems to be one to watch. The queen from Cameroon is back.