Attention 'Bachelorette' Fans: Becca Just Reunited With "Grocery Store Joe" In Real Life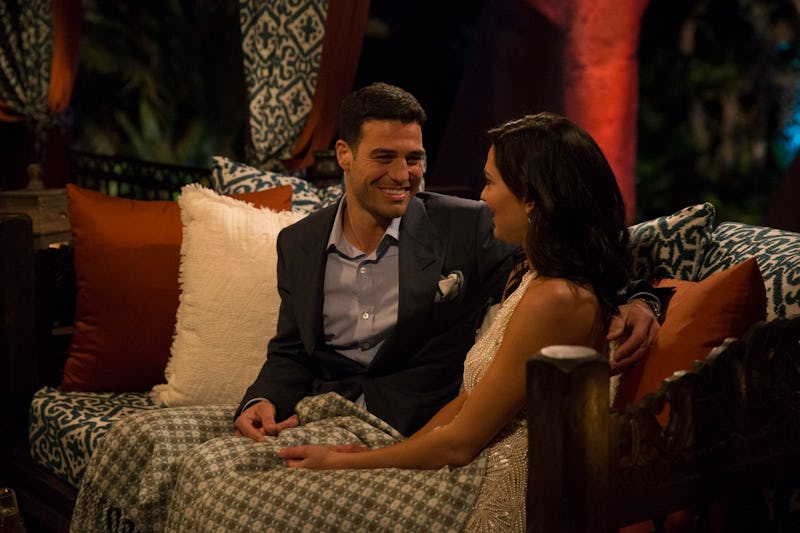 Paul Hebert/ABC
Bachelorette contestant Joe Amabile (AKA "Grocery Store Joe") may have been eliminated on the first episode of the season, but he has not been forgotten — by fans or by Becca Kufrin. On Saturday, June 2, Becca and Bachelorette contestant Grocery Store Joe met up in Chicago, chronicling the occasion via their respective Instagram accounts.
Joe became a fan favorite contestant during the Becca's Bachelorette season premiere, but alas, he didn't get a rose to continue on in the journey to win Becca's heart. On Saturday, though, they showed that all is good between them post-show. Joe posted an Instagram Story of him walking down a street in Chicago with some friends, saying, "Hey Becca, I'm off today. Where you at?" He also clearly tagged Becca's IG handle @bkoof in the story.
Becca also posted a similar, now-deleted IG story in which she and some friends are walking down a street in Chicago, with the following text written on the story: "Joe, where u @." Finally, Joe posted an Instagram photo of himself and Becca, posing together in a Chicago Bloomingdale's store with big smiles. He captioned the photo:
Look who I found @bkoof 😉 and watermelon swim trunks
Could those swim trunks be a blue that Joe is getting ready to head to Bachelor in Paradise? Hmm. See the reunion for yourself in the photo below.
Becca has already announced that she's engaged to a man she met through her Bachelorette, it's safe to say that this reunion between Becca and Joe is purely platonic — and it's so awesome to see that they're friends after the show.
While Joe isn't on The Bachelorette anymore, the contestant and real-life grocery store owner made quite a first impression on Bachelor Nation. In an interview with Entertainment Tonight, Joe recalled how nervous he was during that first night at the famous mansion. He said:
"I was prepped, but I didn't think I'd get as caught up as I did. I was nervous. It just threw me off my game, and from there I felt like such an idiot! It was hard to open up or make friends; I was so unsure of myself … Becca and I did have a little more conversation … I expected to stay a little longer, but if she didn't feel a connection right away, I would've rather gone home than be there for a couple weeks and then have gone home. So I guess it worked out for the best."
Luckily, he could have a second chance — fans have been clamoring for him to return to the franchise in Bachelor in Paradise. Even host Chris Harrison was behind the idea, tweeting: "I hope they have grocery stores in Paradise!!!"
But all is not set in stone just yet. When ET asked Joe about whether he'd appear on Bachelor in Paradise, he said that he would go if the offer was extended to him: "I can not confirm on Paradise, but I would go, yes."
After all, he is still looking for love. Joe told ET,
"I am single … I would like to [settle down]. I just turned 32 in April, I don't want to just continually go out."
According to Joe's official ABC Bachelorette bio, he was one of the youngest traders on the Chicago stock exchange before deciding to leaving finance to own and manage his own successful grocery store in the Windy City.
Whether or not there are grocery stores in Paradise, it's clear that fans would love to see the former Bachelorette contestant there — and he can pack the watermelon swim trunks, too.