Attention 'Bachelor' Nation: Becca's First 'Bachelorette Promo Is Here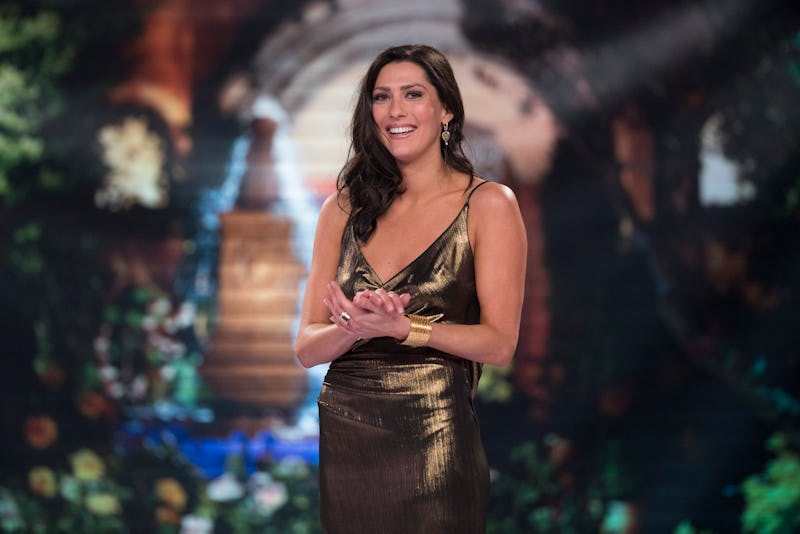 Paul Hebert/ABC
Earlier this year, Becca Kurfin got engaged and then broken up with on national TV. On Monday, April 30, Entertainment Tonight revealed Becca's first Bachelorette promo and it proves she isn't here to play anymore games. In the video, Becca insists she's ready to "do the damn thing" in moving on from Arie and it looks like that's exactly what she'll do.
The promo starts with a brief clip of Arie proposing to Becca, before she rips a heart with his face on it in half. Becca dances to Kesha's song "Woman," which preaches the power of being an independent female, among a clip of her loving on fellow female contestants during After the Final Rose in March.
Clearly, Becca isn't letting what happened to her earlier in the year define her public persona. It seems she's ready to make a name for herself by fiercely stepping outside of Arie's shadow and the events that took place between them. Becca's actions to break away from Arie started immediately after he broke up with her to pursue a relationship with runner-up Lauren Burham. Although Arie suggested their split was filmed in order to give Becca a better shot at becoming the next Bachelorette, she begged to differ. "That's news to me," she told ET. "I don't think he ever expected me to be [the Bachelorette], or how everything played out, so that's his side. I don't know."
After her up-and-down experience on The Bachelor, Becca was announced as the next Bachelorette on March 6. She was open about the rollercoaster of emotions she'd experienced as well as her eagerness to move on from Arie. "I was mad for awhile, I was so sad and down for awhile, I was pissed for awhile," she told People in March. "At this point, I want this chapter of Arie to be done and close it and put it on the shelf and put it away." It doesn't seem like she's held onto negative feelings towards Arie because she's so focused on the future. "I want him to be happy... I want to move on and have my person that I can focus on and live my life with," she continued to People.
Shortly after the big announcement, Becca's suitors started being revealed and she even met a handful of contestants on Season 22's After the Final Rose episode. Ever since, the internet has dropped some hints about what's to come this season after doing some diligent investigating. In late March, Just Jared revealed that Becca was on a group date in Los Angeles. On the date, the male contestants were spotted wearing bright neon outfits during their time at a trampoline park, assumed to have been some sort of competition.
Based on what fans know so far, it seems like Becca is really getting her life in this process. In April, Becca was spotted filming The Bachelorette in the Bahamas, and at a luxurious resort nonetheless. She was spotted beachside and hitting up the bar for cocktails. And just last week, TMZ revealed that Becca was already on a hometown date in Manteca, CA with mystery contestant Garrett Yrigoyen.
Becca's been MIA from social media and her last post is from the day she was announced as Bachelorette, saying, "Words can't express everything I'm feeling tonight, but I'm so beyond grateful for the love, support and well-wishes. I'm beyond excited for this next chapter of my journey and to have shared the start of that all with you tonight. Now we're doing the damn thing."
Loyal fans can't wait to watch Becca reclaim her time on the show, and whether or not she finds her dream man, at least she's going for the comeback.