This 'Roseanne' Character Got Some Shocking News & Fans Are Completely Heartbroken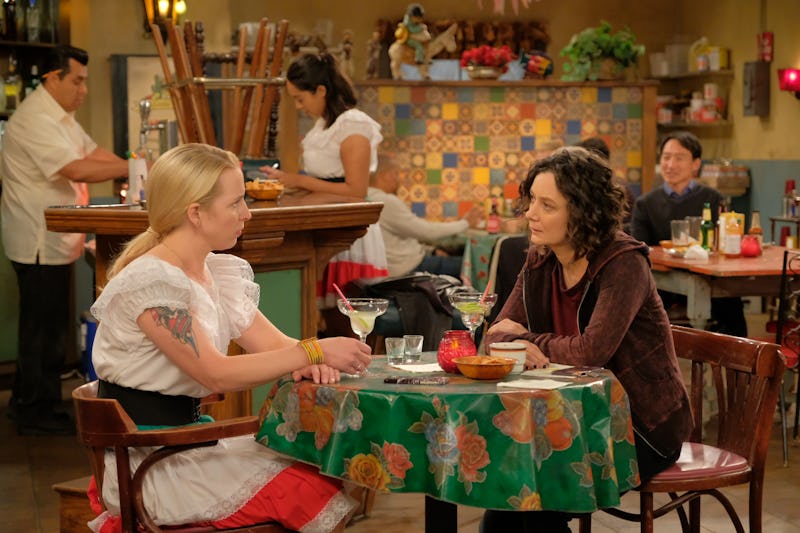 Adam Rose/ABC
Spoilers for the April 20 episode. So far, the Roseanne revival has given fans a lot of background on where Darlene's at these days, but on Tuesday night's new episode, the audience finally got a little insight into Becky's life. And even though it was a heartbreaking episode for a show that's first and foremost a comedy, Becky finding out she can't have children on Roseanne could lead to hope for her future — and tons of fans are showing sympathy for her.
In the original series, Becky was actually the most successful member of the Conner family — at first, anyway. She always got good grades and excelled at school while Darlene consistently struggled, and until the later seasons, it seemed like she had the best shot at getting out of Lanford. But now that the new episodes are here, we know that's not what happened. She's working in a restaurant, trying to be hired as a surrogate so she can finally find a way to start her life over, like Dan pointed out to Roseanne when they argued about her decision.
Now, fans know that Becky's present-day struggle is going to be a little bit deeper than just whether or not her parents approve of her choice. When she goes to the doctor for a check up to see if she's ready to start the surrogate process, she finds out that there is a less than five percent chance that she'd ever be able to have children.
So not only does Becky lose the surrogate gig — and the promise of $50,000, which could help her buy a house that had a yard for her new dog, Armani — but she also loses the dream of ever having children of her own someday. It's heartbreaking to see her cope with the news, and even worse when she gets home and has an argument with Roseanne about it. She obviously feels like her mom doesn't understand or empathize with her.
Fans immediately turned to Twitter to react to Becky's news, and the general consensus was that she didn't deserve this truly cruel twist of fate.
At one point in the episode, Darlene finds out that Becky is drinking her troubles away at the Mexican restaurant where she works, so she goes to see her (and drink with her... and take selfies with her). She tries to help her work through this massive life change. Then, when Roseanne and Dan make their way down to the restaurant to help, they claim that Mark's death has caused Becky to stay frozen in time in who she was when that happened. Not only is this a rare mention of the absent Mark (the actor who played him, Glenn Quinn, died in 2002), but it also contextualizes Becky's grief.
On the brighter side, Becky's tragic news brings the rest of her family together in support of her. Roseanne and Jackie scheming together to get Becky's dog back from the shelter is classic Roseanne, and Becky and Darlene's moment at the bar is sweet, if a little ridiculous too. They can tease each other, but they're still sisters, just like always.
Even though what Becky's going through is definitely sad, this episode shows that Roseanne can still deliver a half hour with more family-oriented comedy and less political undertones. This probably matches up more with what most original fans were expecting from the revival — a show about a family who faces real issues. Perhaps this tone will carry on throughout the rest of the season. And maybe fans will even see Becky get the win that she seems to so desperately need.