These Before & After Photos Of Areas Hit By Hurricane Harvey Will Give You Chills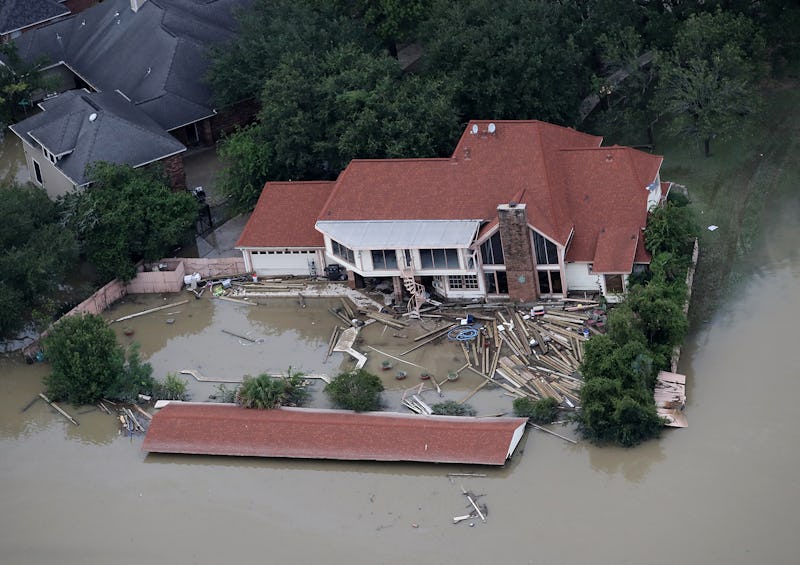 Win McNamee/Getty Images News/Getty Images
While we don't yet know the total damage done by Hurricane Harvey, it's safe to say that Texas and regions of Louisiana will be recovering from the storm for a long time. The historic rains in Texas have left cities flooded and forced residents to flee from their homes to find safe areas to stay. Houston alone received about 50 inches of rain over the course of the last week, which has dramatically changed the city. These photos of Houston before and after Hurricane Harvey show the devastating destruction of the storm.
Harvey touched down in Corpus Christi, Texas, last week as a Category 4 hurricane, and the rains have been flowing pretty much ever since. The flood has trapped residents inside their homes, or forced them to evacuate, leaving behind belongings and in some cases pets that they had no guarantee of seeing again.
Beyond the water damage of the flooding and inability for residents to move around as normal, there's also the concern of toxic materials and sewage being spread around Houston due to the high water level. Porfirio Villarreal, a Houston Health Department spokesperson, told The New York Times:
There's no need to test it. It's contaminated. There's millions of contaminants.
He and other health officials have advised residents to stay out of the water as much as possible.
Though floodwaters are finally receding in Houston and Harvey has been downgraded to a tropical depression, flash-flood warnings were still in effect for southeast Texas to west-central Louisiana on Thursday — and the damage that Harvey has done will not be easily undone. Photos and video from scenes of the storm capture the widespread destruction.
Buffalo Bayou
Houston Highway
Side-By-Side Video Of Houston Road
Cars Can't Make It On The Highway Right Now
Entire Highways Are Currently Unusable
The City Experienced An Extreme Rise In Water Level
Residents Waded Through High Waters
Houston Underneath The Flood
Floodwaters Up To Overpasses
Entering Houston, Then Versus Now
I-10 Completely Flooded Over
According to The Wall Street Journal, more than 30,000 people have evacuated to 230 emergency shelters. About 10,000 of them have gone to Houston's convention center. Federal Emergency Management Agency administrator Brock Long told The New York Times that managing Texas' overcrowded shelters is the biggest issue currently.
The New York Times reported that authorities have connected at least 38 deaths to the storm, though we might not know an official death toll for a while. Harvey is also likely to cost more in repairs than Hurricane Katrina.
The photos and videos coming out of Houston are a sobering reminder that the area needs the country's attention and help right now. As Houston and the rest of Texas recovers from the hurricane, you can donate to Harvey relief efforts on the ground in the area.