'Bachelor' Star Bekah M. Had A Hilarious Response To Being A "Missing Person"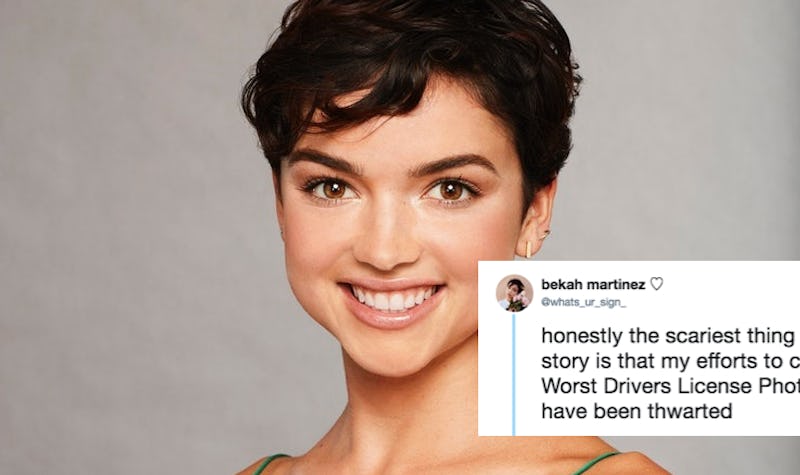 Craig Sjodin/ABC
While Rebekah Martinez was searching for love on a reality show, somebody back home was searching for her — and that somebody was her mom. Bachelor contestant Bekah M. became a "missing person" last November when her mother reported her missing to the Humboldt County Sheriff's Office in California, reports the North Coast Journal. The bizarre story piqued many readers' interests, but Bekah has kept her sense of humor about the whole thing on Twitter. (Bustle reached out to ABC and to the Humboldt County Sheriff's Office for comment, but did not receive a response at the time of publication.)
UPDATE: The Humboldt County Sheriff's Office confirmed to Bustle that Bekah was on the Missing Persons list up until Feb. 1, 2018. While her mother made contact with Bekah on Nov. 18, 2017 and informed the Sheriff's Office of this on Dec. 12 via email, the office requires the missing person to make direct contact with the investigators, in order to confirm their well-being. Because they had not spoken to Bekah at that time, she remained on the list up until she returned the deputy's call on Feb. 1.
EARLIER: The North Coast Journal reports that Bekah's mother filed the missing person report on November 18 after not hearing from her daughter for six days. According to the story, Bekah had moved to Humboldt Country from Fresno, CA to work on a marijuana farm. She was on the official missing persons list until this week's cover story of North Coast Journal about the list that included her face. A sharp-eyed Bachelor fan pointed out that she seemed to be the same Bekah who was currently wooing Arie Luyendyk Jr. every Monday on ABC, and Bekah confirmed that she was not missing shortly after when contacted by the sheriff's department. Bekah has since said she didn't answer her mother's phone call because she was filming The Bachelor, which checks out with the reported production schedule, especially if she is one of the last remaining contestants — the season began filming in mid-September and typically lasts for nine weeks.
This story raises so, so many questions for fans. Like, did she really work on a marijuana farm? How did no one notice that one of the people on the missing persons list has been posting on Instagram and Twitter very frequently for the past two months? Why wasn't the list updated considering the show has been airing for an entire month now?
Still, Bekah is laughing off the story. She responded with a tweet teasing her mom for not knowing the rules of The Bachelor set, which doesn't allow contestants access to a smartphone during filming.
She also made light of the missing person list's use of her driver's license photo, which, while still cute, is a pretty far cry from her photogenic Instagram posts. Bekah wrote, "Honestly the scariest thing about this story is that my efforts to conceal The Worst Drivers License Photo Of All Time have been thwarted."
Bekah also posted a doctored photo of her face on a milk carton — á la the missing children that appeared on cartons in the 1980s. Her picture was captioned, "Last seen with Arie Luyendyk, Jr. "the kissing bandit." She shared the picture on Instagram and wrote, "found myself, quite literally, on this season of The Bachelor. PSA: always call your mom back."
Many of her followers on social media also got in on the fun, posting their own responses to the wild story.
One fan took away a valuable lesson from her embarrassing misfortune:
Fans also wanted Bekah to know they loved her look:
Some really felt her pain:
While others felt admiration:
There were plenty of questions being asked:
Like, a lot of questions:
Though we're still missing plenty of details about how exactly this could happen, the outrageous story has certainly got people talking. It seems unlikely that Bekah will come clean about any potential farm work on the show — ABC currently lists her occupation as "nanny" — but maybe she'll talk about this entire situation on the reunion show. Please?