Bella Hadid's New Bangs Are Futuristic & Cool AF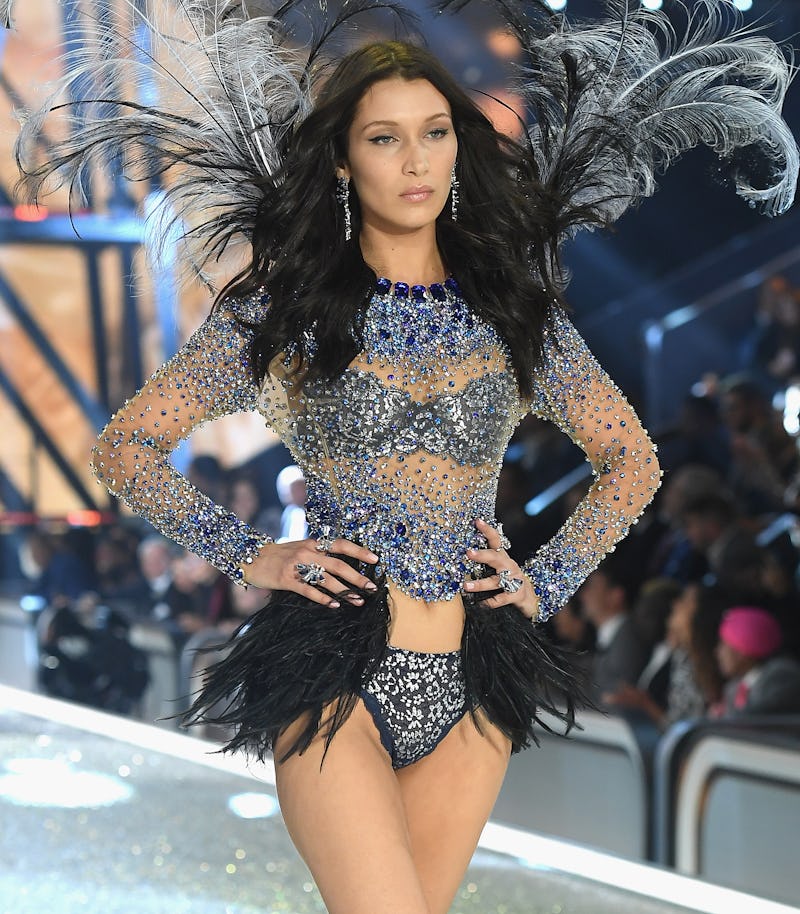 Dimitrios Kambouris/Getty Images Entertainment/Getty Images
New year, new you, right? Bella Hadid definitely thinks so, as evidenced by Hadid's new, blunt bangs. While some of us might be taking 2017 in stride by cleaning out our closets or buying a bag of broccoli to supplement the usual potato chip run, Hadid went a different route and grabbed a pair of scissors.
Usually sporting shoulder length hair and a bare forehead, her new look completely transforms her image into a futuristic and bold one. With a glossy mane, her new fringe hits right above her eyebrows, creating an image something akin to Uma Thurman in Pulp Fiction, if it was set in 2050.
The model debuted the new cut on Instagram and Snapchat this week, though there can still be a chance the blunt fringe is clip-on bangs — something that her sister Gigi has dabbled in herself before. And while Hadid usually keeps her hairstyles uniform — keeping a stubborn middle part and barely ever tampering with the dark chocolate hair — that's not to say she doesn't tinker with a few different looks here and there. For example, Hadid has played with faux bangs before, when she rocked side-swept fringe on the Cannes Film Festival red carpet. She also experimented with a platinum blonde look on the cover of Paper Magazine, giving us a glimpse of a '90s version of herself.
But all those changes were temporary — could this one be permanent?
Speaking of '90s vibes, can we talk about those frosted sunglasses and silk track suit? Hadid is giving off major on-the-cusp-of-the-naughties vibes.
While there can be some debate on whether Hadid sported a wig for a night out or actually got real bangs, Glamour reported that celebrity hairstylist Jen Atkin is responsible for the look. It's just unconfirmed if it's a hairpiece or not.
"Hadid has celebrity hairstylist Jen Atkin to credit for this chic and futuristic look. (Atkin is responsible for several celebrities' hairstyles, including Khloe Kardashian, Jessica Alba, and Jenna Dewan Tatum,)" Glamour explained.
While as of yet no one is certain if the fringe is a permanent change or a Saturday night experiment, one thing is for certain: Hadid rocks it flawlessly.
Images: @jenatkinhair/ Snapchat