Bella Thorne Says She Was Sexually & Physically Abused Until Age 14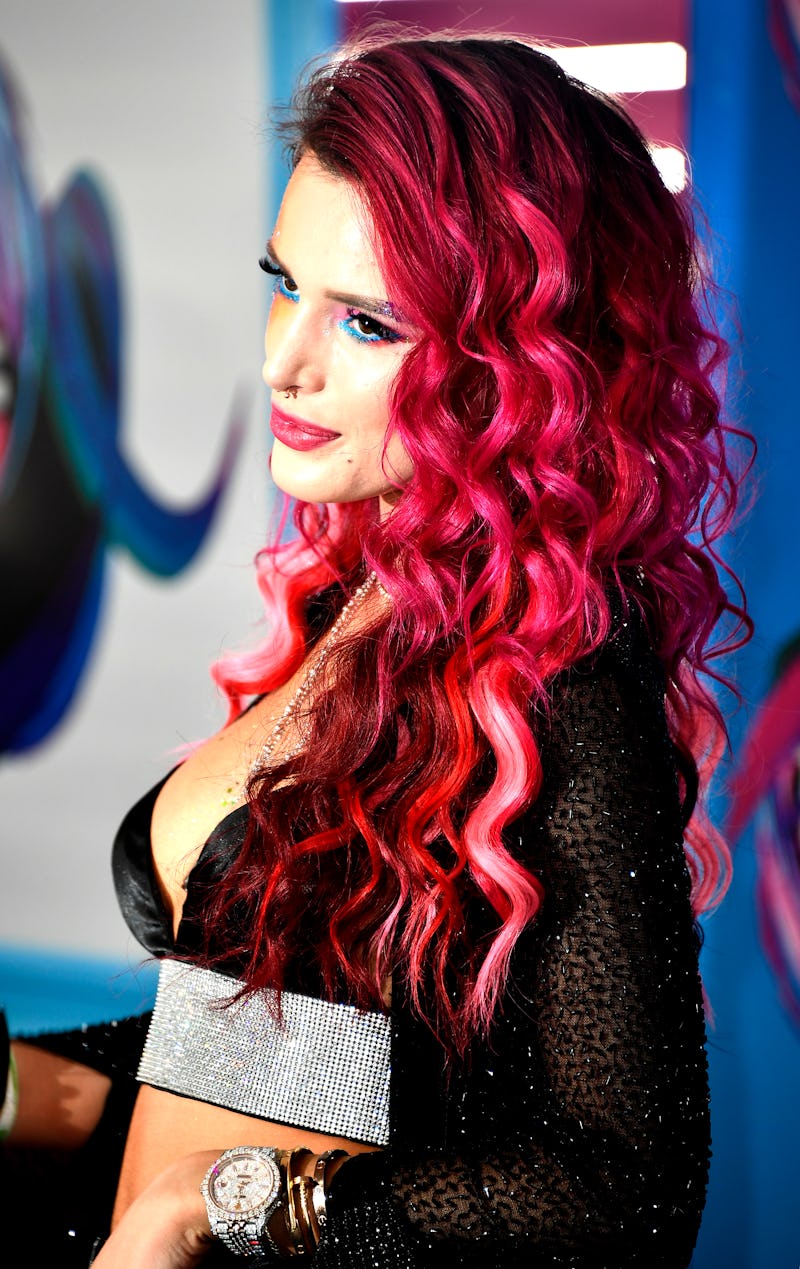 Frazer Harrison/Getty Images Entertainment/Getty Images
At a time when more women than ever are coming forward to share their allegations of abuse and assault, Bella Thorne has decided to speak up. Ahead of Sunday's Golden Globes, where the #TimesUp movement was front and center, Thorne claimed she was sexually abused until age 14. Bustle has reached out to Thorne's rep for additional comment, but has not yet received a reply.
In an Instagram post featuring a photo of the 20-year-old in a black fur coat and pink hat, she used her caption to share her claims. Thorne claims she was abused for as long as she could remember until she decided to lock her bedroom door at night when she was 14. She also took the opportunity to ask her followers to stand up for anyone who may have experienced abuse and included the #TimesUp hashtag.
Thorne wrote:
I was sexually abused and physically growing up from the day I can remember till I was 14.. when I finally had the courage to lock my door at night and sit by it. All damn night. Waiting for someone to take advantage of my life again. Over and over I waited for it to stop and finally it did. But some of us aren't as lucky to get out alive. Please today stand up for every soul Mistreated.
She also took to Twitter to share the same photo along with a similar message, highlighting the fact that how young she was at the time she claims she was abused really blurred the lines for her between what was good and what was bad:
This isn't the first time Thorne has claimed she was being abused as a child. In December, someone tweeted in regards to Thorne, "What did Disney do to this girl?! I think she was molested" in response to a photo Thorne shared wearing a purple suit. She shocked fans when she replied, "Yeah I was. So it wasn't Disney," publicly claiming that she had been molested for the first time.
Then, she added:
Of course, her follower rhetorically asking if she'd been molested was incredibly insensitive, but good for Thorne for providing an answer in which she stated her claim, even when she didn't have to. All of the accusations that came out in 2017 and the #MeToo movement are proof that sexual assault is far too common and no one is immune.
Thorne's post on Sunday is the first time she has opened up about her allegations since then, and it makes sense why she chose that timing to share more. Over the last 24 hours, the #TimesUp hashtag has been all over social media due to the Golden Globes, and this was Thorne's contribution.
Thorne hasn't shared any other details about her assault allegations, but the fact that she's opened up at all shows her bravery. Of course, it's difficult to hear stories like these, but more women have been opening up about sexual assault in recent months than ever before. Talking about it and holding people responsible is, after all, the only way to make real change to keep other women from suffering from abuse in the future.
It had to have taken a lot of courage for Thorne to share her claim, but she's undoubtedly helping the countless women who have become part of the chorus of voices saying "me too."
If you or someone you know has been sexually assaulted, call the National Sexual Assault Telephone Hotline at 800-656-HOPE (4673) or visit online.rainn.org.