Ben Won't Be The Next Bachelor, But He's Didn't Rule It Out Entirely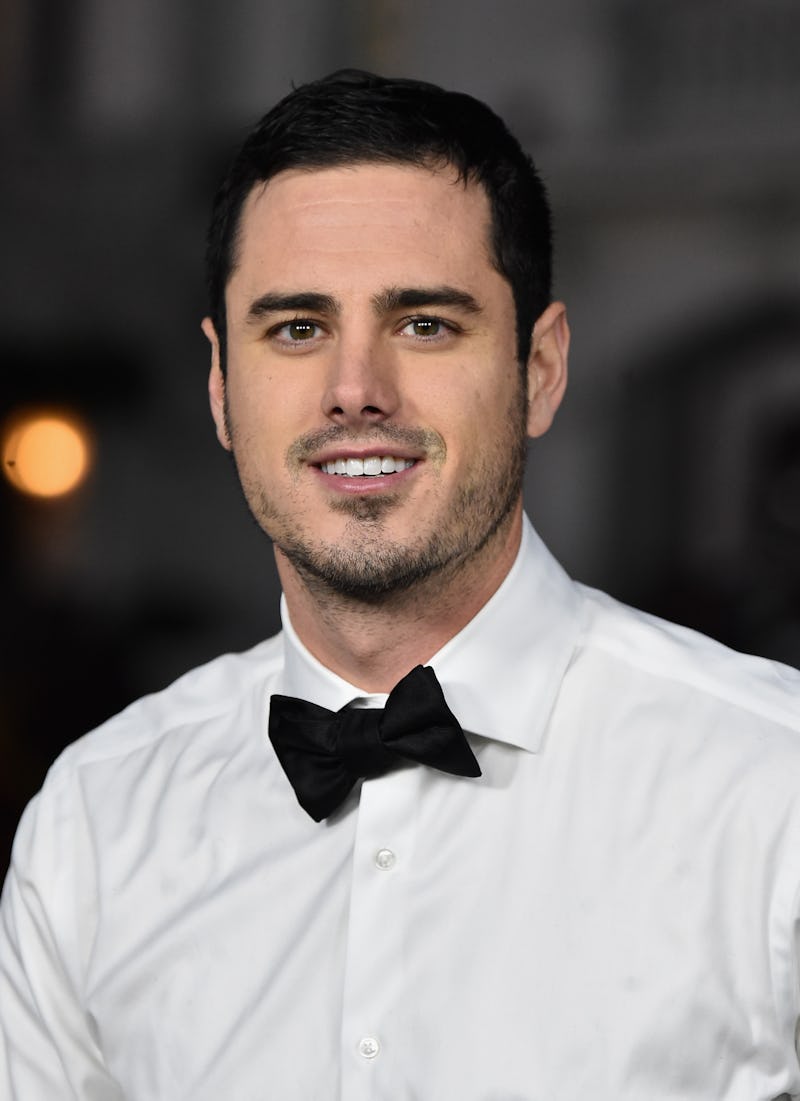 Alberto E. Rodriguez/Getty Images Entertainment/Getty Images
On Monday, Rachel Lindsay gave out her final rose on The Bachelorette, but speculation about the franchise's next suitor had already started long before. There's a growing roster of potential Bachelor stars — devastated Peter fans would love to see him return to series, but Dean Unglert, Alex Bordyukov, and Eric Bigger have also been floated as possibilities. The show could also choose a candidate from an earlier season, and though Ben Higgins' name was also in the mix, he's unlikely to return. On Tuesday, Ben revealed that he doesn't want to be the next Bachelor — he didn't rule out another show in his future entirely, though — and his reason makes a lot of sense.
In conversation with Ashley Iaconetti on their podcast, The Ben and Ashley I Almost Famous Podcast, Ben explained that since he is newly single, he isn't in the right emotional space to return to the show.
There is precedent for a former Bachelor returning for a second season. Brad Womack, who starred on Season 11, was the first Bachelor not to choose either of his two finalists. The star came back several years later and left this season engaged to Emily Maynard. This was the first, and only, time in the history of the franchise that the same lead was on The Bachelor more than once. While this has yet to happen again, the franchise has given contestants like Nick Viall second, and even third, chances at love. However, it might be a bit soon for Ben to put himself in such a vulnerable position. Unlike Brad he left his initial season happily engaged to Lauren Bushnell, but the couple split in May.
In the past, Ben has used his podcast a platform to speak candidly about his desire for commitment and emotional connection. Fans latched on to these traits as a sign that he might be open to another round on the show, but his conversation with Ashley Iaconetti shut these rumors down. When Ashley asked if Ben would ever be the Bachelor again, he was taken aback by the question. "I'm sweating. That's a good question. And it's one that I don't want to answer politically correct here, so I'm going to be as honest as I can be," Ben said on the podcast, according to People.
The former-Bachelor star then clarified that it's pretty much out of the question. "At this point in my life, I am not ready to be the next Bachelor, I will say that. It just doesn't feel right. For whatever reason, it doesn't feel like a time in my life that I would be the best man possible for the women that would come on this season," Ben continued. "And you know, honestly, when you're fresh out of a relationship, I just feel like that'd be almost disrespectful, too, right? It would be really hard for me to imagine — if I were to watch my ex go and be the Bachelorette and it's all over TV, it'd be hard for me."
While Ben's fans might be disappointed, it's clear that he's making a responsible, thoughtful choice. His engagement to Lauren lasted for a year, and the split was recent. While the decision to separate was mutual and their breakup was reportedly amicable, Ben's has been forthright with the fact that he isn't ready to date again. "So at this point in my life, I don't think it's the wise thing to do," he explained on the podcast. "So I will not be your Bachelor for this next season."
If Ben doesn't feel ready to date offscreen, it doesn't seem like the right time to re-enter the high-stakes environment of ABC's dating show. However, this does narrow down the potential suitors, so Bachelor Nation can keep dreaming about a season with Peter, Alex, Dean, Eric, or other favorite former-stars.