You Can Vote To Bring Back A Ben & Jerry's Flavor — And One Of Them Is Candy Bar Pie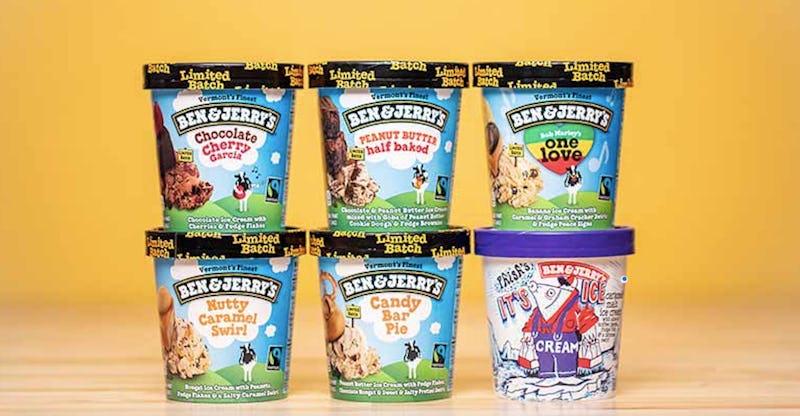 Ben & Jerry's
We could all use a night in, with our phone notifications turned off, curled up with our favorite pint of Ben & Jerry's. Perhaps the ice cream company suspected this when they announced yesterday that Ben & Jerry's is bringing back an old flavor. However, it's up to fans to decide which one they bring back. The future of delicious flavor is in each of our hands.
Ben & Jerry's will be bringing back one of six limited batch flavors later this year as determined by fans' vote. The six nominees range from spins on classic flavors to one-time-only favorites: Candy Bar Pie, Chocolate Cherry Garcia, Nutty Caramel Swirl, One Love, Peanut Butter Half Baked, and Phish It's Ice…. Cream. You can vote on the Ben & Jerry's website from now until October 9. It looks like you can vote as many times as you want. Use that information however you see fit.
"We're really excited to give our fans the chance to bring back a flavor," said Flavor Guru Haylee Nelson in a press release. "Sometimes, we just need a little help when we can't decide ourselves!" Who wouldn't want to help our our pals Ben & Jerry? (Also, where can I apply to get the title "Flavor Guru"?) Ben & Jerry's will announce the winning flavor later this year with pints of the fan-voted flavor hitting shelves in December.
It's important to go into the ballot box informed. So, let's talk about the platforms for each of the flavors. What do they bring to the dinner table? What issues do they support? Salty and sweet? Fruit forward? The American people deserve to know what they're voting for.
Let's start with Candy Bar Pie. If you're a fan of salty and sweet, this is your candidate. Each pint has a peanut butter ice cream base complete with "fudge flakes, chocolate nougat, and sweet and salty pretzel swirls." If the idea of having to choose between a bowl of ice cream and your favorite chocolate candy bar keeps you up at night, this is where you should cast your vote.
Chocolate Cherry Garcia is a more decadent take on the tried and true Cherry Garcia. It's chocolate ice cream with cherries and fudge flakes. Personally, it doesn't seem like it's bringing anything new to the freezer.
If you vote Nutty Caramel Swirl, you're voting for nougat ice cream that comes packed with peanuts, flakes of fudge, and a caramel swirl. Seems like a tough competitor for Candy Bar Pie.
Bob Marley's One Love is a pint of banana ice cream that has caramel swirls, cookie swirls, and chocolate candies shaped like peace signs. It's like all the best parts of a banana split in a pint of ice cream. Plus, cookies.
Do you thrive on all things extra? Then, Peanut Butter Half Baked is the flavor for you. According to the voting page, it's "chocolate and peanut butter ice creams with gobs of peanut butter cookie dough and fudge brownies." GOBS! They use the word GOBS! It is the epitome of dessert comfort food.
Finally, we've got Phish It's Ice...Cream. This punny pint starts with a caramel malt ice cream base. The, they've thrown in almond toffee pieces, a caramel swirl, and fudge pieces shaped like fish. If you like something a little more refined but also enjoy word play, this is where you should cast your vote.
Once you've voted for your favorite flavor, make sure you're registered to vote for the 2018 midterms. It's like deciding which flavor of ice cream is the best...but the ice cream also has a say over your health care.