Ben & Jerry's Just Released A New Line Of Ice Cream & The Flavors Are All Cookie-Themed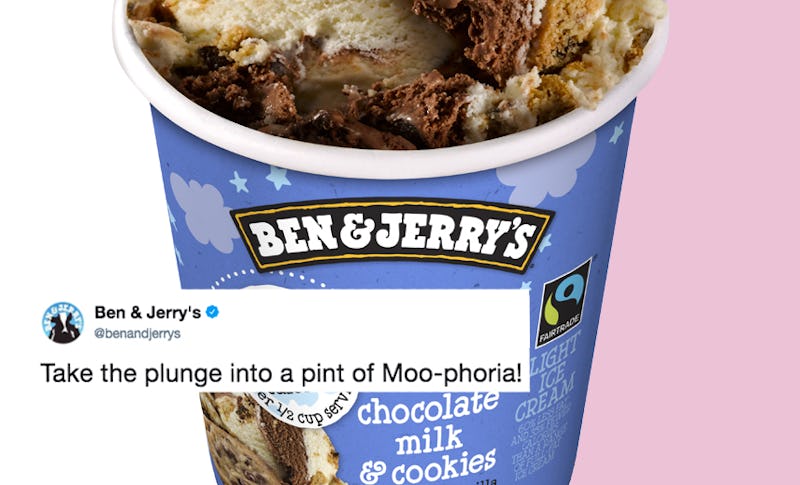 Ben & Jerry's
If this isn't the greatest Valentine's Day gift of all time, I don't know what is: Everyone's two favorite guys, Ben & Jerry, are introducing a new line of cookie-themed ice cream to the public. Every time I think they've thought of every ice cream flavor combination possible, they come up with a new one. I don't know where they pull these flavors from, but they're literally ice cream creative geniuses. You're definitely going to want to know about the new Ben & Jerry's Moo-phoria ice cream line, because it's about to fill up your freezer. (Well, it will for a minute, anyway, because I'm sure you'll eat it all fairly quickly and then your freezer will once again be empty, with space for more.)
The three new flavors are officially launching on Feb. 7, which is perfectly set a week before Valentine's Day — timing I'm sure was well thought out. (Ahem, Valentine, if you're reading this, I want all three flavors in the freezer when I get home, two of each if you really want brownie points.) In addition to flavors that sound delicious based off their names — P.B. Dough, Caramel Cookie Mix, and Chocolate Milk & Cookies — the ingredients sound pretty delicious too: The milk and cream for these new flavors are organic, and the brand used real sugar to sweeten the treat. Even better, all of the flavors are made with non-GMO sourced ingredients, which are also Fair-Trade certified. Ben & Jerry's is really particular about the integrity of their ingredients and they chose these ingredients specifically to ensure the quality of their ice cream shines through with every bite — something that any consumer can appreciate. Every taste is fresh, creamy, rich, and delicious — exactly like any ice cream should be.
The new flavors are now available in grocery stores nationwide for around $4.89 per pint, which is probably less than what you spend on your morning coffee. If you think you can handle the excitement, read on to meet your new favorite freezer mates.
Chocolate Milk & Cookies
An all-time classic flavor combination, this one features chocolate and vanilla ice cream swirled with chocolate chip cookies. There's lots of crunch going on, lots of different textures, and a pretty dynamic flavor profile. Even if you fish out all of the cookie chunks (which I know I'll be doing), you'll still go back for the ice cream because it's perfectly creamy and satisfying.
Caramel Cookie Fix
If you like your ice cream sweet, you're going to love this vanilla ice cream that's saturated in salted caramel goodness and filled with shortbread cookies crumbles. The saltiness balances out the sweetness — and even with the buttery smooth shortbread cookie crumbles, it's the perfect dessert. Pair it with an after dinner coffee and you've got perfection. Have yourself a little Italian evening and close the night with a cup of this flavor.
P.B. Dough
If you're all about that peanut butter ice cream life or that cookie dough life, you're going to be all about this flavor. I mean, think about it: what a winning combination. It mixes together two of the most popular ice cream flavors of all time, peanut butter and cookie dough, to create one truly epic flavor. The base is made of rich chocolate ice cream, and chocolate chip peanut butter cookie dough is folded through it. In every bite you get the creamy chocolate flavor and a gooey, peanut flavor and it will literally make your mouth euphoric. Hence the branding concept.
Happy spooning, and good luck keeping these sweet treats in your freezer for long.