Ben & Jerry's Just Launched A New Resistance-Themed Ice Cream — Just In Time For The Midterms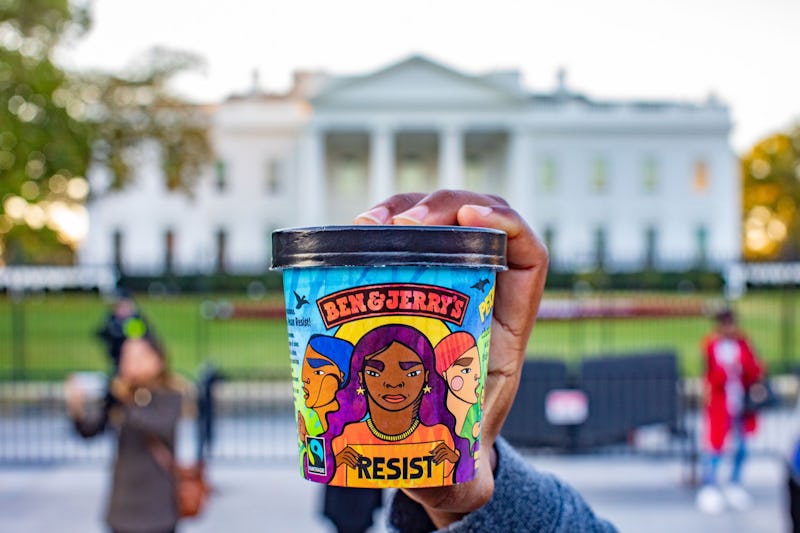 Ben & Jerry's/Shutterstock
Calling all resistance-minded sweet tooths: Ben & Jerry's just rolled out a brand new flavor — with a sweet, progressive twist. Ben & Jerry's Pecan Resist flavor gives back to four organizations that support progressive agendas (and resist President Donald Trump's current administration). The launch comes just a week ahead of the midterm elections, because we need all the help — and ice cream — that we can get these days.
According to a recent Ben & Jerry's press release, the new, limited-batch flavor features chocolate ice cream with white and dark chocolate fudge chunks, pecans, walnuts, and fudge-glazed almonds. "Alongside those nutty chunks, this pint packs a powerful message under its lid: Together, we can build a more just and equitable tomorrow. We can peacefully resist … regressive and discriminatory policies, and build a future that values inclusivity, equality, and justice for people of color, the LGBTQ community, refugees, and immigrants," the press release reads.
So, while ice cream may be fun, whimsical, and delicious, the new flavor launch actually works to support issues that are way more urgent than chocolate-covered almonds. Per USA Today, the activism-promoting ice cream duo is donating $25,000 each to four organizations working to "create a more just and equitable nation for us all." Color of Change, Honor the Earth, Neta, and Women's March will all benefit from the proceeds of the new flavor rollout. Each organization works to further equality for marginalized groups and the environment, according to USA Today.
Ben & Jerry's press release also states that their launch partners "are working on the frontlines of the peaceful resistance, building a world that supports their values." Per their website, "Color of Change is building a new, effective strategy for changing the rules that society lives by, and ending the injustices Black people face." Honor the Earth works with Indigenous communities to address climate change, and promote renewable energy and environmental justice. Neta "is one of the fastest-growing independent media platforms led by people of color along the Texas-Mexico border," the press release states, and Women's March is "committed to … creating "transformative social change" for women across a diverse spectrum of communities.
USA Today further notes that the Burlington, Vermont-based ice cream maker made the rollout announcement in the National Press Club's First Amendment Room in Washington, D.C., while stating that "The company cannot be silent in the face of President Trump's policies that attack and attempt to roll back decades of progress on racial and gender equity, climate change, LGBTQ rights, and refugee and immigrant rights — all issues that have been at the core of the company's social mission for 40 years." Ben & Jerry's, USA Today also reports, is no stranger to supporting social causes with their ice cream flavors: Chubby Hubby was changed to Hubby Hubby to support same-sex marriage in Vermont in 2009, and EmpowerMint was used to support voting rights in 2016.
So, while there may be no rest for the politically weary just yet, thanks to Ben & Jerry's, you can take an ice cream break while still standing up for the causes you believe in. Because self-care via ice cream, and political activism, are clearly not mutually exclusive.