Benedict Cumberbatch & Sophie Hunter Reportedly Have Some VERY Exciting News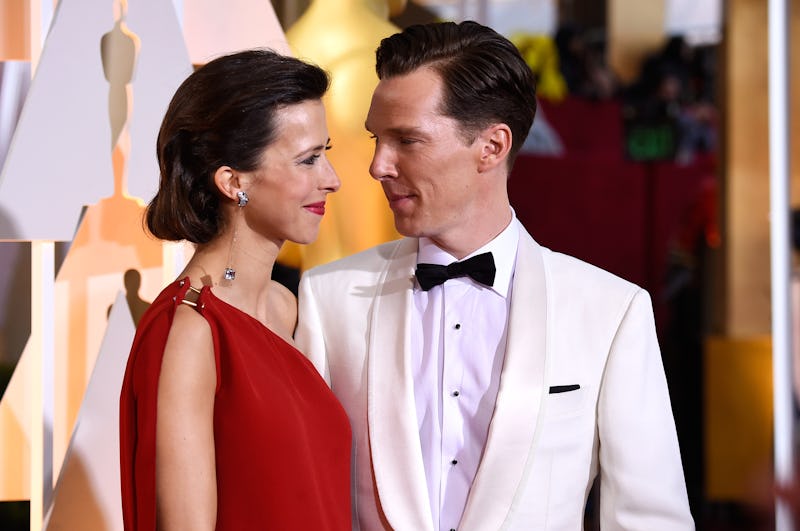 Frazer Harrison/Getty Images Entertainment/Getty Images
It looks like a huge congratulations may be in store for Benedict Cumberbatch and his wife Sophie Hunter. While stepping out at the Emmy Awards on Monday night, reliable outlets reported that Benedict Cumberbatch and Sophie Hunter are pregnant. The pair, who married in 2015, are already proud parents to three-year-old Christopher and one-year-old Hal. If the reports are true, this would mean baby number three is on the way.
E! News was one of the first to report on the rumoured news, writing that Hunter arrived at the 70th Emmy awards debuting "a small but growing baby bump." Shortly afterwards, the Metro also covered the story, stating that that Hunter is indeed pregnant with the couple's third child. I have reached out to Cumberbatch and Hunter's rep for official confirmation, but am yet to hear back. However, as soon as I do, you'll be the first to know.
According to The Sun, although the couple have been married for just three years, they have actually known each other for like, forever (well, 17 years to be exact). However, it wasn't until 2013 that they decided to turn their friendship into a relationship and started dating. They then married in the Isle of Wight on Valentine's Day in 2015 per PEOPLE.
Around the time of his son Christopher's birth, Cumberbatch told Vanity Fair: "Having a baby — it's massive. And on a very unexpected level. Suddenly I understood my parents much more profoundly than I ever had before."
Tilda Swinton, his Doctor Strange co-star also weighed in on what Cumberbatch was like as a dad during the same profile. She said: "My fondest impression of him is as a new husband besotted by his girl, and a new father enchanted by his boy. I think he knows that he wants — and has — a life first and foremost, that his life suits and nourishes him and that it makes the world go round."
As for my theory that he's going to have a little army of superheroes? It turns out I'm not far off-base because it seems like he and his wife are keen on a pretty big brood. While promoting his stint in Hamlet in 2015, he said on The Graham Norton Show, "I might go for a Cumber-batch of boys."
Hunter accompanied her husband to support his nomination for Outstanding Lead Actor awards in a limited series or movie. Cumberbatch was nominated for his performance in the mini-series Patrick Melrose. Sadly, he didn't win as he lost out to Darren Criss, who proved he was a long way from Glee when he snagged the coveted gong for The Assassination of Gianni Versace: American Crime Story.
To be honest, it seems like Cumberbatch doesn't really need the award (though he did win the internet last night, after he reacted with a big goofy grin during a shock Emmys proposal).
Anyway, an Emmy is nice and all, but a third child on the way sounds like a way bigger deal.