Benedict Cumberbatch & Sophie Hunter Reportedly Welcome Baby #2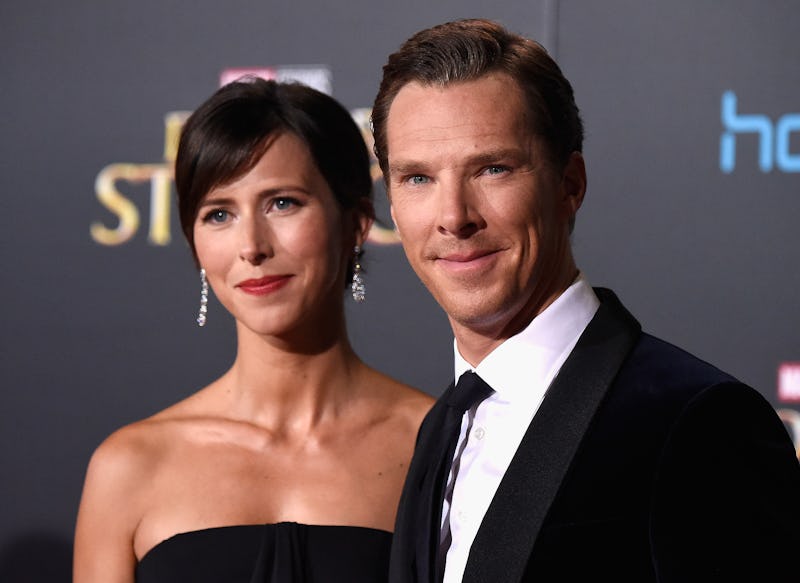 Frazer Harrison/Getty Images Entertainment/Getty Images
It doesn't take any detective sleuthing to find out that Benedict Cumberbatch is once again a dad. According to People Magazine, Benedict Cumberbatch and Sophie Hunter welcomed their second son on March 3 in London. (Bustle has reached out to Cumberbatch's rep for comment, but has not yet received a response.) Hunter and Cumberbatch confirmed that Hunter was pregnant on the red carpet for the Doctor Strange premiere back in October. The baby is the couple's second child, as their first son, Christopher Carlton, was born in 2015. Honoring both the parents' theatrical history, Cumberbatch's second son is reportedly named Hal Auden Cumberbatch, after a notable Shakespeare character.
The Cumberbatch family's first son has a meaningful name, as well. People reported after he was born that "Carlton" was a family middle name passed down for many generations, and it is shared by both Cumberbatch and his father. It's not entirely surprising that the Cumberbatch line has an illustrious history when it comes to names, and that Hunter and Cumberbatch would choose an equally unique name for their second child. Hal is the nickname given to Henry V in William Shakespeare's historical play, and one can only assume the name is a reference to this famous work.
As the Daily Mail points out, the name may also be in honor of Cumberbatch's longtime best friend, Tom Hiddleston. The two British actors have been longtime pals since appearing in 2012's War Horse, and have noted in recent interviews that their friendship is strong as ever. The two appeared side by side in The Hollow Crown, a TV series that combined all of Shakespeare's history plays. In the show, Cumberbatch stars as Richard III while Hiddleston was Henry V, or Hal.
Of course, the more likely case is that the name is a simple nod to both Hunter and Cumberbatch's love for the theater. Both parents have devoted their lives to the stage (and, in Cumberbatch's case, the screen), and would naturally have a special place in their hearts for Shakespeare. As for baby Hal Auden's reportedly middle name, that might be a mystery for another day. Although, something tells me British poet and dramatist W.H. Auden might have something to do with it.
Congratulations to both Hunter and Cumberbatch, may all their future babies be given meaningful, royal sounding names, as well!