So, Benedict Cumberbatch's 'Doctor Strange' Salary Just Got A Whole Lot Bigger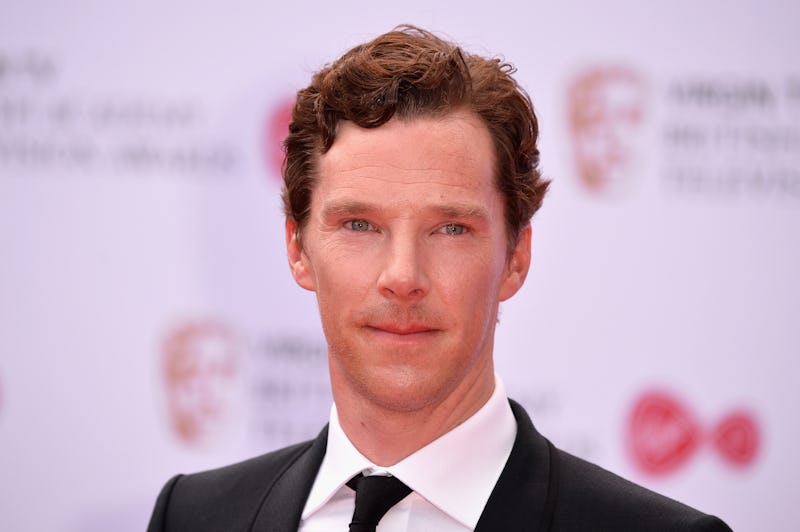 Jeff Spicer/Getty Images Entertainment/Getty Images
Benedict Cumberbatch's acting career is basically the ultimate dream. His BBC One series Sherlock has been an epic success, he landed a part in The Hobbit, flexed his muscles in Star Trek, and most recently, he's been zipping around with a magic cloak in Marvel's Avengers universe as Doctor Strange. It turns out that the latter role is also set to be one of his most lucrative yet as apparently, Benedict Cumberbatch's Doctor Strange salary is about to get a massive bump. It's being reported that the Sherlock actor could score £7.5 million when he returns for a Doctor Strange sequel next year.
The Mirror reported that Doctor Strange, Marvel's most mystical entry yet, will be ramping up production again next spring for a follow-up, and Cumberbatch could see a £5 million increase to £7.5 million. If we do the backwards maths, that means that he was initially paid £2.5 million for the first Doctor Strange. Not bad, eh?
Given that his arrogant sorcerer has become a popular figure and has been pretty central to the universe's overarching storyline, it's no surprise that he's due a hefty raise. I've reached out to his team to see if they can verify the reports, but I haven't heard anything back just yet.
Beyond Doctor Strange, the 42-year-old actor has magicked his way through other Marvel entries including Thor: Ragnarok for a quick cameo, as well as a much meatier role in Avengers: Infinity War. Combined with his pay for the first Doctor Strange film, the Mirror reported has that the actor has made a very comfortable £4.2 million for all his Marvel appearances to date.
If you can't keep track of all the superheroes being added to the ever-growing list, allow me to refresh your memory. Cumberbatch plays Doctor Stephen Strange, a sorcerer and the only Marvel character whose facial hair gives Robert Downey Jr. a good run for his money. He started off as a surgeon (a literal doctor, see what they did there?) whose hands were injured in a car accident. He then turned to magic in an attempt to heal himself, though he dropped the whole medical career thing once he got good at it, and became a guardian of a powerful time-bending relic called the Eye of Agamotto. In the latest Avengers: Infinity War — and warning, there's about to be a few spoilers if you haven't seen the film — he winds up handing over the Eye of Agamotto to a villain called Thanos. Thanos then adds the Infinity Gem, which powers the Eye, to his arsenal, snaps his fingers, and turns Cumberbatch into dust, along with half of the universe.
The powers that be at Marvel wanted Benedict Cumberbatch so badly for Doctor Strange that they actually delayed production on the first film for him, a huge move for a Hollywood blockbuster of this kind of scale. In an interview with Empire, it was revealed that Cumberbatch had actually committed to a production of Hamlet at the Barbican back in 2015 and it clashed with Doctor Strange's shooting schedule. However, the film's director Scott Derrickson revealed that Cumberbatch was "the only actor [they] ever seriously considered" and they moved the release date from summer 2016 to the autumn of that year, specifically to accommodate him.
Cumberbatch said to Empire: "If you can't jump on board when the ride's going past, that's usually it. So the hugest compliment they paid me was to come back to me. It motivated me to try to fulfil their faith in me."
The ironic thing is that now that there's all this reporting around Benedict Cumberbatch's massive salary increase for a Doctor Strange sequel, it could be a major spoiler that Doctor Strange somehow comes back to life after the events of the last film. I mean, I kind of knew it but I didn't know know it - you know what I mean?
One character that might not be coming back to life anytime soon however is Sherlock Holmes; or at least, Cumberbatch's version. According to The Mirror, his upcoming Marvel schedule will make it difficult for him to return to the BBC series. An insider told the publication, "Benedict has become a huge player in the Marvel universe. But the nature of the shoot for the sequel means we're looking at 2020 for the next time we see the sleuth in a full series – if it happens at all."
It's a little gutting, I'm not going to lie. However, it's also really heartwarming to see how far Cumberbatch has come since his days donning the erratic detective's check hat. Given that his Sherlock co-star Martin Freeman is now a part of the Marvel universe, I've just got my fingers crossed that the two somehow cross paths in the superhero universe and become unlikely pals.