Bermuda Has Repealed Its Gay Marriage Law After Less Than A Year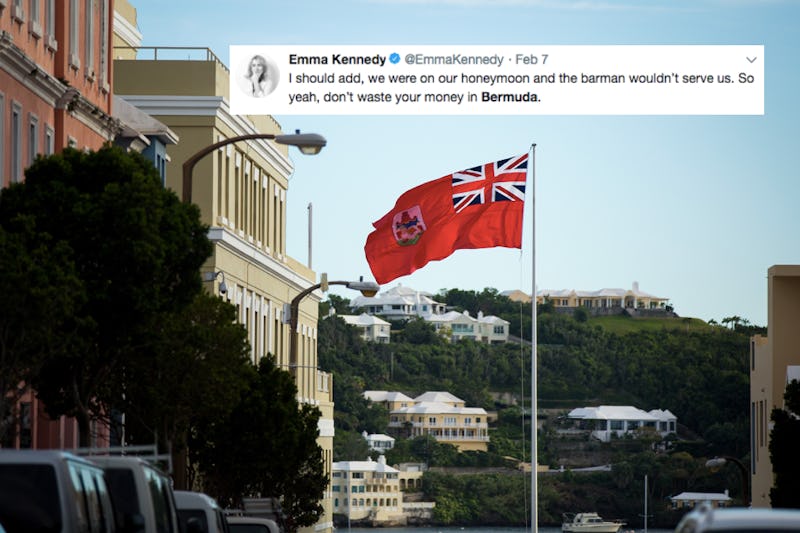 Drew Angerer/Getty Images News/Getty Images
While more and more countries are making strides in progressing human rights for the LGBTQ community, the island of Bermuda has repealed its gay marriage law after less than a year, TIME reported. After a gay couple's marriage application was rejected by the Registrar General, Bermuda Supreme Court Justice Charles-Etta Simmons ruled this past May that it was discriminatory. This decision made same-sex marriage on the island legal — even though in a 2016 referendum, the majority of Bermudians voted against gay marriage and civil unions. On Feb. 7, less than a year after same-sex marriage was legalized, Bermuda Gov. John Rankin signed a bill reversing gay marriage on the U.K. island territory less than twelve months after its legalization. The bill was passed in December, ABC News reported.
On Wednesday, Gov. Rankin also signed new legislation called the Domestic Partnership Act to replace gay marriage with legal protections for same-sex couples in domestic partnerships. Gov. Rankin wrote in a press release released on Feb. 7 that the new bill will give gay couples protections they did not have before, ensuring, "the right to inherit in the case of no will, the right to a partner's pension(s), access to property rights, the right to make medical decisions on behalf of one's partner and the right to live and work in Bermuda as the domestic partner of a Bermudian." However, The Washington Post reported that many LGBTQ organizations have taken a stand against domestic partnerships, saying it demeans gay couples to a "second-class status."
Additionally, Gov. Rankin wrote that the Domestic Partnership Act is intended to be a compromise between those who do not support gay marriage, and those who do. "While the majority of Bermudians do not agree with same-sex marriage — as evidenced by the [2016] referendum — it is the Government's belief that this Act addresses this position while also complying with the European Courts by ensuring that recognition and protection for same sex couples are put in place," Gov. Rankin said. "The Act is intended to strike a fair balance between two currently irreconcilable groups in Bermuda, by restating that marriage must be between a male and a female while at the same time recognizing and protecting the rights of same-sex couples."
Despite the fact that Bermuda is still considered a British Overseas Territory, the British government made it clear they would not be intervening with the revocation of gay marriage in Bermuda. ABC News reported James Slack, British Prime Minister Theresa May's spokesperson, said the country was "very disappointed" in the decision. However, Slack added the bill "has been democratically passed by the Parliament of Bermuda, and our relationship with the overseas territories is based on partnership and respect for their right to democratic self-government."
LGBTQ advocates and organizations have already begun to oppose the decision to reverse legal gay marriage in Bermuda. "Gov. Rankin and the Bermuda Parliament have shamefully made Bermuda the first national territory in the world to repeal marriage equality," Ty Cobb, Director of HRC Global, said in a statement released on Feb. 7 by the Human Rights Campaign (HRC). "This decision strips loving same-sex couples of the right to marry and jeopardizes Bermuda's international reputation and economy. Despite this deplorable action, the fight for marriage equality in Bermuda will continue until the day when every Bermudian is afforded the right to marry the person they love."
Additionally, people are taking Twitter to express their anger and sadness over Bermuda's new law. "Grim reality check for people who think saying 'it's 2018!' is a sufficient argument for equality. Progress isn't inevitable," tweeted writer James Bloodworth. Author Rick Riordan added in a tweet, "What a shame. Have never spent tourist dollars in Bermuda, and now I never will."
The reversal of same sex marriage in Bermuda is disappointing to many people in the international community to say the least. But the reversal proves that there is still a long way to go to ensure members of the LGBTQ community across the world have basic human rights, and that their governments will work to maintain them.