Bernie & Jane Sanders Lawyer Up For An FBI Bank Fraud Investigation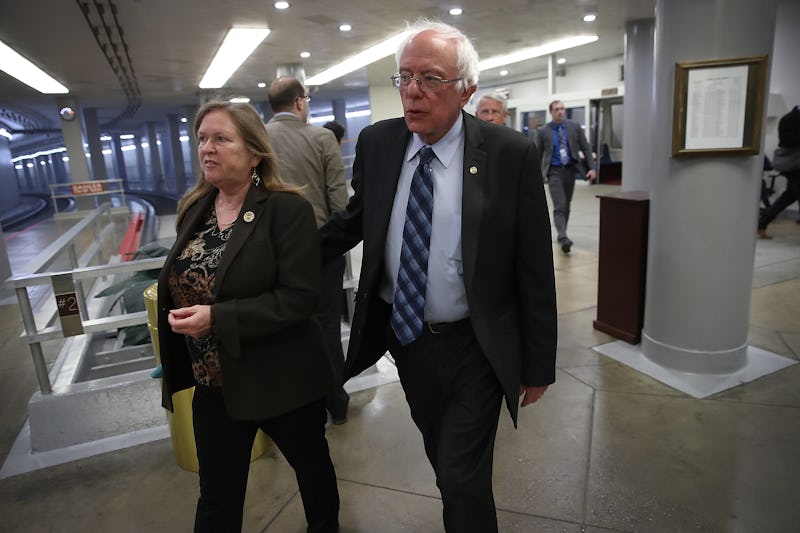 Win McNamee/Getty Images News/Getty Images
Hillary Clinton and Donald Trump aren't the only 2016 presidential candidates who understand the scrutiny of being under an FBI investigation. POLITICO reported that Jane and Bernie Sanders are under investigation for fraud, and both have now hired lawyers to protect themselves in the case.
Specifically, Sanders is under investigation for allegations of bank fraud for allegedly falsely inflating donor pledges in order to obtain a loan for Burlington College, a small educational institution of which she was the president from 2004-2011. (Sanders has not commented publicly on the investigation.) CBS News reported that Sen. Bernie Sanders might also be under investigation, following claims that his office had improperly used his influence in order to lobby the bank to grant Burlington College the loan. According to POLITICO, Sen. Sanders has called the allegations "nonsense," and that it would be "improper at this point ... to add any more to that."
The couple has now hired some of the nation's top lawyers, indicating the seriousness with which they are taking the investigation. Sen. Sanders has reportedly hired Burlington attorney Rich Cassidy, and high-profile Washington defense attorney Larry Robbins is representing his wife, according to CBS News.
The investigation reportedly started during the Obama administration following an original complaint from lawyer Brady Toensing that went on to spark the probe. Toensing was Donald Trump's campaign chair in Vermont, and according to POLITICO, he has taken up cases against Democratic politicians in Vermont before.
But there were already been questions about Sanders' financial decisions at Burlington College well before Toensing stepped in.
Burlington College is a small school with low enrollment, and as president, Sanders pushed to make an expensive purchase of land that would allow it to significantly expand — at a cost of $10 million. The school's yearly budget was only $4 million, but she reportedly signed statements saying that it had been promised $2.6 million in donations that it would receive over the next four years, with an addition $5 million in potential donations. It also listed a $1 million bequest as money that it would receive in the next four years, even though the donor giving it had only promised the money after her death.
VTDigger, a local investigative news website, reported that the school then received only $279,000 in cash donations, and that the donors whose pledges were listed in the signed statement had no idea that those pledges had been used to secure the loans. (According to POLITICO, VTDigger first confirmed the FBI's investigation into the claims in April.) Sanders was pushed out of Burlington College soon after the purchase, and the school was forced to shut its doors in the spring of 2016 due to its huge amount of debt, according to VTDigger.
The FBI investigation into the roles that the Sanders couple played in the whole affair is still ongoing. While hiring lawyers is by no means an admission of guilt, it does speak to the serious nature of the investigation and the allegations that they are facing.