Bernie Sanders' Anti-Trump Agenda Is Pretty Daring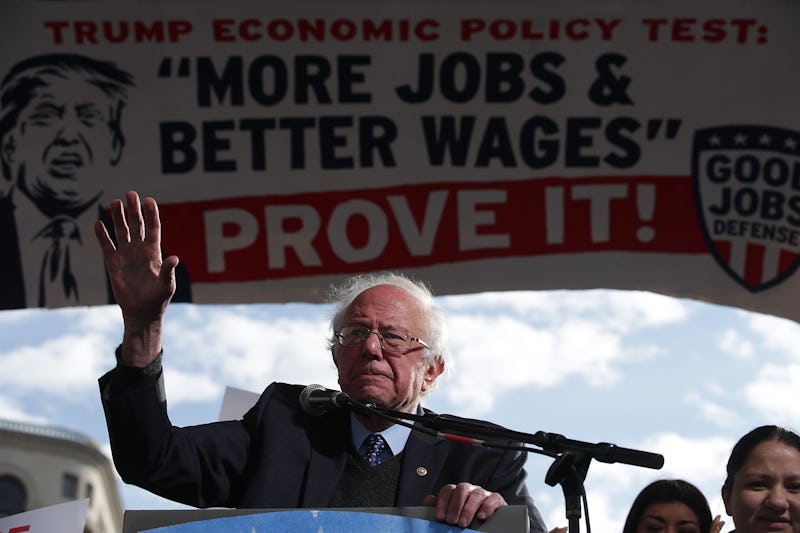 Alex Wong/Getty Images News/Getty Images
In the hoopla since Hillary Clinton's loss of the presidency to Donald Trump, it's been easy to forget that less than a year ago, there were more than two contenders for the job. Since being tapped for the Democratic Party's outreach chair, however, Sen. Bernie Sanders has walked the walk that he promised at the end of his surprisingly successful candidacy. In his most recent appearance on The Rachel Maddow Show, Sanders announced his arm of the Democrats' new anti-Trump agenda, and it lives up to the "revolutionary" action he promised on the campaign trail.
In his first interview in 2017, Sanders expounded upon the new Democratic plan to hold a series of rallies across the country on Jan. 15 to oppose the Republican Party's plans to repeal the Affordable Care Act within the next year without offering a viable alternative. If followed through, the move has the potential to leave tens of millions uninsured. In signature Sanders style, the Vermont senator not only offered a glimpse into his wealth of policy knowledge on the Republican budget and Trump's agenda, but also offered the kinds of actionable solutions that inspired so many to support him in his presidential bid.
The Democrats' move to hire Sanders as outreach chair wasn't just politically savvy, and this interview shows it.
During his time with Maddow, Sanders notes that the Jan. 15 rallies will be the first time in the party's history that they sponsored such grassroots events outside of the election cycle. To say that Sanders changed the party is an understatement — this bold organizational move might just be the push the party needs to tap into the millennial support base that propelled Sanders to his success as a candidate.
In the doom and gloom that has dogged much of the country since Trump's win, Sanders' optimistic appearance on Maddow's show as the party's new outreach chair is a breath of fresh air. As opposed to vowing to compromise with Trump on certain issues like the budget or healthcare, Sanders has refused to back down and is, instead, offering a plan of action.
There are tons of excellent soundbites from Sanders' interview with Maddow, but the most inspirational comes early in the interview as he gives the background to his unprecedented grassroots rally plan — in his signature, no-nonsense Brooklynite way, Sander's begins to tell Maddow about "the way we're gonna stop Trump." That phrase alone, as well as the organized resistance to the normalization of Trump's agenda, suggests the fight won't end after the President-elect officially takes office.