Bernie Sanders Is Campaigning With Anti-Abortion Senator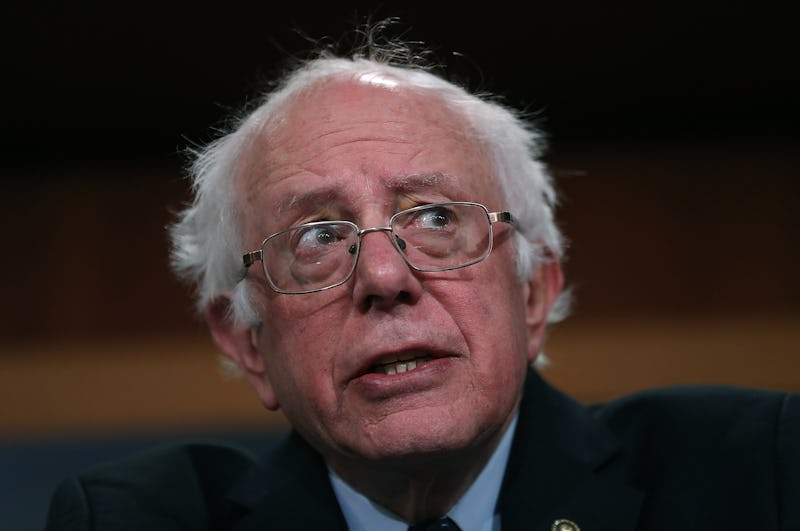 Justin Sullivan/Getty Images News/Getty Images
Though he's usually known for being a supporter of reproductive rights and having some of the most progressive views in Washington, D.C., supporters might be surprised to find out that Bernie Sanders will campaign with anti-abortion senator Heath Mello later today. Mello is a Democratic Nebraska legislator currently running for mayor of Omaha, and Sanders hopes to help him clinch a victory. However, Sanders' support has sparked backlash from reproductive rights advocates. Earlier today, the site Daily Kos revoked its endorsement of Mello after learning of his record on abortions.
In 2009, Mello sponsored a bill requiring doctors to inform women seeking abortions that they have the right to request ultrasounds prior to terminating their pregnancies. Though at first glance this may not sound like such a dubious requirement, Mello and other lawmakers who pushed the bill openly admitted that the end goal was to decrease the the number of women who follow through with terminating their pregnancies. Mello characterized the law as "positive first step to reducing the number of abortions in Nebraska."
Sen. Tony Fulton, who introduced the bill, said, "Many times, these are young mothers who are in vulnerable situations. And they are about to make a very grave choice. This is about informed consent." He added, "Let's give this information to a mother who's about to make a huge decision."
Their intention is clear: to show women images of their ultrasounds in hopes of eliciting an emotional reaction that'll lead to them changing their minds about getting an abortion.
Sanders was a staunch supporter of women's right to choose during his presidential campaign, even holding a more leftist stance than Hillary Clinton — Clinton was in favor of regulating late-term abortions, while Sanders opposed all regulations on abortions. For this reason, his endorsement of Mello is deeply disappointing.
To add insult to injury, Sanders and Tom Perez embarked on a "unity tour" for the Democratic Party on Wednesday, and both men agreed that demanding all Democrats hold the same positions on every issue was unrealistic. The problem? Support of reproductive rights apparently falls in the category of negotiable stances. "The Democratic Party platform acknowledges that we're pro-choice, but there are communities, like some in Kansas, where people have a different position," Perez reportedly said.
Ilyse Hogue, the president of NARAL, released a statement condemning the Democratic National Committee's decision to support Mello. "The actions today by the DNC to embrace and support a candidate for office who will strip women — one of the most critical constituencies for the party — of our basic rights and freedom is not only disappointing, it is politically stupid," it read.
It just goes to show that no matter how progressive they claim to be, for male politicians on either side of the political spectrum, reproductive rights remain a side issue.