Twitter Called Out Bernie Sanders For This Comment On White Voters & Black Candidates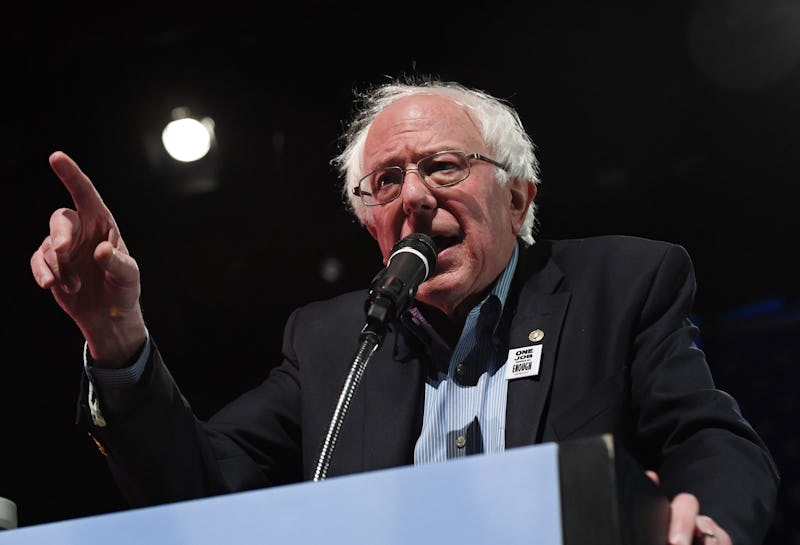 Ethan Miller/Getty Images News/Getty Images
Although the Democratic Party took back the House during Tuesday's midterm elections, many Democrats were nonetheless disappointed by key losses across the country. On Wednesday, Vermont Sen. Bernie Sanders suggested that race might explain the losses of Florida Democrat Andrew Gillum and, possibly, Georgia Democrat Stacey Abrams, though she has not conceded. However, Sanders' comments about white voters and black candidates have subsequently triggered significant backlash.
"I think you know there are a lot of white folks out there who are not necessarily racist who felt uncomfortable for the first time in their lives about whether or not they wanted to vote for an African American," Sanders told The Daily Beast on Wednesday. "I think next time around, by the way, it will be a lot easier for them to do that."
Many Twitter users quickly criticized Sanders for his suggestion that such voters are "not necessarily racist," arguing that white voters' unwillingness to vote for black candidates is, in fact, exactly what racism is. On Thursday, Josh Miller-Lewis, Sanders' communications director, redirected Bustle to a more detailed statement the Vermont senator had released to clarify his comments. In this statement, Sanders argued that "fear of the other" led to "craven attacks" against Gillum and Abrams, which ultimately had an impact on election results.
Miller-Lewis also noted that The Daily Beast left out important context when citing Sanders' remarks. Miller-Lewis then redirected Bustle to an audio clip from the interview, in which the senator prefaced his comments by urging the interviewer to describe the Trump administration's campaigns against Gillum and Abrams as "racist," not "race-oriented."
In the interview, Sanders told The Daily Beast that Gillum is a "fantastic politician" who "generated an enormous amount of energy" — and that "he had to take on some of the most blatant and ugly racism that we have seen in many, many years, and yet he came within a whisker of winning." He also lauded Gillum's campaign for its efforts to pass Florida's Amendment 4, which will restore voting rights to roughly 1.4 million people previously convicted of felonies.
On Thursday, in the statement Sanders released to clarify his remarks to The Daily Beast, the Vermont senator argued that "Donald Trump, Brian Kemp and Ron DeSantis ran racist campaigns." He appeared to suggest that white voters may feel uncomfortable voting for black candidates as a result of racist messaging.
Later on Thursday, as the backlash on Twitter continued, Sanders also clarified his comments during an interview with NPR, in which he said that he had been thinking more precisely about the racist campaigns against Gillum and Abrams — not about their inability to draw white voters' support, or about the fact that neither Florida nor Georgia had elected a black governor before.
"There's no question that in Georgia and in Florida racism has reared its ugly head," Sanders told NPR. "And you have candidates who ran against Gillum and ran against Stacey Abrams who were racist and were doing everything they could to try to play whites against blacks. And that is an outrage, and we have got to continue doing everything that we can to fight all forms of racism."
Although Sanders denounced the racism that Gillum and Abrams faced while running their respective campaigns, Twitter users are still not convinced that Sanders understands why his comments triggered outrage. Sanders has clarified that he believes Gillum and Abrams' opponents ran racist campaigns — but he had not offered any further comment on his remark about white voters being "not necessarily racist." It is this remark that continues to receive backlash on social media, and several social media users have criticized Sanders for working too hard to appeal to white voters.