Trump Missed Sanders' Joke About "Fake News"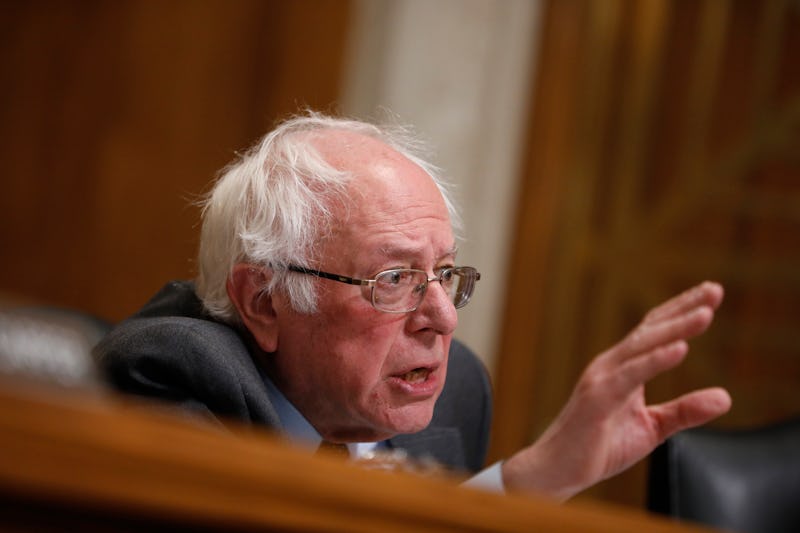 Aaron P. Bernstein/Getty Images News/Getty Images
When Vermont Sen. Bernie Sanders appeared on CNN on Friday, the interview was temporarily interrupted due to apparent technical difficulties with the satellite connection. If you're most people, then this is no big deal and you move on. If you're President Trump, then this is some sort of conspiracy that you have to tweet about two days later. On Sunday, Trump alleged that Sanders called CNN "fake news" and was effectively silenced by the network as retribution.
The interview took place on Friday evening during CNN's OutFront with host Erin Burnett. Sanders spent much of the interview criticizing Trump and his policies, including the president's recent move to ban individuals from certain countries from entering the U.S. In fact, the online video that CNN posted with the full interview is titled, "Bernie Sanders rips Trump, jokes about 'fake news.'"
A transcript of the interview shows the so-called joke about fake news. "Well, I don't know, maybe he was watching CNN fake news, what do you think?" Sanders responded when Burnett asked him about a statement the president had made earlier. In case it wasn't clear in his tone, Sanders immediately followed up that statement with, "That was a joke." Burnett even appeared to let out a small laugh. But when the satellite connection stalled out a few seconds later, the interview was interrupted. In tweeting about the interview on Sunday, Trump apparently thought he'd try to put two and two together.
Trump's tweet seems to imply that he and Sanders share the mindset that CNN is a source of "fake news." However, Sanders' tone during the interview — not to mention the fact that he said, "That was a joke" — seem to show the exact opposite. When the interview got back on track, Sanders even defended his use of the terms "delusional" and "pathological liar" to describe Trump.
I disagreed with George Bush all the time. I never called him a pathological liar, because he was not, he was just a conservative president. But this guy lies all the time.
For its part, CNN tweeted back at Trump on Sunday morning to clarify the situation. The network's communications department simply called Trump's allegation "false."
With his tweet about the interview, it seems that Trump may have fallen into the exact trap that Sanders was joking about on CNN. Sanders appeared to mock Trump's idea of "fake news," while Trump appeared to use Sanders' joke to show that others also identify the network as an illegitimate source for news. What's more, the back-and-forth on Sunday came just days after CNN's Jake Tapper outright asked Trump spokesperson Kellyanne Conway if his network was "fake news." Her response was negative.
Trump's disdain for the mainstream media is nothing new. It has been part of his rhetoric since the early days of his presidential campaign. But taking things out of context isn't exactly a good habit for the leader of the free world.