Bernie Sanders Is Three Times More Popular Than Mitch McConnell For One Distinct Reason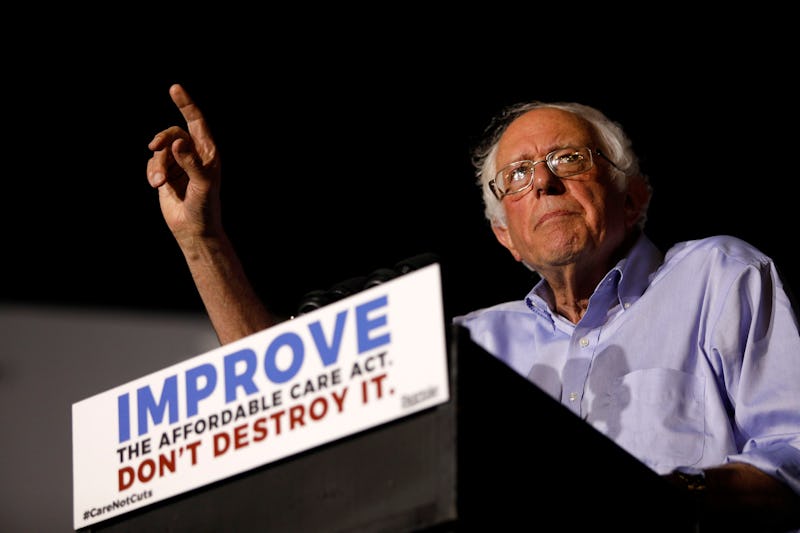 Bill Pugliano/Getty Images News/Getty Images
While popularity might not be everything, it can certainly mean a lot when you're a figure in public office. And, according to a new Harvard-Harris poll provided exclusively to The Hill, Mitch McConnell is the least popular politician, while Bernie Sanders is the most popular politician with a national-level profile. One Harvard-Harris co-director has a theory as to why Sanders is so popular, and it has everything to do with party unity.
The findings from the Harvard-Harris poll reveal that McConnell has a lowly 19 percent favorability rating among constituents. This means that somehow, he has earned a lower public opinion than both Donald Trump and Paul Ryan. However, Steve Bannon remains the absolute least popular figure with an only 16 percent likability, though it's worth noting that he's more of a public figure than a politician.
This is in huge contrast to Vermont Sen. Sanders, who took the cake when it came to likability. The Harvard-Harris poll revealed that Sanders is viewed favorably by 57 percent of registered voters. This means the senator is the only politician of congressional leaders included in the survey who is viewed favorably by a majority of those polled. Dare I say, when it comes to polling favorably in 2017, Sanders is in the 1 percent.
On the contrary, only 32 percent of Republican respondents view McConnell favorably, while 40 percent have a negative view of him. This makes McConnell the lone Republican politician whose party doesn't have a majority positive view of him.
While Sanders' political convictions and steadfastness are enough to render him likable to many, Harvard-Harris co-director Mark Penn has another theory for his popularity across the board.
"In losing to Hillary [Clinton], Bernie Sanders has floated above today's partisan politics. ... It is symptomatic of the Democrats increasingly consolidating to the left while the Republicans are fractured and unable to come together," Penn told The Hill.
The findings also revealed that only 32 percent of pollsters have a negative view of Sanders, which includes roughly two-thirds of Republicans. When it comes to the most popular demographics, the poll showed the Sanders scored highest among millennials — people aged 18-34, who expressed a 62 percent approval rating. Furthermore, 58 percent of women registered to vote view Sanders favorably, as do 55 percent of men.
On the opposite end of the spectrum, while McConnell is not facing the possibility — and challenge — of reelection until 2022, his low approval rating seems to be unanimous. Another poll released this week by Public Policy Polling showed that McConnell only has an 18 percent approval rating in Kentucky.
Perhaps, what most divides the popularity of the two men, is the fact that Sanders fights for universal health care while McConnell fought to cut Medicaid funding. Either way, the numbers are in, and they speak loud and clear.