This Is Why Bernie Sanders Was Just Nominated For A Grammy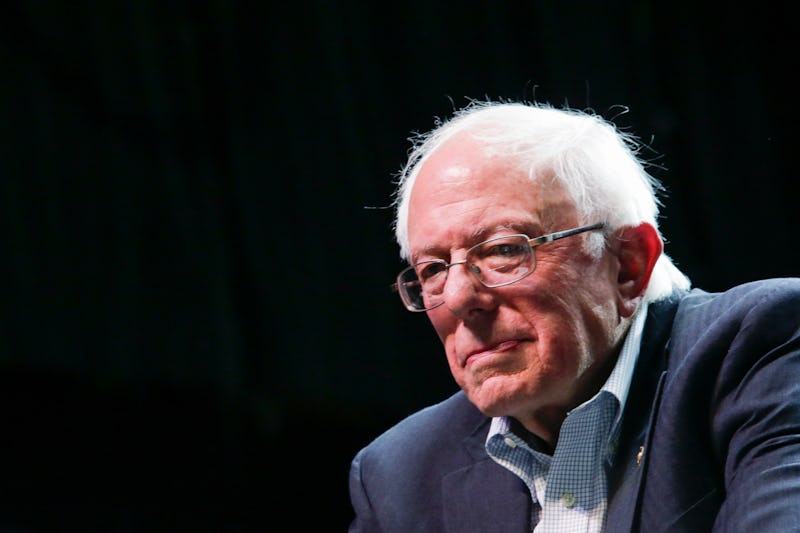 Eduardo Munoz Alvarez/Getty Images News/Getty Images
Sen. Bernie Sanders has a long resume in politics, but he could soon tack on a rather unexpected award to his name. It was announced Tuesday that Sanders was nominated for a 2018 Grammy for his audiobook, Our Revolution: A Future to Believe In. Political figures are often honored in the spoken word category, but this marks Sanders' first nomination.
Our Revolution: A Future to Believe In, released last November, details Sanders' account of his 2016 campaign and how he plans to continue the "revolution." Sanders and Mark Ruffalo were nominated together for their reading of the book, but they have some tough competition for the prize. The other nominees in the spoken word category, which encompasses poetry, audio books, and storytelling, include:
Sanders' opponent for the 2016 Democratic presidential nomination, Hillary Clinton, won the same award in 1997 for the audio version of It Takes a Village. Former President Barack Obama has two Grammys for his audiobooks Dreams From my Father and The Audacity of Hope. Former President Jimmy Carter also has two Grammys, winning most recently in 2016 for the audio version of his memoir.
Sanders hasn't yet commented on his nomination, so it's unclear if he'll attend the Grammy's on Jan. 28. If he does choose to attend, though, he'll be surrounded by the nation's biggest music stars. And celebs such as Miley Cyrus, Halsey, T.I., and Chris Brown who endorsed Sanders for president last year could very well get to hang with him at Madison Square Garden for a night. Not to mention Ruffalo, who helped make Sanders' audiobook a reality.
Although this marks Sanders' first Grammy nomination, his audiobook was not his first professional recording. The senator released an album in 1987 (when he was the mayor of Burlington, Vermont) titled We Shall Overcome, featuring folk music and spoken word. Sanders re-released the 5-song album in 2014, ahead of his 2016 presidential campaign. (You can listen to the song "We Shall Overcome" here.)
Our Revolution: A Future to Believe In, which earned him the Grammy nod, had an inspiring tone and sought to give his supporters tools to keep the momentum of his 2016 campaign going. "This campaign was never just about electing a president of the United States — as enormously important as that was," Sanders said in the book. "This campaign was about transforming America. It was about the understanding that real change never takes place from the top on down." He added: "It always takes place from the bottom on up. It takes place when ordinary people, by the millions, are prepared to stand up and fight for justice."
It went on to say that Republicans cultivated "the ability to divide people up by race, gender, nationality, or sexual orientation," which is why he believes it's so important for progressives to work together. "We lose when we are divided," Sanders said. "We win when we are united."
Staying true to what he wrote in the book, Sanders has continued to fight for the progressive issues he's passionate about in the Senate after losing the Democratic nomination for president. In fact, Benjamin Wallace-Wells argued in The New Yorker that his campaign never ended, writing: "In Trump's America, the Independent senator is fighting to win back the heartland for Democrats." The Vermont senator has travelled across the country holding events, largely focused on bashing Republicans' proposed plans to repeal and replace Obamacare that stalled over the summer.
If he does win the Grammy, he'll have an even larger stage to speak about his hopes for the future of the country.