Sanders Will Broadcast The Revolution With New Podcast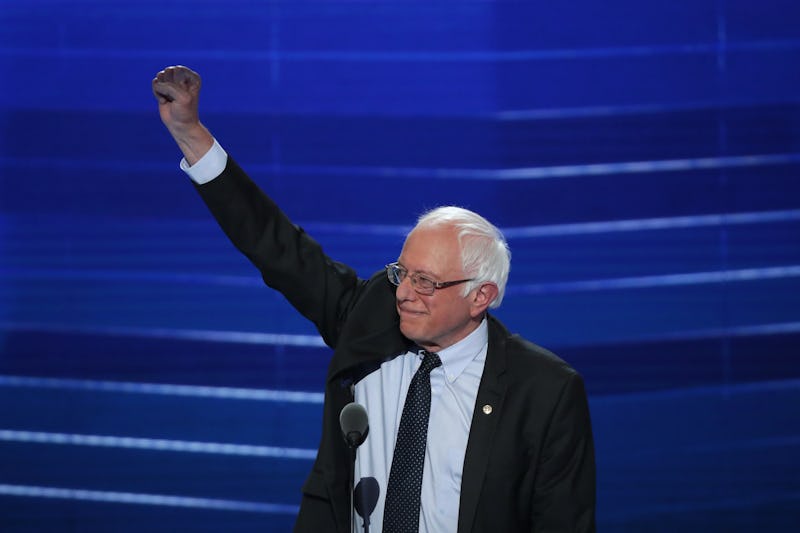 Alex Wong/Getty Images News/Getty Images
The revolution will be podcast, thanks to Bernie Sanders. As progressive legislatures and voters alike grapple with how to push back against the Trump administration's agenda, Sen. Sanders has launched his own podcast on iTunes in an effort to keep the so-called resistance alive and talked about. The Vermont senator and former presidential candidate has turned his Facebook Live talk show, The Bernie Sanders Show, into a podcast, releasing three episodes earlier this week.
Similarly to his talk show, Sen. Sanders' new podcast will reportedly focus on discussing the political revolution and the various efforts underway to resist President Donald Trump while also advancing the progressive agenda.
"Election days come and go, but political and social revolutions that attempt to transform our society never end," a description of the podcast on Sen. Sanders' official website reads. "Listen to The Bernie Sanders Show to stay informed on the political revolution, our focus in the fight for a progressive agenda and how Bernie and others are fighting back against the Trump administration and its efforts divide us up."
Past guests of The Bernie Sanders Show have included playwright Josh Fox, North Carolina political activist Rev. William Barber, and science educator and TV personality Bill Nye the Science Guy. According to the podcast's description on iTunes, the show will continue to feature Sen. Sanders sitting down with "leading activists, journalists, policymakers, artists, visionaries, and revolutionaries" to "talk about the resistance." Although it's been available for streaming on iTunes for only a short time, The Bernie Sanders Show has so far been relatively well received by iTunes listeners, earning four and a half out of five stars through customer ratings.
Currently, listeners can stream or download three episodes – dated March 27, March 28, and March 29 – of The Bernie Sanders Show through either iTunes or the senator's official website.
Sanders launched his presidential campaign in 2015 and proved to be fierce competition for former Secretary of State Hillary Clinton in the 2016 Democratic primary. While his focus on income inequality, campaign finance reform, universal health care, and tuition-free higher education at public universities garnered him success among younger voters, Sen. Sanders ultimately lost the Democratic nomination to Clinton in July 2016.
Until recently, The Bernie Sanders Show existed solely as a Facebook Live broadcast available on Sen. Sanders' official Facebook page. It is unclear if the show will continue to be available as a Facebook Live video now that it has moved to iTunes as a podcast.