Bernie Sanders Responds To Tom Perez's DNC Win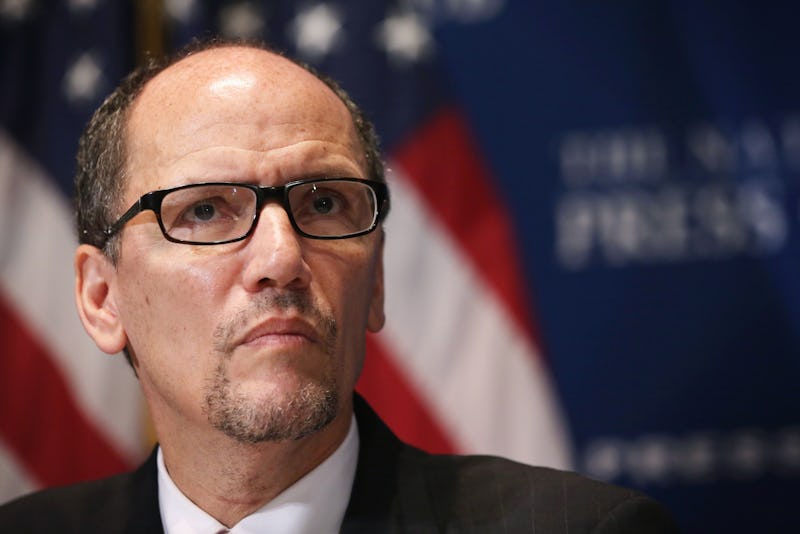 Alex Wong/Getty Images News/Getty Images
Despite having somewhat of a tense relationship with him in the past, Bernie Sanders congratulated Tom Perez on being elected chair of the Democratic National Committee on Saturday. Perez was serving as secretary of labor until January. Sanders had publicly endorsed Perez's leading opponent, Rep. Keith Ellison of Minnesota, for the role. While Perez tends to be seen as an "establishment" politician, Ellison has the image of a more progressive Democrat, similar to Sanders and Sen. Elizabeth Warren of Massachusetts. During the 2016 primaries, Perez backed Hillary Clinton's bid for the Democratic Party's nomination and characterized Sanders' ideas as overly idealistic rather than realistic.
Sanders sent out a statement reacting to the election results and simultaneously tweeted snippets of it. While the senator's congratulatory message shows his dedication to professionalism and party unity, he still injected a message urging Perez to carry out his new role with the American people in mind.
"We must open the doors of the party to working people and young people in a way that has never been done before," read Sanders' statement. "Now, more than ever, the Democratic Party must make it clear that it is prepared to stand up to the 1 percent and lead this country forward in the fight for social, racial, economic and environmental justice."
Still, despite not having as progressive a reputation as Ellison, Perez has been hailed for his progressive efforts in the past. In fact, his endorsement during the 2016 election served to aid Clinton in her attempts to distance herself from her Wall Street-friendly image. As Secretary of Labor, he made efforts to undermine Sanders' assertions of his being the preferred candidate among union labor workers. "The overwhelming number of unions have come out for her," Perez said. "SEIU, AFSCME, NEA, teachers, the building trades. CWA and the national nurses union have supported Bernie. So I guess it's kind of 94 percent to 6 percent."
The son of Dominican immigrants, Perez's Saturday victory made him the first Latino elected to lead the DNC. He and Ellison tweeted a photo of the two posing with supporters following the election results. "Congrats Tom Perez and Family! Dems Unite," wrote Ellison. Tom Perez's message read, "I'm honored to work side by side w/ @KeithEllison. Democrats will always have my ear, and I will always have your back. Let's get to work!"
Like Sanders, it looks like most Democrats see the current administration as a time that calls for constant unity.