Sanders Isn't OK With Trump's Anti-Trans Policy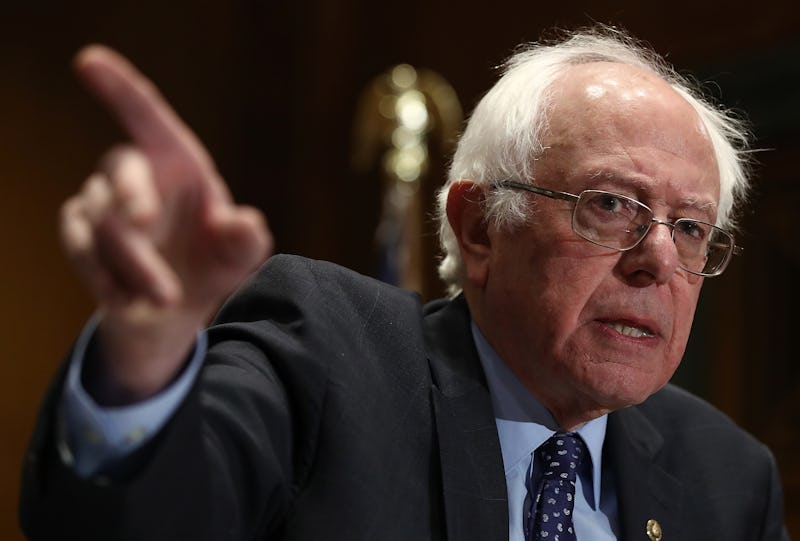 Win McNamee/Getty Images News/Getty Images
President Donald Trump's administration rescinded federal guidelines designed to protect transgender students on Feb. 22, a decision which pretty much instantly sparked protests. Sen. Bernie Sanders responded to Trump's anti-trans bathroom policy, expressing solidarity in a way that many other politicians haven't.
"The attacks against transgender people are part of a bigotry which has got to end. To young transgender people I say: We stand with you," Sanders tweeted. And sure, other politicians may have expressed support for transgender youth in recent days, but Sanders has been consistent about standing up for transgender rights for a while now. In fact, the Advocate, America's oldest and largest LGBT publication, pointed out that Sanders "stands alone" in showing support on Twitter for trans housing rights. In 2015, Sanders wrote, "In many states, it is legal to deny someone housing for being transgender. That is wrong and must end."
Sanders isn't transgender, and he hasn't personally faced the stigma and discrimination that often comes with being transgender in America. Frankly, he's just showing basic human decency through his comments. But he is the rare politician who doesn't rely on using the umbrella term "LGBT rights" — instead he acknowledges the unique challenges that come with being openly transgender in America.
The Vermont senator also has a page on his website devoted to "Fighting for LGBT Equality," where he specifically addresses discrimination against transgender people. He points out that transgender women of color "are often targeted by police unfairly," demonstrating the intersectional nature of discrimination.
Sanders may have originally said he was "prepared to work with" Trump post-election, but when it comes to Trump's decision about protections for transgender students, Sanders is definitely not with him. To be fair, Sanders did also say that he and other progressives will "vigorously oppose" Trump "to the degree that he pursues racist, sexist, xenophobic, and anti-environment policies," Variety reported. Apparently this list now includes "transphobic policies."
Interestingly enough, past colleagues of Education Secretary Betsy DeVos, who signed off on the decision Sanders disavowed, have called her a supporter of LGBT rights. DeVos and Attorney General Jeff Sessions reportedly clashed over the decision to remove the protections, with DeVos allegedly not agreeing until after a meeting with Trump, the New York Times reported. DeVos' reported reluctance shows through a line in the joint letter from the Education Department and the Department of Justice that rescinded the guidelines: "All schools must ensure that students, including L.G.B.T. students, are able to learn and thrive in a safe environment."
The thing is, even if DeVos stands for LGBT rights, her actions have shown otherwise. A throw-away line in a letter devoted to removing rights from a community doesn't make up for what she signed off on. Maybe she can learn from Sanders' example next time.