This Is The One Thing Bernie Sanders Said Would Stop Him From Running In 2020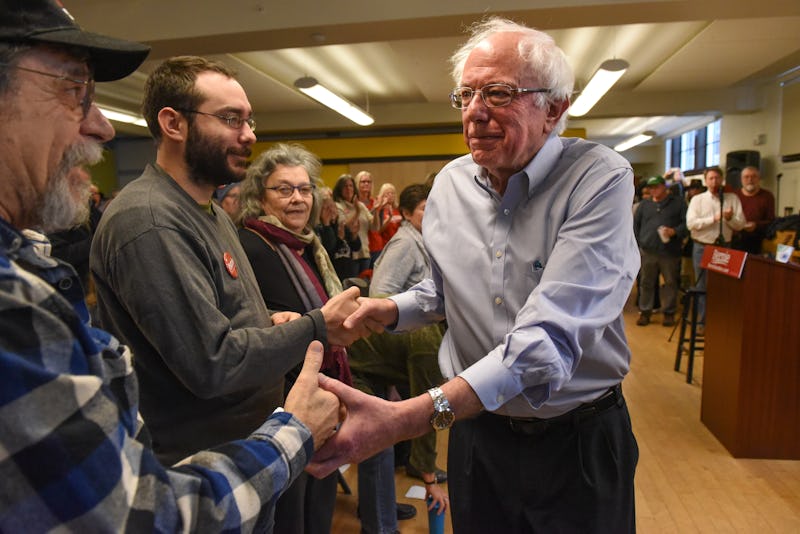 Stephanie Keith/Getty Images News/Getty Images
Although the 2018 midterm elections have only just passed — indeed a handful of races have yet to be officially called — many people have already turned their focus toward the 2020 presidential election and the task of uncovering a potential Trump challenger. But who among the lengthy list of potential Democratic candidates feels confident enough to launch a campaign? In a recent interview with New York Magazine, Sen. Bernie Sanders said he'll "probably" run for president in 2020 unless someone better comes along.
"If there's somebody else who appears who can, for whatever reason, do a better job than me, I'll work my ass off to elect him or her," Sanders recently told New York Magazine. "If it turns out that I am the best candidate to beat Donald Trump, then I will probably run."
Indeed, Sanders stressed that it wasn't any sort of intense desire to see himself as president that had him mulling over a potential 2020 presidential campaign. "I'm not one of those sons of multimillionaires whose parents told them they were going to become president of the United States," he said. "I don't wake up in the morning with any burning desire that I have to be president."
According to NPR, Sanders is one of more than a dozen Democrats thought to be at least considering a 2020 presidential bid. But Sanders isn't just simply mulling over the idea of a bid — he's reportedly strategizing for one, just in case. According to New York Magazine, Sanders met with his "inner circle" in January, reportedly telling them to map out a plan that would have him ready should he ultimately decide to pull the trigger on a 2020 bid.
Although Sanders refrained from explicitly naming who he thought might "do a better job" at challenging President Donald Trump in 2020, unnamed advisers of his told New York Magazine that a potential presidential campaign from Sen. Elizabeth Warren almost kept him out of the race in 2016.
But this isn't the first time Sanders has expressed an openness to the idea of launching a 2020 presidential bid. Last week, he told Al Sharpton that he and his team were "looking at" another potential presidential campaign.
"I want to make sure that when I make that decision, if I decide to run, that I have concluded, in fact, that I am the strongest candidate who can defeat Donald Trump," Sanders said in an interview on MSNBC's PoliticsNation. "We've got some great people out there who are thinking of running — they are my friends. I've got to make that decision based on my background, based on my past, based on my ideas that, in fact, I am the candidate that can defeat Trump."
Sanders has been an outspoken vocal critic of President Trump since the latter took office. Most recently, the Vermont senator accused the president of being "on the wrong side of history and the wrong side of decency" when it comes to immigration policy.
While it's unclear how President Trump would feel about a potential face off against Sanders in 2020, he claimed the senator "would be so easy to beat" in 2016.