Bernie Sanders' Son Isn't His Only Kid Who's Running For Office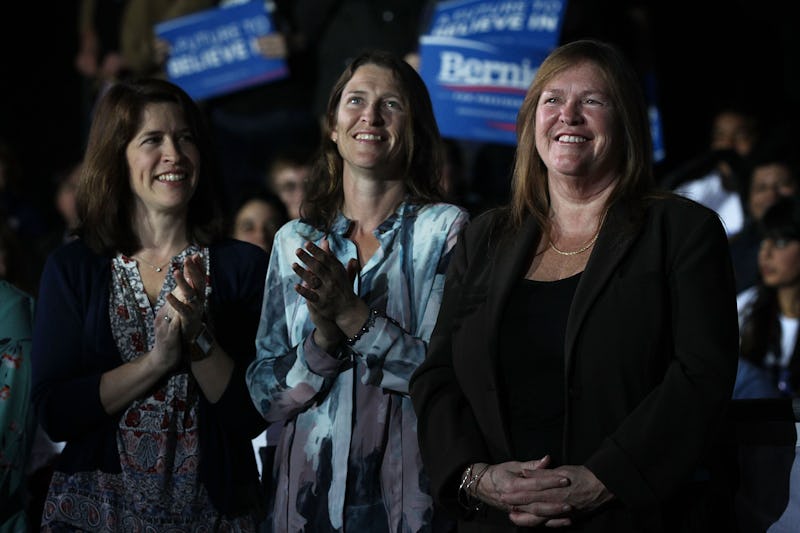 Alex Wong/Getty Images News/Getty Images
Could it be the next great political dynasty? Less than two years after Sen. Bernie Sanders rocked the Democratic party with his unexpectedly successful presidential campaign, two of the Vermont senator's children, his son and his stepdaughter, are running for elected office. But while Levi Sanders, his son, has dominated headlines since he announced his congressional campaign on Monday, Sanders' stepdaughter Carina Driscoll's campaign for mayor of Burlington, Vermont has largely remained in local papers.
While a mayorship is arguably a local elected office passed over by national news coverage when it isn't for a major metropolitan city, it's a position which, if won, could have major implications for Driscoll's political career. Sanders also occupied the mayor's office. He was mayor of Burlington for eight years, from 1981 to 1989. Shortly afterward, he successfully campaigned for the U.S. House of Representatives, and then later, in 2005, for the U.S. Senate.
But Burlington mayorship legacy aside, Driscoll doesn't need her stepfather's legacy when it comes to defining herself or demonstrating her leadership capabilities. The Burlington Free Press reports that she has already served on the city's school board, the Burlington City Council, and the Vermont Legislature. In 2007, she and her husband cofounded the Vermont Woodworking School, which teaches furniture design.
Driscoll told the Free Press that she wants to use the mayorship to lead change in Burlington. "It was clear to me I had to go for mayor," she told the paper. "I couldn't imagine turning the tide as a city councilor." Bustle has reached out to Driscoll's campaign for comment.
According to her campaign website, the issues Driscoll is focusing on include increasing the affordability of childcare, expanding affordable housing, and easing the process by which people add accessibility apartments to their homes to house the elderly. She told the Free Press she wants to restore a "people-led process" to the city. "Burlington," she added, "is not for sale."
Following in her stepfather's footsteps, Driscoll is running for the position as an Independent. She said that it's because she believes party politics are divisive, and she's more concerned with uniting people. "Party politics gets us into trouble," she told the Free Press.
Since announcing her mayoral campaign in December, Driscoll has told media outlets that, while she can't evade her parents' legacies, she wants to win the campaign because she deserves it, not because of familial reputation.
Sen. Sanders has apparently respected that wish. After Driscoll announced her candidacy, Sanders told the Free Press that, "today is Carina's day and her words and her ideas should be the focus, not anyone else's."
"It's important to me that I enter this campaign on my own," she told the Vermont news website Seven Days.
That being said, her mother, Jane O'Meara Sanders, shared Driscoll's campaign announcement on her Twitter account. And when Driscoll won the Burlington Progressive's endorsement, her mother tweeted her congratulations.
In a time where "establishment politician" is such a buzzword, often used derogatorily, the idea of another political dynasty can be a touchy subject. It's too early to predict whether Driscoll and Levi will produce a Sanders family political dynasty, but it does seem entirely possible. Both appeal to many members in the senator's voter base, particularly with their working class upbringings and focus on practical economics.
"I believed that we needed to turn this city around financially," Driscoll said of Burlington, when describing her campaign goals to the Free Press.
Driscoll is running against a two-term Democratic incumbent, as well as one other Independent. The Burlington mayoral election will take place on March 6.