Sanders Takes On Trump's Budget Chief In Senate Hearing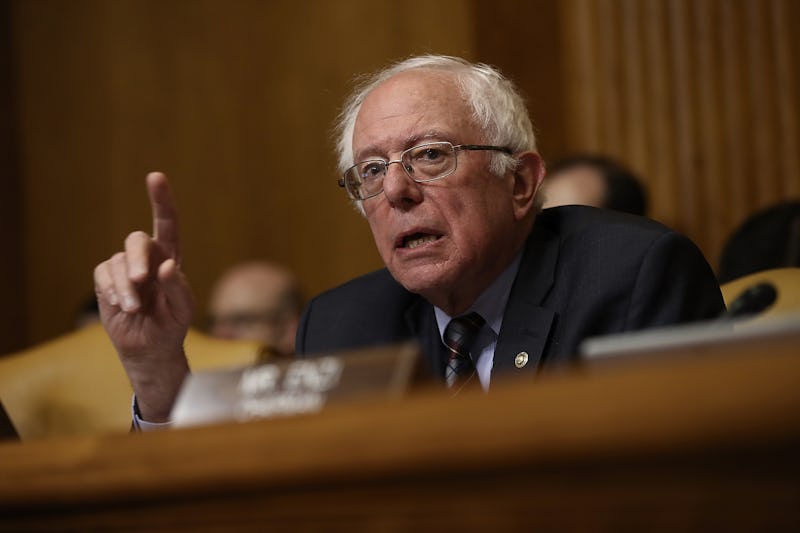 Win McNamee/Getty Images News/Getty Images
Donald Trump's budget chief may be feeling a tad "Berned" today after clashing with one of the president's most outspoken critics. White House Director of the Office of Management and Budget Mick Mulvaney went toe-to-toe with Sen. Bernie Sanders over Trump's proposed 2018 budget in a Senate hearing Thursday that quickly became heated as the two disagreed over just about everything.
Mulvaney had to have known that Sanders, a man who centered his failed 2016 presidential campaign on income and wealth inequality, would have more than a few critical things to say about Trump's budget proposal when he appeared before the Senate Budget Committee on Thursday. The Trump administration unveiled a $4.1 trillion budget proposal for 2018 Tuesday that paired deeps cuts to numerous social programs with tax breaks and an increase in military and border security spending.
In questioning Mulvaney, Sanders argued the president's budget handed massive tax breaks to the wealthy through its repeal of the estate tax while at the same time slashing antipoverty programs to the detriment of the working class. "The United States today has more income and wealth inequality than any major country on earth," Sanders said. He argued Trump's budget proposal favored the nation's wealthiest while cutting much-needed programs like Medicaid, Meals on Wheels, and the supplemental nutrition program known as Women, Infants, and Children (WIC).
"Answer the question: The wealthiest family in America gets a $52 billion tax break as a result of the estate tax," a heated Sanders asked Mulvaney. "Tell the American people why you think that's good when you cut Medicaid and you cut programs for kids."
In response, Mulvaney claimed Trump's budget would not make changes to WIC, nor would it reduce the Meals on Wheels program. In regards to Meals on Wheels, Mulvaney argued that only 3 percent of the program's funding comes from the Community Development Block Grants (CDBGs) the Trump budget proposes to eliminate. Sanders disagreed.
"You eliminate the block grant that funds the program and you're telling me that doesn't have any impact on the program?" Sanders said. The senator then pressed Mulvaney to address his initial question of why the Trump administration was providing tax breaks to the wealthy. Mulvaney then attempted to frame the tax breaks as a result of the Obamacare repeal, saying, "Ordinary people are paying more."
"No, ordinary people don't have $128 billion," Sen. Sanders said, cutting off Mulvaney, visibly exasperated. "You're not answering the question. Answer the question!"
Mulvaney then said it was nearly impossible to estimate how the tax cuts outlined in the president's budget proposal would impact a particular family. "It is mathematically impossible to take those general principles and assume their impact on a particular family," he said.
Once again Sanders disagreed and the two continued to spar. Unfortunately, Sanders' allotted time ran out before the two managed to find anything they could agree on beyond the fact that everyone eventually dies.
Sanders has been a vocal critic of Trump's budget since it was released Tuesday, calling it "a budget for the billionaire class."