This Coffee Table Book Is The ULTIMATE Celebration Of Fashion & Fatness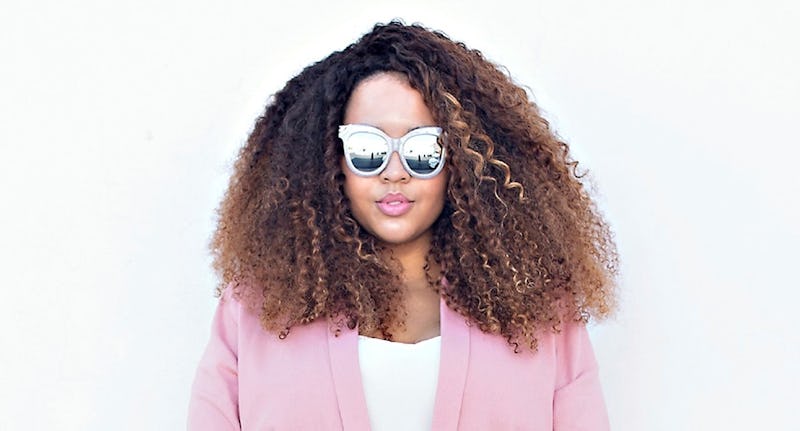 PLUS+ by Bethany Rutter (Ebury Press, £14.99)
Flipping through Bethany Rutter's Plus+ is an experience as stimulating to the eyes as it is to the heart — no matter if your heart is inside a size 10 body or a size 30. Over 100 images of plus size street style can be found within the hardcover compilation, and none will call to mind your grandma's idea of how fuller-figured ladies should dress to "flatter" their figures. There is a boldness to every page, with outfits as fierce as their accompanying quotes on fashion, fatness, and the intersection of the two: fatshion.
When Ebury Press first approached Rutter with the idea for Plus+, she felt conflicted, asking herself, "Is it right for me to do it with all of my relative privilege in the plus size world?" In the end, her years of experience as both a plus size style blogger and a social media editor for navabi, a premium plus size retailer, made her more than well-placed to take on the project. Her commitment to showcasing people with less privilege than herself is among the reasons the end result feels so important.
"Is it right for me to do it with all of my relative privilege in the plus size world?"
Approximately 110 people fill the pages of this book. They are individuals whose styles are as diverse as their racial, ethnic, professional, and personal backgrounds. It is clear that Rutter took immense care to represent the vastness of the plus size community. It is a community spanning the globe, whose roots are irrevocably entrenched in the fat activism movement: A movement that owes its existence largely to the women of color and queer femmes who created the language so many now use to fight for fat liberation. Plus+ is, first and foremost, a book about fashion, but what its introductions (written by Rutter and Nicolette Mason, plus size designer, blogger, and creative consultant) and visual content prove is that plus size fashion is often about much more than the clothes themselves.
Rutter set out to create a coffee table book of plus size street style, but she realized pretty early on that it was nearly impossible to talk plus size fashion without talking plus size bodies. Every photo in Plus+ is accompanied by a quote. Rutter asked each blogger and influencer to share something about their aesthetics, but many came back with words about their figures instead.
"When you are plus size and your body is inherently different and political, it's never just about your clothes," she says. "People want to talk about their bodies because their bodies completely affect the access that they have to clothes, the clothes they feel they are allowed to wear, and the money that they have to buy clothes with."
She adds: "As much as I, as someone who works in fashion and is interested in clothes, would sometimes love to just talk about clothes on their own terms, that's a thing I learned. It's kind of impossible when it comes to plus size fashion."
In including quotes about both style and plus size existence, however, Rutter has created a coffee table book that's more than memorable. One might've expected the editor to rely on her own acquaintances within the plus blogosphere for the book's content, but Rutter used Plus+ as an opportunity to expand her own awareness of the community.
"When you are plus size and your body is inherently different and political, it's never just about your clothes."
Although she's never used hashtags on her own Instagram posts, Rutter began her search for contributors by visiting the pages of influencers whose styles she admired to then observe what they were tagging. "Instead of just the obvious one like #plussize, I would look at people whose style I liked and see what hashtags they used, and then try to find other people who also used those who I didn't know." Although this means the first wave of contributors ended up being folks she knew, the remainder of the project focused on finding those she did not.
"My goal with the book is that out of everyone who picks it up, no one will know everyone in the book," she says. "I don't want anyone who looks at it to be like, 'I have literally seen every one of these people before.'"
Some hashtags she found especially interesting through the process were #meaninternetfatgirls and #bigandblunt. By exploring these sectors of social media, Rutter found bloggers who she might not have discovered otherwise, be it because they were located in the global south or weren't posting in English.
Something else Rutter learned while editing Plus+ was that the book is not the first of its kind. Fat activist and distro founder Rachelle Abellar self-published The Little Book of Big Babes in 2015. It is a collection that offers a diverse representation of fatness and fatshion, and that would similarly look radiant on anyone's coffee table.
The Little Book of Big Babes by Rachelle Abellar, $40.98, Amazon
Although conversations about fat activism and plus style have only gone mainstream in a post-internet generation, it's crucial to remember that their foundations go back to the 1960s. Acknowledging those who came before is one way to maintain solidarity within the community.
Rutter hopes that, through collections like Plus+ and The Little Book of Big Babes, readers soak up the opportunity "to see so many different people who are simultaneously like you but also different from you, so that you both feel at peace but also kind of amazed by the many different ways there are to be plus size, and to wear clothes."
It can sometimes feel as though, because of the limited access plus size individuals still have to fashion, "we can't dress as differently from each other as non-plus size women can," Rutter says. Even with the limited options, however, plus size babes around the world are finding forms of expression that work for them. Despite the odds, they are becoming the icons the world of style has long needed. This is one of the most inspiring things Plus+ proves.
"...you both feel at peace but also kind of amazed by the many different ways there are to be plus size, and to wear clothes."
The fashion industry, by and large, might still be trying to box plus size shoppers into drab wears, but there are literally hundreds of babes out there crafting alternative narratives for themselves. And they're teaching the rest of us how to do the same.
Plus+' initial UK release date is Feb. 15, with a U.S. release to follow.