Betsy DeVos Is Ending For-Profit College Investigations & Here's Why That's So Huge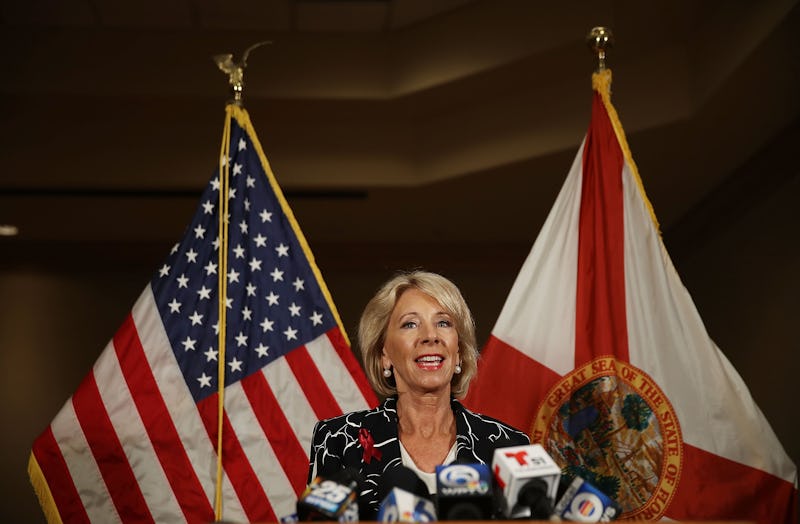 Joe Raedle/Getty Images News/Getty Images
The Department of Education under Secretary Betsy DeVos ended for-profit college investigations, according to an in-depth report published Sunday by The New York Times. The newspaper found that lawyers and investigators working on those investigations were reassigned to focus on "other matters," which seems curious, considering that DeVos hired several top employees from the education companies that were being investigated.
The Student Aid Enforcement Unit was created in February 2016 by the Obama administration to "respond more quickly and efficiently to allegations of illegal actions by higher education institutions." Within that unit was an investigations team, whose mission was "to identify potential misconduct or high-risk activity among higher education institutions and protect federal funding." The unit's creation was tied to the crashing end of Corinthian Colleges, a group of for-profit colleges that was found to have engaged in predatory and fraudulent tactics.
In March 2016, a judge awarded the California attorney general a $1.2 billion settlement against Corinthian Colleges for, among other things, lying to students about how often graduates of the college get jobs and preying on them with a private student lending program, according to BuzzFeed News.
The Times reported that near the end of the Obama administration, the Student Aid Enforcement Unit's investigations team expanded to investigate claims that for-profit universities were participating in fraudulent activities.
One of those companies under investigation by the team at the U.S. Department of Education was DeVry Education Group, which had also been charged with allegations of lying to students about job placement rates and earned salaries.
In 2016, DeVry settled a lawsuit with the Federal Trade Commission alleging it misled potential students with their ads. The Department of Education announced a settlement in 2016 with DeVry over job placement claims, but the team kept looking into the institution's practices, according to The Times.
After President Trump was inaugurated in January 2017, the investigation ceased. A spokeswoman for the department said the investigation was suspended before Trump was in office, but The Times' sources said otherwise.
According to The Times, the investigation into DeVry Education Group (which is now known as Adtalem Global Education) stopped "early last year." By the summer, DeVos hired a former dean at DeVry, Julian Schmoke, to supervise the team charged with investigating DeVry and other for-profit colleges. (Schmoke has recused himself from matters relating to DeVry in the department, according to the report.)
The Times also reported that separate investigations into Bridgepoint Education and Career Education Corporation have also stopped. Now the investigations team has only three members, responsible for things like processing student loan forgiveness applications. Bustle has reached out to the Department of Education for comment.
The decision to end the investigations into for-profit colleges was criticized by Massachusetts Sen. Elizabeth Warren — who has clashed with DeVos before, perhaps most memorably at the secretary's confirmation hearing, where DeVos admitted neither she nor her children had ever taken out a student loan.
"Secretary DeVos has filled the department with for-profit college hacks who only care about making sham schools rich and shutting down investigations into fraud," Warren told The Times.
Elizabeth Hill, a Department of Education spokeswoman, told The Times that "conducting investigations is but one way the investigations team contributes to the department's broad effort to provide oversight."
The Times investigation also listed at least three former members of these companies — Robert S. Eitel, Diane Auer Jones, and Carlos G. Muñiz — as current employees of DeVos's Education Department. It's unclear how employees who previously worked for these for-profit companies that have been under investigation for allegedly defrauding students could influence the department.