Betsy DeVos Tried To Defend Herself With Some Charts. It Made Things Worse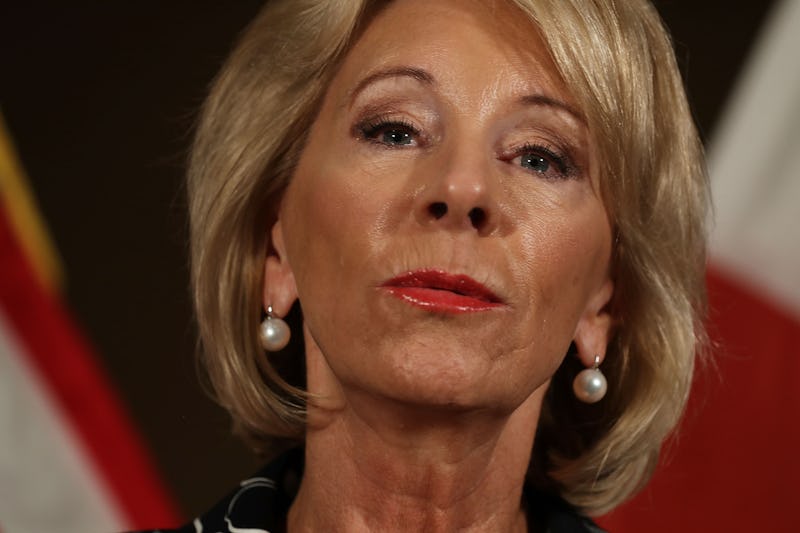 Joe Raedle/Getty Images News/Getty Images
Following a now-notorious Sunday evening interview in which she stumbled while answering basic questions on school safety and sexual assault with CBS' 60 Minutes, Betsy DeVos tweeted a supposed rebuttal to the network's segment on Twitter. The comeback sbackfired as soon as it went up on the social network.
In her tweet, the Education Secretary wrote:
Here's what we shared with @60Minutes, which of course they didn't show you: Michigan, like much of the nation, isn't doing well enough to prepare students. Scores are stagnant. Students need more options, and we must rethink our approach to education.
Along with her tweet, DeVos shared two separate charts with one detailing fourth grade mathematics progress and the other showing fourth grade reading progress in Michigan. It didn't take an advanced mathematician or veteran statistician to come to the conclusion that the findings are concerning, to say the least.
Twitter users quickly pointed out one problem with tweeting that supposed retort to 60 Minutes: That these less-than-satisfactory scores for math and reading were taking place right under DeVos' education department.
One Twitter user, William LeGate, asked, "You realize these charts show Michigan underperforming the national trend under your leadership?" Another Twitter user said, "It took you this long to come up with this tweet and this is the best you could come up with? You should be embarrassed. You have no qualifications for your position and might be the most incompetent member of this administration, in a cabinet overwhelmed by incompetence."
The Education Secretary's tweeted rebuttal arrives after a particularly tense moment in the 60 Minutes' interview with CBS' Lesley Stahl. DeVos, who is an advocate of pulling funding out of public schools under the school choice-spending political philosophy, didn't have satisfactory answers when Stahl asked her about overall public school performance in Michigan. In 2016, it became evident in a Politico report that students in public schools of the state, which is DeVos' home, had been struggling to perform adequately, and critics pointed to DeVos' practice of defunding as the primary reason for wanting scores.
The spokesman for the Michigan Education Association, David Crane, told the Daily Beast on Monday, "All schools have a hard time improving when they're stripped of a billion dollars of funding." During the interview, Stahl asked DeVos about her position on defunding schools and said "the public schools here [in Michigan] are doing worse than they did" because of the Education Secretary's approach. She then asked DeVos if she had ever seen one of those "really bad" schools in person.
To this, DeVos said, "I have not. I have not - I have not intentionally visited schools that are underperforming."
"Maybe you should," Stahl said.
On Twitter, social media users criticized DeVos for her tweet and pointed out that it actually made her look bad, not her critics. One Twitter user responded, "So a state where you, without any qualification but with loads of money, heavily meddled in the education system isn't doing well? Shocking! And by shocking, I mean literally nobody is shocked."
One user said that DeVos' sharing those charts was just "more proof that you're a terrible job." Another Twitter user responded to her tweet by saying, "You posted graphs that show under your school plan Michigan went from being slightly higher than the national average to below the national average."
It wasn't just Twitter users who were unhappy with DeVos' responses on 60 Minutes and subsequent rebuttal on Twitter; according to White House sources that remained anonymous while speaking to CNN, people on the inside of the White House also watched her interview with "dismay."
If you're interested, here's the full transcript of DeVos' uncomfortable exchange with Stahl.