Betsy DeVos Says "Meh" To Protecting LGBTQ Students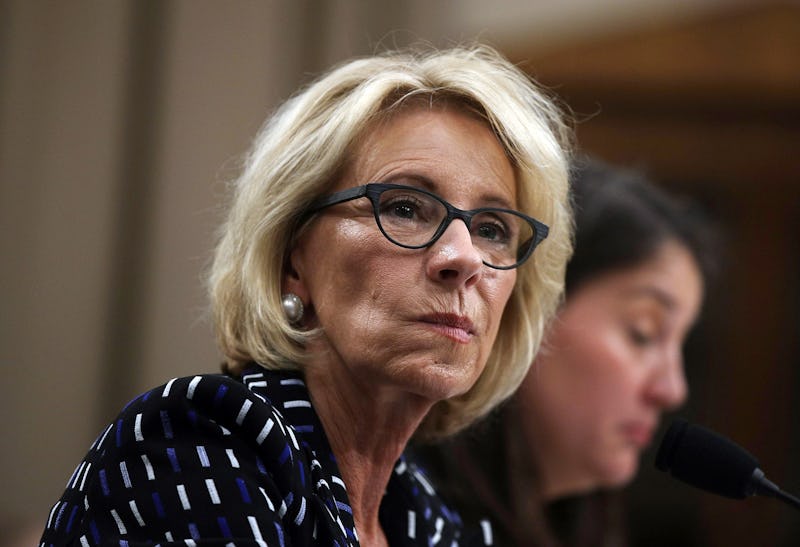 Alex Wong/Getty Images News/Getty Images
On Tuesday, Secretary of Education Betsy DeVos made it clear that she would not enter the debate over the treatment of LGBTQ students in schools. DeVos was asked at a Senate subcommittee hearing about her department's approach to the issue of religious or LGBTQ discrimination in schools; based on her response — or lack thereof — critics are concerned that DeVos won't take a stand to protect LGBTQ students in the nation's schools.
During the Senate Appropriations Subcommittee on Labor, Health and Human Services, and Education hearing, DeVos faced a series of tough questions from Sen. Jeff Merkley, a Democrat from Oregon. Merkley asked about the secretary's interpretation of "foggy" federal antidiscrimination laws, which might not sufficiently protect students from LGBTQ discrimination.
And I just said federal law is foggy. So in your understanding of federal law, will such discrimination be allowed?
Back in February, the Trump administration removed an Obama-era policy that allowed transgender students in the nation's schools to use the bathrooms belonging to the gender with which they identify. As a result, the federal government does not have an explicit protection for the treatment of transgender students in schools.
DeVos, while assuring that federal antidiscrimination laws would be enforced, did not offer any insight into her interpretation of the so-called "foggy" laws.
On areas where the law is unsettled, this department is not going to be issuing decrees. That is a matter for Congress and the courts to settle.
As secretary of education, DeVos is not supposed to be in the business of making laws. Rather, she oversees one part of the federal government — albeit a big part — the education policy. Here's the problem, though: As secretary of education, DeVos is supposed to be in the business of advising the president on policy. The Department of Education's website explicitly states that the Secretary of Education serves as the "principal adviser to the president on Federal policies, programs and activities related to education in the United States."
In other words, DeVos is right that making laws is up to Congress and, to some extent, the courts. But, when it comes to matters involving education, she should be expected to do more than blindly enforce the policies of someone else in the federal government. Yet, over and over, she told the Senate subcommittee that she would merely expect schools to follow federal law, making no mention of her vision for federal education policy. Her go-to refrain remained:
Schools that receive federal funds will follow federal law. Period.
Without sharing her vision for federal education policy, DeVos punted — repeatedly — in front of the Senate. It may not be her job to make laws, but it is certainly her job to have an opinion on education policy, and to advise the president on those matters. Her responses to Merkley did not make it clear that she had any firm desire to protect LGBTQ students.